5 Best Crypto Exchange Platforms: 2021's List of Top Bitcoin Exchange Places Online | Paid Content | Cleveland
click to enlarge
Bitcoin stock prices are currently skyrocketing thanks to growing support from huge companies like Tesla and AMC. But the recent hack of Cryptopia and the subsequent loss of investor's funds have led to people asking who they should trust with their crypto investments.
Which online platform is the best crypto exchange is a matter of debate, but we have compiled a list of candidates to give you a reasonably clear answer to this question.
Top 5 Best Bitcoin Exchanges [Reviewed]
eToro

: Best Overall Bitcoin Exchange

Coinmama

: Ideal Crypto Exchange for Beginners

BlockF

i: Safest Bitcoin Exchange Platform

Coinbase

: Most Secure Cryptocurrency Exchange Website

Binance

: Best to Earn Interest
We chose the five best crypto trading exchanges you should go for if you are looking to invest in crypto. So, let us get started on the list.
#1. eToro: Best Overall Bitcoin Exchange
click image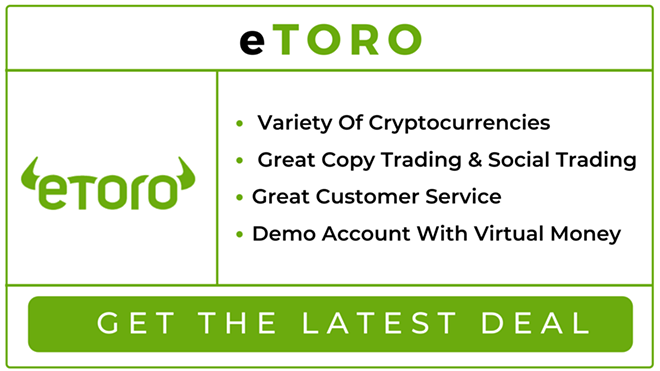 eToro is an Israel-based company founded in 2007, and it is one of the largest brokerage companies in the world, currently valued at 2.5 billion USD. eToro entered the cryptocurrency market in 2014, creating eToroX as a cryptocurrency exchange.
eToroX is registered with FinCEN in the U.S. financial market, and the Gibraltar Financial Services Commission regulates it. The fact that eToroX is regulated by a respected financial authority makes it one of the safer crypto investment options.
Furthermore, eToro was the first brokerage firm to offer a CopyTrading feature to its customers, which ushered in the era of social trading into the global economy. Using CopyTrading, users can learn from successful investors to improve their own investing behavior.
If you use CopyTrading, then you can observe the trading patterns of top-rated investors, and you can follow their investments over a period of time to see how they have performed. You can also choose to copy the buying and selling of stocks by the best investors. Users can choose the option of automatically allowing their assets to be bought and sold in tandem with their chosen investors' trades.
The top-ranked investors, who can get the most returns on their investment, are in turn paid fees by eToro. So, they also benefit from the CopyTrading feature. After CopyTrading, eToro introduced the CopyPortfolio feature as well, which allows users to replicate the investments of top investors they choose to follow.
eToro also provides an app for both Android and iOS for users to conduct their trading activities. In addition, in 2018, eToroX introduced a digital currency wallet for users, which is available in the form of a mobile app for users who prefer to use their phones for trading and investment.
GoodDollar is a non-profit community project that eToro started in 2018, and it uses blockchain technology to provide a Universal Basic Income to global citizens who are the most impoverished. With this, peer-to-peer money transfers in crypto are conducted through a distributed network to give a stipend to the less fortunate.
Another feature eToroX has introduced is a recommended crypto portfolio for users. Using AI software, Twitter posts are monitored and analyzed. The analysis gives an idea of the sentiment of crypto in the international community. Based on this sentiment, the AI suggests which crypto stocks should be traded at any given time.
Similarly, another financial service eToroX provides is Contracts for Difference, or CIDS, as they are more commonly known. In CIDS, a user can sell stock to a buyer and determine a particular time. Whatever the increase or decrease in stock price by the set time is paid to the user by the buyer of the stock. Cryptocurrency CIDs are also available to users.
Additionally, eToro offers benefits to users with a VIP membership, which has different levels, from Silver to Diamond. The benefits increase as you increase your user rank. Top-tier users can avail of the services of an account manager to guide them in their investments. Exclusive assets are also offered to high-ranking members. Finally, VIP members can get discounts on the deposit and withdrawal fees that are charged.
The fees charged by eToroX on crypto trading are also nominal. A 0.75% fee is charged on Bitcoin transactions, while the crypto-to-crypto trade fee is 0.1%. The fees charged on fiat currency to cryptocurrency are slightly higher than the market at 5%.
Pros
Supported by a well-established financial company
Mobile app for Android and iOS available
Digital currency wallet as a mobile app offered
CopyTrade and CopyPortfolio features available to enable social trading
Cons
Fiat-to-crypto fees are high at 5%
Relatively new exchange with smaller user base
User verification is not as simple as other platforms
Only ten cryptocurrencies offered
⇒ Visit the Official Website of eToro
#2. Coinmama: Ideal Crypto Exchange for Beginners
click image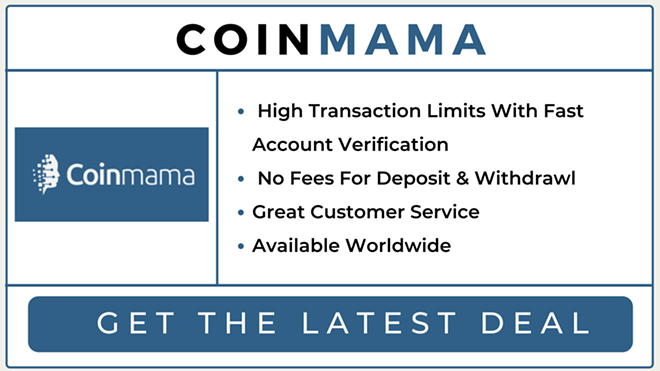 Coinmama is an exchange registered in Slovakia and is owned by New Bit Ventures, an Israeli company. Since 2013, when Coinmama first emerged, over two million users from 197 countries have subscribed to the exchange.
Coinmama received 2.4 million USD from iAngels, an Israeli investment firm, in August 2018. Additionally, the exchange is ideal for first-time investors in crypto, providing a simple-to-use interface. It was also the first exchange to allow users to make purchases using credit cards.
One of Coinmama's notable selling points is the customer loyalty program. If users make enough purchases over a 90-day period, then they are eligible for certain benefits. For example, users making purchases over 5,000 USD get a 12.5% reduction in transaction fees. This reduction applies to the first loyalty level dubbed "Crypto Enthusiast" by the exchange.
The next loyalty level is "Crypto Believer." If you make over 18,000 USD worth of purchases in 90 days, you get a 25% discount on all cryptocurrency prices. Users who have made purchases worth 50,000 USD in their history also get this discount. It should also be mentioned that you only become eligible for this discount if you have been a Coinmama user for more than 30 days.
Coinmama has a higher transaction limit than other exchanges, which increases according to the number of purchases a user makes. For example, new users have a transaction limit of 15,000 USD; so, once a user has made 2,400 USD worth of purchases from the exchange, the transaction limit increases to 50,000 USD.
Furthermore, user verification upon account creation is faster on Coinmama. First, a new user needs to take a photo of their government-issued identification card, front and back. Then they have to handwrite "Coinmama" on a piece of paper, along with the current date, and take a photo of this, too. Finally, these photos need to be uploaded to the exchange.
After this, the platform processes the user's data, and if everything is in order, an applicant becomes a new user. The processing time can be 10 minutes to 2 hours. But usually, applicants receive a response in 15 to 30 minutes.
Another one of Coinmama's selling points is the list of payment services from which it accepts funds. Although you cannot buy digital currency using digital currency, you can buy crypto using fiat currencies. However, funds do not have to be in U.S. dollars, as the exchange will accept funds in all fiat currencies.
You can invest these digital currencies into your account using a credit or debit card. Just make sure the card is affiliated with Mastercard or Visa. The exchange also accepts funds paid through Google Pay and Apple Pay as well. Users from Europe can pay through SEPA bank transfers, and payments through traditional wire transfers are acceptable from users outside Europe and the U.K.
Pros
Users can buy crypto directly from the exchange itself
No minimum investment required
Accepts all fiat currencies.
Variety of payment methods accepted
Cons
No call center in case of questions
Users cannot make transactions less than 100 USD
No digital wallet service
No mobile app
Transaction fees are higher than other exchanges
Only ten cryptocurrencies offered
No exchanging of one cryptocurrency for another
Fast verification process for new users
⇒ Visit the Official Website of Coinmama
#3. BlockFi: Safest Bitcoin Exchange
click image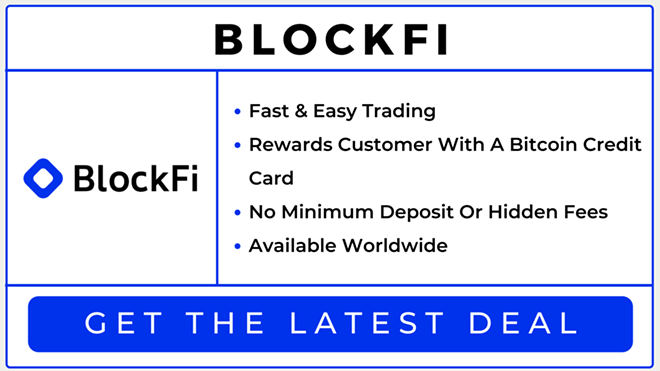 BlockFi is a cryptocurrency financial company that is based in New York City. Established in 2017, BlockFi meets the financial regulations of the U.S., and as a company based there, it has greater legitimacy than other exchanges, which are often based in less reputable countries.
BlockFi's digital assets are placed with the Gemini Trust Company. Established in 2014 and regulated by the New York State Department of Financial Services, the Gemini Trust Company gives BlockFi additional legitimacy in the cryptocurrency market.
BlockFi is not just a crypto exchange. Aside from trading in crypto, registered users can have access to several other financial services. For example, users can earn interest by buying crypto using USD and then keeping them in an account. BlockFi also provides users with loans against their crypto assets.
BlockFi's greatest selling point is that they allow users to deposit funds in accounts and earn a high rate of interest on these funds. In addition, investors can use fiat currency to buy a cryptocurrency and earn interest up to 7.5% per annum.
Users who have crypto assets on BlockFi are also eligible for loans. But to be eligible for a loan, a user needs to have crypto assets worth at least 20,000 USD. If users can meet this criterion, they can receive a loan in U.S. dollars of up to 50% of their crypto account's value.
BlockFi is also one of the leading investors in cryptocurrency companies, supporting the fledgling industry through substantial funding. For example, in September 2021, they gave a substantial cash infusion to Yellow Card, which is an online company that allows users to buy and sell Bitcoin.
BlockFi is also the lead investor of Grayscale Bitcoin Trust, a digital currency investment firm. In addition, CoinMetrics is another company BlockFi has funded, which provides subscribers with financial data and market analysis of cryptocurrencies to help them manage their crypto investments.
BlockFi has also launched a Bitcoin rewards credit card backed by Visa, where any purchases a user makes using Bitcoin currency results in the user receiving a 1.5% return in Bitcoin currency. However, to avail of this service, users need to pass a credit approval check.
You can trade Bitcoin, Litecoin, Pax Gold, and Etherum on this platform, and users can also trade in some stable coins like tether, Gemini dollar, U.S. dollar stablecoin, and Paxos Standard. There is also a recurring trades option that BlockFi provides to its users.
Furthermore, you can set the system to automatically make trades on a weekly or monthly basis. This option is useful to users who do not wish to waste time handling transactions on an individual basis. In addition to setting the schedule for transactions, the automated schedule is customizable, so you can set currency trading amounts as per your preference.
Pros
No minimum deposit
No fees on transactions, except some small spread fees
Bitcoin rewards credit card available
Users can earn interest from deposited funds
Loans can also be taken in U.S. dollars against a user's crypto assets
No monthly or annual fees
Simple user registration
Trades can be automated on a schedule per the user's preference
Cons
No joint accounts or custodial accounts offered
Limited number of withdrawals from interest accounts
The rate at which loans are granted is not stable
⇒ Visit the Official Website of BlockFi
#4. Coinbase: Most Secure Cryptocurrency Exchange Platform
click image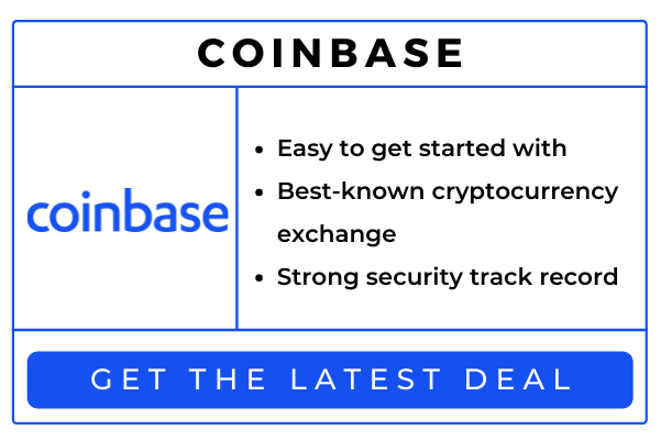 Coinbase is the largest crypto exchange in terms of trading volume in the U.S. The company is also listed on the Nasdaq stock exchange, and its stocks are publicly tradable. In addition, The New York State Department of Financial Services regulates and licenses Coinbase.
The exchange offers a wider range of cryptocurrencies for trading than others, as there are more than 80 different cryptocurrencies available for users. Coinbase also introduced its own stablecoin, the USD Coin, backed against the U.S. dollar.
Security of user's assets is one of Coinbase's strong suits, as it provides an insurance fund to users in the event of their assets being lost. However, insurance will only be paid out if the loss occurs due to a breach in Coinbase's own cybersecurity system or if one of their employees is responsible for the loss.
If users suffer losses due to their own negligence, then Coinbase does not reimburse them. Moreover, this exchange keeps only 2% of its users' crypto assets online, and the remaining assets are kept in offline cold storage units that are unreachable through the internet. These high-security measures make Coinbase a safer investment than other exchanges.
Furthermore, Coinbase offers users a free crypto wallet to keep cryptocurrency in, which is accessible through an app that is compatible with both Android and iOS. Users can also access the exchange's services through their mobile phones.
The exchange offers customers two types of accounts. The first is the basic Coinbase account, and the second is the Coinbase Pro account. In the basic account, the fee list for trades is slightly complex, as fees charged on transactions vary depending on which payment method the customer uses and on the transaction amount.
The fee structure was once easily available on the exchange's website, but now it is difficult for users to access. In addition, if a user buys crypto using U.S. dollars, the fees are higher than the market rates. However, using Coinbase Pro gives users a much easier experience, as the fees are more straightforward.
Coinbase Pro users also have access to some financial tools to help them make better investments. For example, market charting tools are available as well as trading history patterns. The data provided by these tools is useful when making trading decisions. Also, if you want to trade between cryptocurrencies, you will have to use a Coinbase Pro account.
Coinbase is ideal for beginners in the crypto trade, providing some valuable features for new crypto traders. The user interface for trading is streamlined and simplified for ease of use. The exchange also provides a learning program for new users with short videos about the basics of crypto trading and how you can maximize your profits through crypto.
The short videos serve as tutorials from professional cryptocurrency advisors and are a great way to get a jump start into the world of cryptocurrency trading. In addition, users can take a small quiz after each tutorial, and if they pass the exam, they receive a cryptocurrency reward. This system is dubbed "Coinbase Earn" by the exchange and has been a big help to many new investors.
Asset Hub is another service hosted by the exchange, and it is geared towards businesses and larger investors who are entering the crypto market. Clients can list their crypto assets here to gain exposure for their services. In addition, Asset Hub allows a platform for these fledgling businesses to acquire venture capital as investment.
Pros
Largest crypto exchange in the U.S.
Listed on Nasdaq
Over 80 types of cryptocurrency offered
Insurance provided
Digital wallet service available
Cons
Fees are higher than other exchanges
Complex fee structure
⇒ Visit the Official Website of Coinbase
#5. Binance: Best to Earn Interest
click image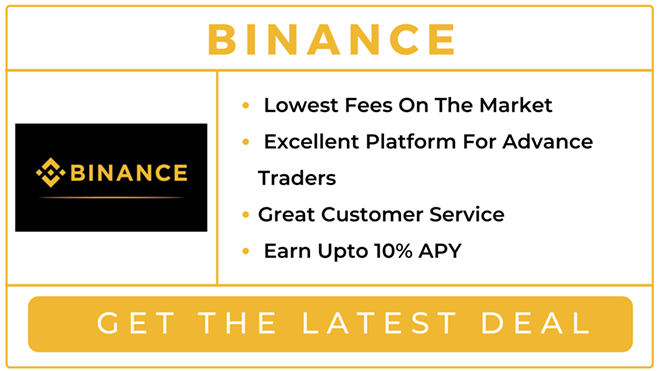 Binance is the largest cryptocurrency exchange in the world. It has a greater number of users than any other exchange, and its trading volume is also the highest. Thanks to its huge user base, Binance enjoys a high liquidity status, which means users can buy and sell crypto more easily.
Binance also charges lower fees than other exchanges. The trading fees are only 0.1% and can be reduced even further if the user chooses to pay fees through the Binance Coin, which is Binance's own cryptocurrency.
Users who pay their fees in Binance Coin are offered a further 25% discount on the 0.1% fee, which takes it down to only 0.075%. Further discounts are offered to customers who make a certain amount of transactions.
Binance also offers users a huge list of cryptocurrencies for trading. Currently, the total number of cryptocurrencies that Binance hosts is more than 300, and new cryptocurrencies are continuously being added to the exchange's listing. In addition, users can also use more than 40 fiat currencies to fund their investments.
Binance is ideally suited to experienced crypto traders, as it provides a range of useful financial services. For example, users can participate in spot trading as well as margin trading or margin and futures trading, and they can also invest in futures. In addition, users have access to charts and financial data depicting the current and past trends in the crypto market.
One notable setback for Binance users is that the customer service is not reliable. The exchange does not offer a 24/7 chat function to users in case they have any queries. Binance is currently working to improve its customer service, and users can look forward to 24/7 phone service in the future.
The exchange also offers three possible user interfaces customers can choose from depending on their experience in crypto trading. First, the Basic interface for beginners is streamlined to show only the bare minimum required to make trades. Then, there is the Classic interface, which has more features, allowing users to customize their trades by time and category.
The third option is the Advanced interface, which has all available options on display. Users can see live market data to make better-informed trading decisions. Users can switch between these three interfaces easily and pick whichever one suits them the best.
Binance also offers users a mobile app that works on Android and iOS software. The app has two versions — Binance Lite and Binance Pro. Binance Lite has fewer options and features and is easier to use, and Binance Pro has a more detailed interface and is preferable for experienced traders.
Users can toggle between Binance Lite and Binance Pro by simply pressing a button. The Google Play Store recorded 10 million downloads of the app and a rating of 4.4 by users. Through the app, users can not only trade, but they can also have access to crypto market data on a current basis.
The exchange also offers the Binance Earn service, in which users who do not wish to trade crypto can place their funds. The service works like a safe deposit fund that users can cash in on in the long term. Over time, the funds grow in value, and users can withdraw them after a set time period.
Binance also offers a credit card affiliated with Visa, which is free for all users. Cardholders can buy products and services using cryptocurrency as a medium of exchange. However, sales can only be made from retailers who accept cryptocurrency. With this, users get an 8% return on their crypto purchases.
Finally, Binance offers a loan program to customers as well. Loans are available to all users for a predetermined period of time that can vary from 7 to 180 days. Interest is charged on these loans at an hourly rate, and if users can return the loan before the time period expires, they receive a discount on the interest they have to pay.
Pros
Largest cryptocurrency exchange
Lowest trade fees in the industry
More than 300 cryptocurrencies and 40 fiat currencies accepted
Three different user interfaces available
Cons
Customer service is not very efficient
Binance has recently been facing increased scrutiny from U.S. financial regulation authorities
Users cannot make purchases using fiat currencies
Users cannot withdraw funds in fiat currency form
⇒ Visit the Official Website of Binance
Factors We Considered Before Compiling This List of the Best Crypto Exchanges
How Secure Is the Exchange?
The most important thing to know before registering with an exchange is how well they can protect your investment. Security concerns about multiple exchanges have escalated after reports of thefts by hackers in recent news.
Cryptopia, one of the largest digital exchanges, was recently hacked, and customer's funds were stolen. Authorities say the funds cannot be recovered due to the anonymous nature of cryptocurrency.
Keeping in mind such attacks, you need to invest funds in an exchange that has top-notch security systems in place to deter potential hackers. Although all exchanges are upgrading security protocols to combat new threats, some provide better protection than others.
Does the Exchange Have an Insurance Fund?
Some exchanges offer insurance funds to their users, which means investments are still safe in the event of a security breach or data corruption. Having an insurance fund is reassuring if you are worried about losing all of your investment.
The degree to which a user's funds are insured varies from exchange to exchange. For example, some exchanges offer users recovery of lost funds in case of a hacker attack, but not in case of governmental interference. Therefore, the terms and conditions of an exchange's insurance fund need to be considered carefully before you trust them with your investment.
How Is the User Experience of the Exchange?
When you trade in digital currency, you make your investment decisions through a user interface rather than a real person like a broker. If you intend to seriously begin trading Bitcoin, you will need to spend hours on the user interface of your chosen exchange. So, it is important that you are comfortable with the interface of your chosen exchange.
Different cryptocurrency exchanges offer different user interface styles, and we will take a look at some common designs and what they each have to offer. In the end, how comfortable you are with a particular interface is entirely up to you, but we will tell you about some basic features you can consider.
How Many Users Does the Exchange Have?
Whenever crypto is bought or sold on an exchange, a percentage of that transaction fee is charged by the exchange. What percentage this exactly is, however, depends on the exchange. Therefore, you need to choose one that offers you the best possible deal.
However, transaction fees or trading fees are just one kind of fee exchanges charge. Some exchanges charge you for making a crypto deposit in your account, while some charge you every time you make a withdrawal. Moreover, certain exchanges allow users to take loans, and an interest charge is leveled on the loan.
Many types of fees exchanges charge are hidden in the fine print of your customer agreement. We will take a look at this fine print to determine the different fees charged to see which one is the best choice for you. If there is a large number of users, then it becomes less likely they will be taken advantage of, since in today's democratic world, there is strength in numbers. If a large enough number of users protest against an exchange, then the media can force governments to take notice, and users can get help.
In the Cryptopia hacking scandal, the users were able to petition global governments to help them get some of their money back. Eventually, Cryptopia was forced by courts to liquidate its remaining assets in order to pay back some of the money it had lost.
Things to Consider When Choosing a Bitcoin Exchange Platform
Which Country Do You Live in, and What Are Its Crypto Laws?
When the crypto craze first started, there were hardly any restrictions or rules that investors needed to think about. But now, after a decade, governments are waking up to the possible dangers of crypto, and they have implemented laws and regulations which exchanges have to follow.
It is important to know about the laws governing cryptocurrency in your country so you can check if your exchange abides by these laws. For example, suppose you are a citizen of China. In that case, you have to be extremely careful which digital exchange you sign up with, as China has implemented recent bans on certain aspects of crypto.
For instance, Bitcoin is completely illegal in China. So, if you are a Chinese citizen, you need to consider investing in other cryptocurrencies, like Ethereum, Cardano, or Litecoin. China has also banned most exchanges from operating in their country. So, you will also need to look for exchanges that are not on China's banned list.
Since crypto is a relatively recent financial commodity, the laws governing it are still fluid. For instance, the U.S. recently introduced new regulations to govern crypto exchanges. As a result, you need to keep abreast of crypto news to make sure your crypto exchange activity is legal.
You need to know that some crypto exchanges accept funds from citizens of one country but not from another. So, make sure to check what your exchange's policy is for your country. An Australian exchange, for example, accepts funds in USD but not from investors in New Zealand.
How Do You Plan to Make Payments?
The policy of most exchanges varies on which form of payment they accept. For instance, Binance does not accept payment through conventional currency, so users have to convert their fiat currency into crypto using a third-party before investing their funds in crypto.
Most other decentralized exchanges accept funds in crypto or fiat currency. The method of payment also matters when you are thinking of joining an exchange. Some exchanges accept credit card payments through Visa, while others accept only Mastercard. Additionally, some exchanges accept payment through direct bank transfers only from certain countries.
It is important to find out which form of payment your chosen exchange accepts to ensure you have access to it. Some exchanges are also accepting Google Pay and Apple Pay, although not all.
How Much Money Should You Invest in Your Exchange?
The status of cryptocurrencies as financial investments is still very volatile. As a result, most investment advisors dissuade clients from heavily investing in crypto. If you want to invest in crypto, you should only invest a small portion of your funds, so even if something goes wrong, it will not be a huge financial setback for you.
FAQs: Bitcoin/Cryptocurrency
Q1. How can you earn money through a cryptocurrency exchange?
Crypto exchanges work according to the same principles as normal exchanges. You buy a stock, and then you wait for the price to rise. Then, when you think the stock's value provides you with a suitable return on your investment, you simply sell the stock.
Crypto users also sell a crypto stock that is losing value and buy another crypto stock that seems to have better value. By buying low and selling high, a crypto trader is able to make money.
Q2. What information do you need to know to make money through crypto exchanges?
Crypto traders need to keep an eye on crypto news, as any changes in a country's sentiment towards crypto can result in a change in prices. In addition, the behavior of big companies towards crypto should also be noted, as prices can rise when a large company invests funds in crypto.
Also, some exchanges provide users with live data on current crypto market trends. Sometimes, these financial data tools are freely available to users, but not always. If your exchange is offering this service for sale, then you should buy it, as the data will be an invaluable help in making your investment decisions.
Q3. How do you tell if a crypto exchange is legit or not?
When choosing a crypto exchange to invest in, you need to find out which country the exchange is based in. If the country is a respectable one, then it becomes more likely that the exchange is legit. You also need to determine where the exchange company is registered and if any financial authority regulates it.
Exchanges that are listed on stock exchanges are more reliable. Also, if the financial authority of the U.S. regulates an exchange, then it is probably a more reliable bet than an exchange regulated by a smaller nation.
Q4. How do you start trading on a crypto exchange?
If you want to join a crypto exchange, you need to register online with the exchange as a user. The user registration process varies from exchange to exchange, but usually, you need to enter personal data per the government requirements for your country of residence.
After entering the relevant data, the exchange verifies your user identification. The verification process can take as little as 5 minutes to over 24 hours, and the time taken varies from exchange to exchange. Once you have been verified, you become an official user of the exchange, and you can begin trading.
Some exchanges also require new users to deposit a certain amount into their accounts before they begin trading activities. However, the amount is usually low, and some exchanges do not ask for any initial deposit at all.
Q5. Is Bitcoin the best cryptocurrency to invest in at a crypto exchange?
Bitcoin was the first cryptocurrency to appear on the market in 2008. Although there are now hundreds of other cryptocurrencies available, Bitcoin still remains the one with the highest value. Still, other cryptos are increasing in value, and some are emerging as investments just as viable as Bitcoin.
Ethereum, Cardano, and Litecoin are some notable examples. Ethereum, in particular, is emerging as a rival to Bitcoin and may soon have a greater value than Bitcoin. So, if you want to keep making profits through your exchange, you should know that even if it is the best Bitcoin exchange, it may not be the best crypto investment platform for you overall.
Conclusion
In this article, we have tried to offer you an unbiased perspective on the best crypto exchanges. It is now up to you to decide which of these is best aligned with your Bitcoin needs.
In case you feel these are not the right platforms for you, we have also chalked out a few factors for you to consider when choosing a Bitcoin exchange platform on your own. The most important aspect is to ensure you have all of the relevant details about the platform in order to make an informed decision, which is in your best financial interest.