The IOTA rally was perhaps the highlight of November 15th. The price movement gained $ 0.18 by the end of the day. NEM, Monero, NEO and DASH lashed with bull and bear pressure that annihilated each other.
Let's look at the diagrams:
NOVEMBER 12TH HI-LO DEFINES A SHORT-TERM TREND
NEMUSD daily chart for November 16, 2017
The November 12th hi-lot continues Define price promotion for the last 4 days. In essence, what matters is the NEM price action around the 20-period MA and the main support or resistance line at $ 0.20.
So far there is was a pause and closes over the two resistors. What is especially important today is whether the price action confirms yesterday's bull candle and closes above the small range of $ 0.7 or reverses downThat was not made clear by price action.
Still, intraday traders can should continue to take long positions for shorter periods of time.
USD AND DASH BULLS FIGHT FOR CONTROL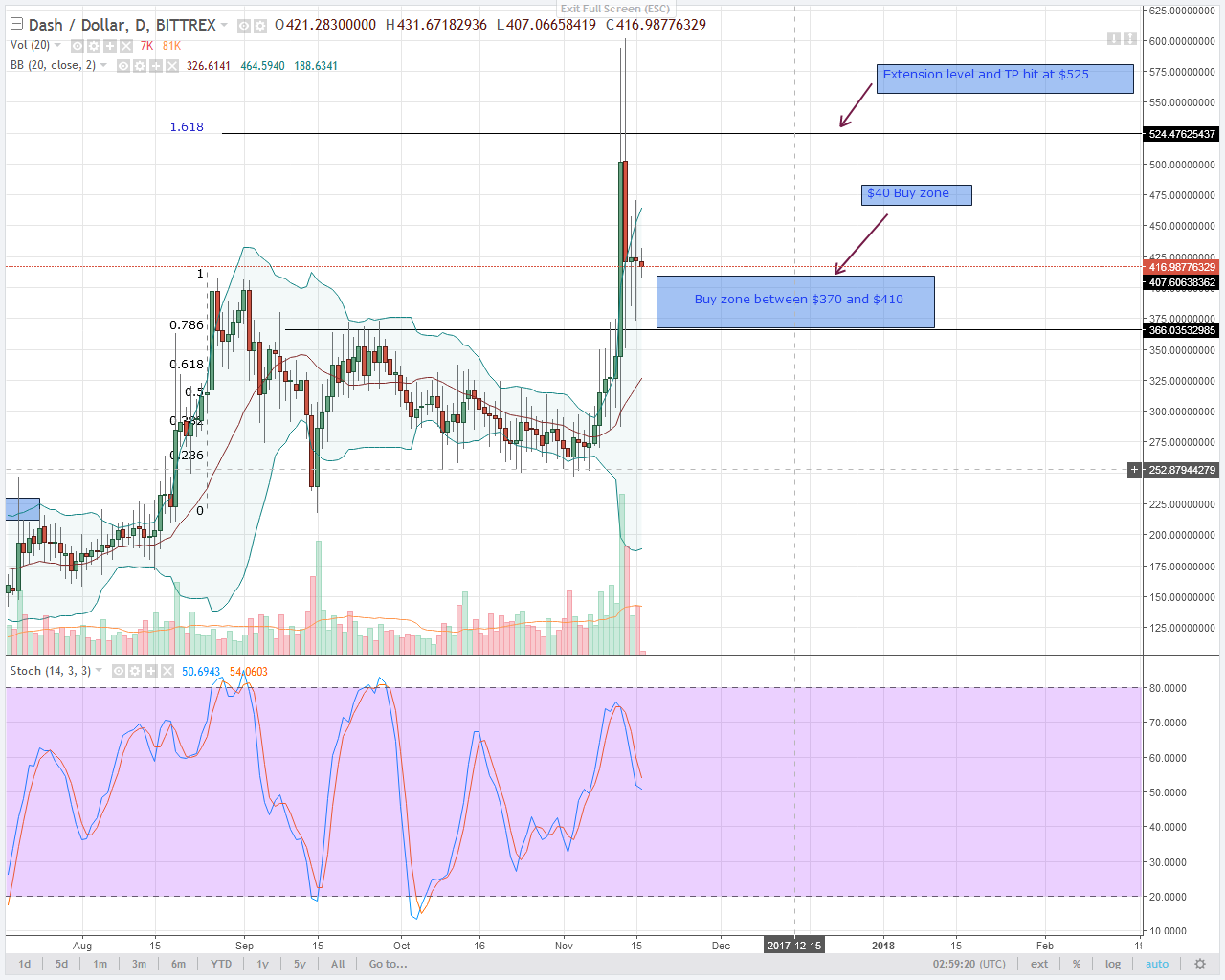 DASHUSD daily chart for November 16, 2017
What we see on the daily chart is a balanced price movement. DASH and USD bulls are canceled as of. announced Dojis on November 14th and 15th. It is worth noting that this happens in the resistance zone with clear lower lows relative to the upper BB.
Second, despite bearish pressure and a stochastic sell signal, the Support line or August highs at $ 405 remain intact. At the moment we recommend patience and When USD bulls push DASH prices below USD 400, we initiate sales and synchronize with the short-term trend.
However, be prepared buy anywhere between $ 370 and $ 410. Conversely and that is desirable if there is a break above $ 435 we go long and be there Synchronized with the main bullish trend defined last week.
IOTA RALLY AND WIN $ 0.18
IOTUSD daily chart for November 16, 2017
According to our recommendation, The IOTA demand triggered our set purchase stops. The weekly chart defines our trend according to our stochastics default settings.
It is evident that the bullish momentum is strong, however Buying IOTA now means shopping at peak times. If you haven't seen last week's rally, wait for a buy signal to appear on the 4HR chart. Ideally, this should be at. be Support line of around $ 0.60 to $ 0.64.
ALT COIN MONERO CAN BE FOUND AT AROUND $ 120
Monero daily chart for November 16, 2017
Monero bulls should just wait for one Buy signal in the support zone and be synchronized with the general bull pressure in the weekly chart.
If today Price doesn't close down September 14th and October 25th highs of $ 120, Bull pressure is evident. In this case,Buy stops should be around $ 130. USD bulls are excessive drive Monero prices towards equilibrium as we can see from these lower highs and a slight divergence after November 10th.
In a case where Monero trickles deeper, the Fibonacci retracement price levels around $ 012 and $ 110 are intended to form our small buy zone.
NEO BULLS ARE RESPONSIBLE AND ABOVE THE MAIN RESISTANCE LINE
NEOUSD daily chart for November 16, 2017
Despite the whip saws there are two bullish formations that maintain our bullish bias especially for intraday traders.
First is the NEO price above the major resistance trendline. Secondly, The price movement is above the 20-period MA with bullish momentum as stochastically shows.
Trend trader should wait for a break yourself off of that $ 10 range. On the same line Intraday traders should go on Buy while price action is above $ 25.
All charts courtesy of Trading View