As more and more businesses integrate blockchain technology into their processes, the requirement for a platform that allows blockchains to connect with one another has become even more significant. Cosmos is one of these platforms, hoping to create an 'Internet of Blockchains' in the years ahead, along with its native token, ATOM.
In this article, we'll cover our ATOM Price Prediction for the months and years ahead. We'll discuss what ATOM is and some potential price targets before showing you the best place to invest in cryptocurrency today – totally commission-free!

Cosmos (ATOM)
Price
$ 30.87
ATOM Price Prediction 2021 to 2022
As you'll see throughout this ATOM stock forecast, our analysis has highlighted some interesting factors that have prompted us to become pretty bullish on this token. However, if you only have time for a brief overview of our ATOM prediction 2021, then the points below highlight our findings for the upcoming months:
One Month – The ATOM price live is currently approaching the nearby support level at $30.40. If we reject this area, the price could head back to $40 over the next month.
Three Months – Although the all-time highs made in September 2021 may prove to be a strong resistance level, ATOM will likely finish the year strong. We estimate that the token's price could reach $50 by the end of the year.
Early 2022 – The beginning of the year is sometimes slow for crypto, as markets take their time to pick up the pace once again. With that in mind, our ATOM forecast estimates that the coin could reach a valuation of $58 by early 2022.
67% of retail investor accounts lose money when trading CFDs with this provider.
ATOM Price History – the Story of 2021 So Far
Investing in cryptocurrency can be highly lucrative, especially if you find a token early in its life cycle with a strong use case. This seems to be the case with ATOM, as the Cosmos platform looks likely to be in high demand in the years ahead. Let's take a look at what Cosmos is and the token's path the reach current prices.
Cosmos is a network that aims to connect independent blockchains and allow them to transfer information with one another seamlessly. Most blockchains operate independently, with the crypto market having an almost 'competitive' feel. Cosmos looks to solve this problem by creating an 'Internet of Blockchains' (or IoB), which means these blockchains can send tokens, data, and digital assets to one another.
The Cosmos ecosystem utilises a Proof of Stake (PoS) algorithm to validate transactions. This algorithm is employed by the platform's 'hub', which is the centre point for all of the blockchains connected to it – known as 'zones'. Zones are connected to the hub via the Inter-Blockchain Communication Protocol (IBC), which provides a bridge for data to be easily transferred.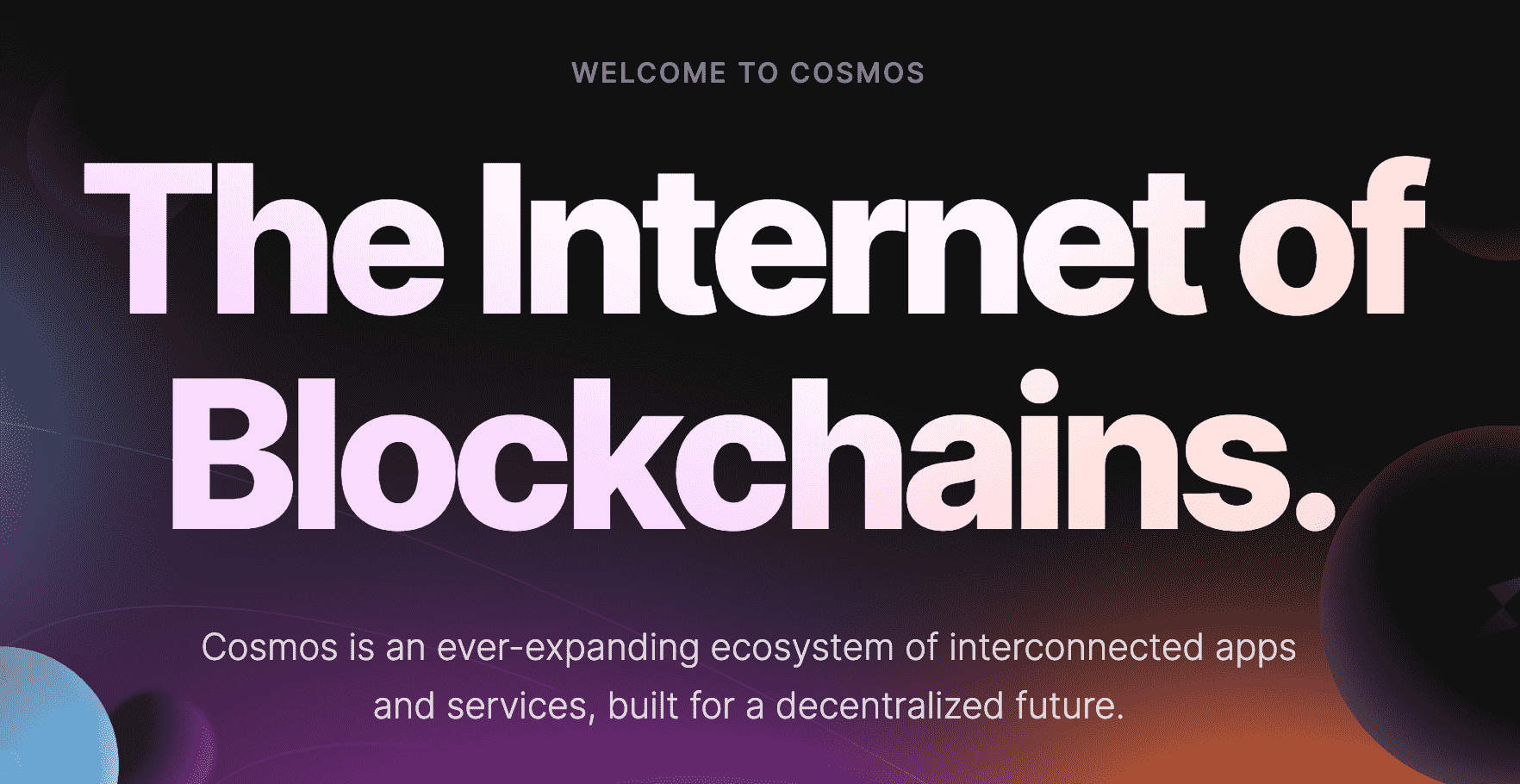 In addition, the Cosmos network offers a software development kit (SDK) that allows developers to construct their own blockchains easily. Using this SDK, blockchains can be built and operational in around a week, which is much faster than creating one without the SDK. Due to this, Cosmos offers an easy way for development teams to launch decentralised finance (DeFi) protocols and decentralised apps (dApps) within the ecosystem.
As you can imagine, this use case sets Cosmos apart from many other altcoins. Cosmos' native token, ATOM, is used to stake on the network and help validate transactions. Furthermore, ATOM can be used for governance, allowing holders to vote on network changes. As more blockchains get added to the Cosmos network, ATOM will also be exchanged between blockchains, acting as a universal currency.

ATOM began picking up momentum in early 2021, increasing by 600% between January and May. As people who buy cryptocurrency will know, the market suffered a crash in May 2021, which affected pretty much all coins. However, ATOM bounced back admirably, and from July to September, the coin rose another 387%.
At the time of writing, the current ATOM price is hovering around $33.29. This is following a sharp decline in recent weeks after posting all-time highs in late September. However, as this looks to be merely a pullback, now might be a great time to consider investing in this crypto.
ATOM Price Forecast
As you can see, the ATOM coin has only really emerged in 2021, with the future now looking exceedingly bright for this token. However, much like when you buy Bitcoin (BTC), it's essential to do your due diligence and research the factors that could affect the price. With that in mind, let's explore the technical and fundamental aspects of this ATOM price prediction.
Technical Analysis
Although there has been some bearish momentum in recent weeks, there are still signs to be hopeful about ATOM. As you can see from the price analysis below, ATOM is currently trading above the 50-day EMA and the 200-day EMA. These moving averages indicate the medium and long-term trends – so the fact that price is above them is a bullish sign.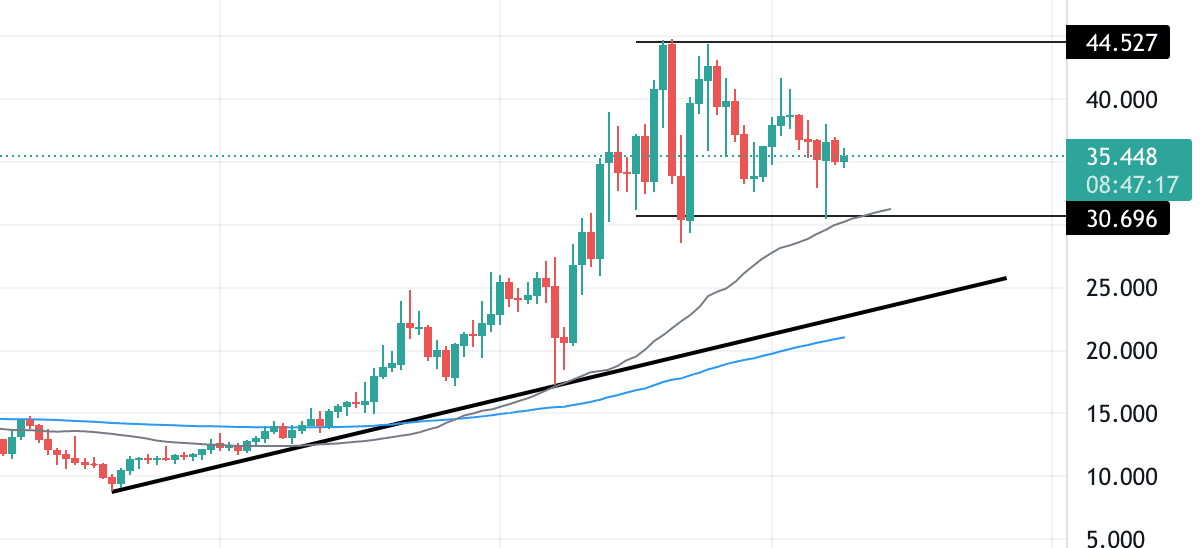 67% of retail investor accounts lose money when trading CFDs with this provider.
ATOM seems to be heading lower to test the 50-day EMA, which tends to act as a support level in many assets. This may coincide with the upcoming support level at $30.40, making for a high probability area to invest in. Before investing, it's wise to wait for a solid bullish candle to 'confirm' the trade idea.
On the upside, the highs of September around the $44.10 level will likely be tough to break, as they will have a strong psychological element. However, if the price were to close above this level, it would represent new territory for ATOM. At this point, there would be no way of knowing how high the token could rise – making it a great time to buy ATOM if you are a speculative investor!
Fundamental Analysis
According to CoinMarketCap, ATOM currently has a market cap of $7.43bn. This puts ATOM in the top 25 largest cryptocurrencies in the world right now. Over the past 24 hours, the trading volume has reached $489million – up 4.57% from the previous day.
As Ethereum (ETH) grows more prominent, the worry is that this network will dominate the rest of the cryptocurrency market. However, by using the Cosmos platform, Ethereum could link with other blockchains. This interoperability will help create a stable ecosystem that could help shift major industries over to the blockchain. The more stable the ecosystem, the more likely it is that traditional institutions would accept these blockchains.
Furthermore, the fact that Cosmos uses a Proof of Stake algorithm also goes in its favour. The Proof of Work algorithm used by Bitcoin has been heavily criticised because of how energy-intensive it is. As Cosmos uses PoS, it'll likely appeal to the broader community – leading to increased demand for ATOM.
ATOM Price Prediction 2025 – Long Term Outlook
Now that you have a deeper understanding of ATOM, let's look at the token's prospects. Much like when you invest in stocks, you can opt to have a short term or a long term coin price horizon with ATOM. We'd recommend the latter, as because ATOM is still relatively new to the market, price does seem to exhibit large amounts of volatility daily.
This digital coin makes for a good investment if you believe that interoperability between blockchains will be the way forward for the crypto space. Notably, Cosmos supports blockchains that are built on its system and those that are not. This is a good selling point for Cosmos, as developers will not be forced to use the Cosmos SDK if they don't want to. Furthermore, blockchains in operation currently can also theoretically join Cosmos.

As Cosmos' blockchains aren't connected directly and instead are connected to a 'hub', this solves the scalability issue. If blockchains were connected to one another, there would be far too many transactions at once for the system to handle. Cosmos uses vertical and horizontal scalability processes, meaning that the system can handle thousands of transactions per second.
Ultimately, the ease with which developers can create their blockchain platform on Cosmos, combined with the interoperability of these blockchains, is what makes Cosmos so appealing. Due to this, our ATOM price prediction 2025 estimates that the token could reach a valuation of $100. The next few years will likely see more platforms operate on the Cosmos ecosystem, thereby increasing the price of Cosmos exponentially.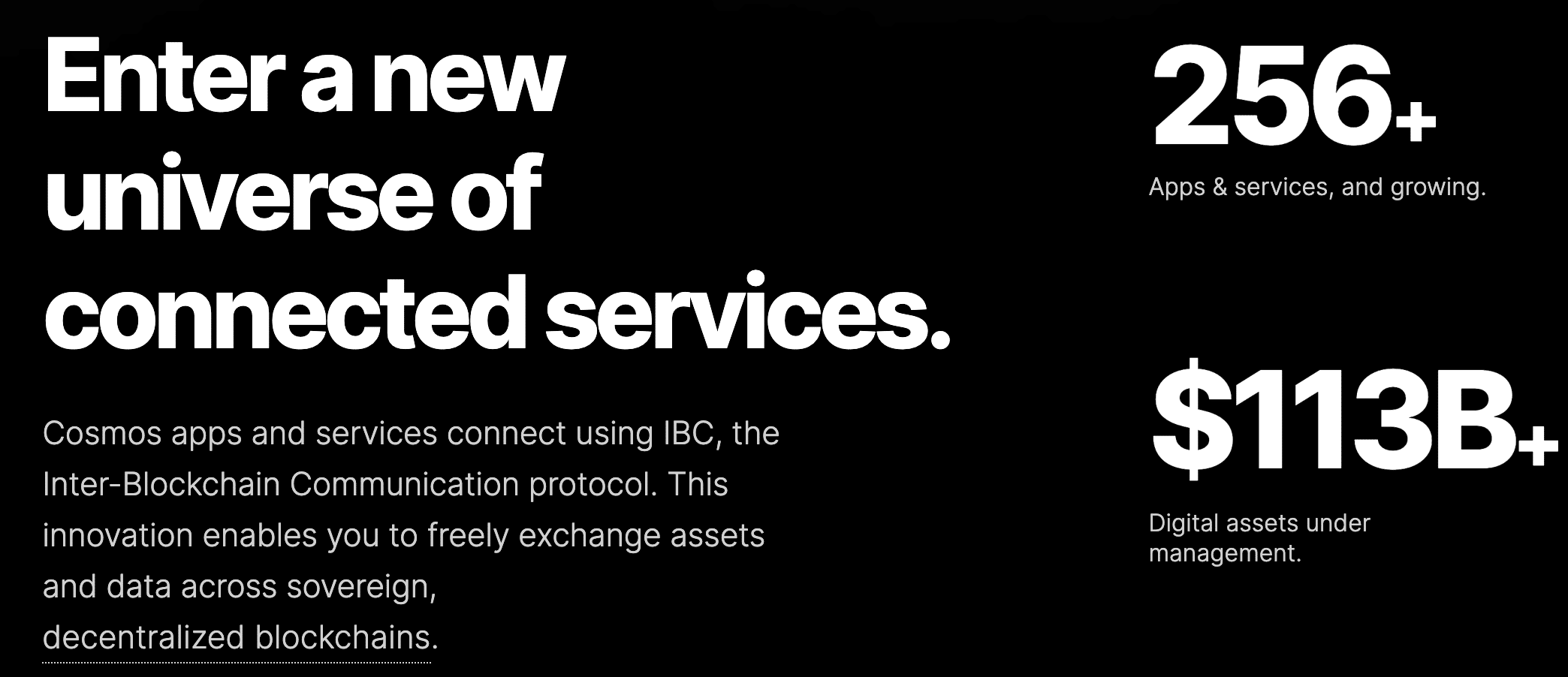 Looking further ahead, our ATOM price prediction 2030 sees the token reaching a valuation of $150. ATOM does have an infinite supply, meaning that the token probably won't rise as fast as those that are deflationary. However, this means that ATOM will likely exhibit a more gradual price appreciation, which is great for long-term investors.
ATOM Price Chart
As this Cosmos price prediction has highlighted, the Cosmos ecosystem offers a fantastic way for blockchains to connect and share information. People who invest in Ethereum will likely consider an investment in Cosmos, as the platform provides functionality for developers to create protocols involving smart contracts. Ultimately, the ease with which blockchains can be made is one of the significant factors that go in Cosmos' favour.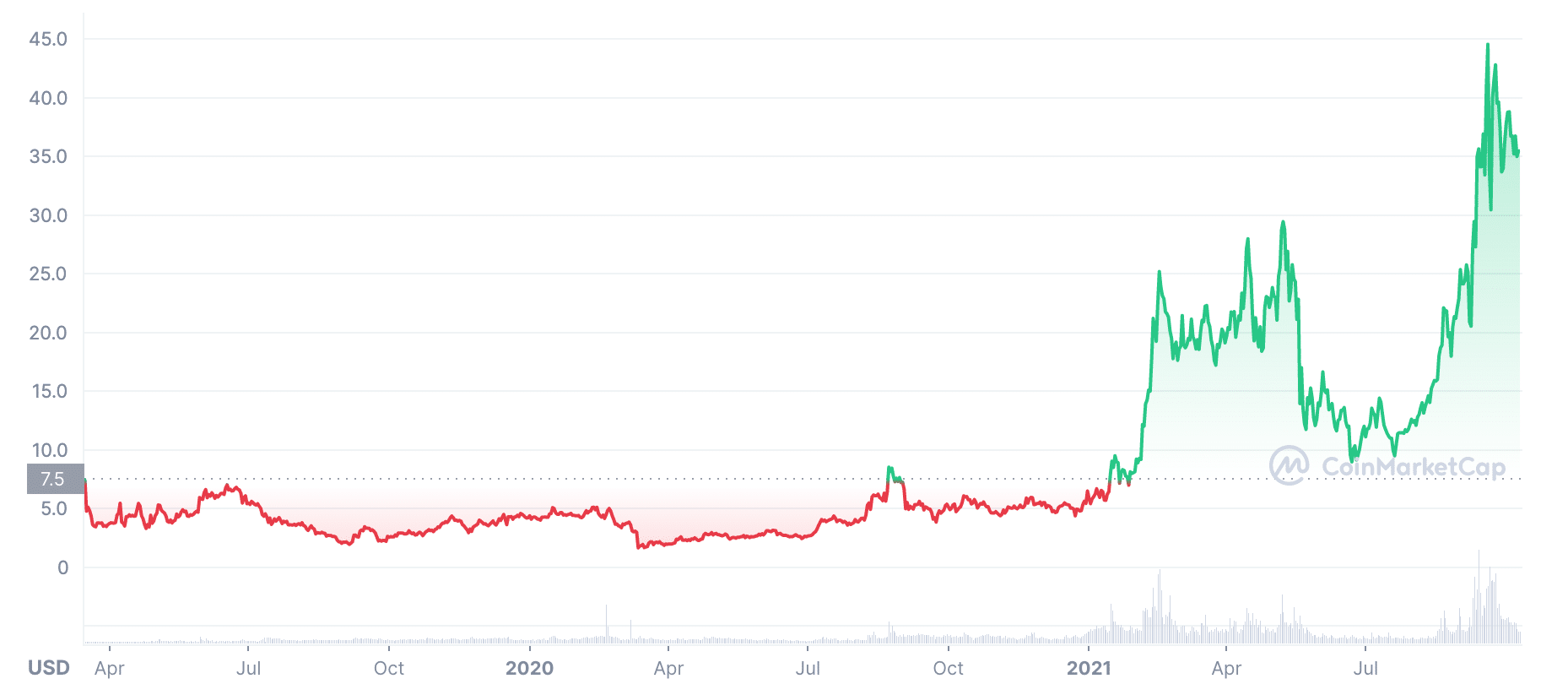 67% of retail investor accounts lose money when trading CFDs with this provider.
As you can see from the price chart, ATOM has risen exponentially since the beginning of 2021. When a token increases this high so fast, it naturally attracts retail investors as they believe it's going to the 'moon'. Often this doesn't happen, as many investors will sell their holdings once the price reaches an attractive level – thereby pushing the price down.
As such, we recommend looking at ATOM more long term. The recent pullback has offered an excellent level to purchase ATOM and will allow you to gain exposure to any bullish price movements in the months and years ahead. Although the 'tokenomics' on ATOM are not as appealing as others, this coin does still offer some fantastic bullish potential in the future.
Where to Invest in ATOM
Before we finish this ATOM forecast, let's look at the investment process. As ATOM is still a relatively new coin, many major brokers won't offer it as a tradeable asset. Thus, you'll have to create an account with a reputable exchange (such as Binance) if you wish to invest in ATOM.
On these exchanges, you can transfer FIAT currency (such as USD) into crypto. From there, you can exchange one crypto for another, easily allowing you to hold ATOM. This process can be a little complicated if you are a beginner, so it's vital to do your research before investing.
However, if you're looking to invest in any other crypto, then we'd recommend using eToro. eToro has over 20 million users worldwide and offers a safe and user-friendly platform to invest with. Notably, eToro is regulated by the FCA, ASIC, and CySEC – ensuring all users are protected on the platform.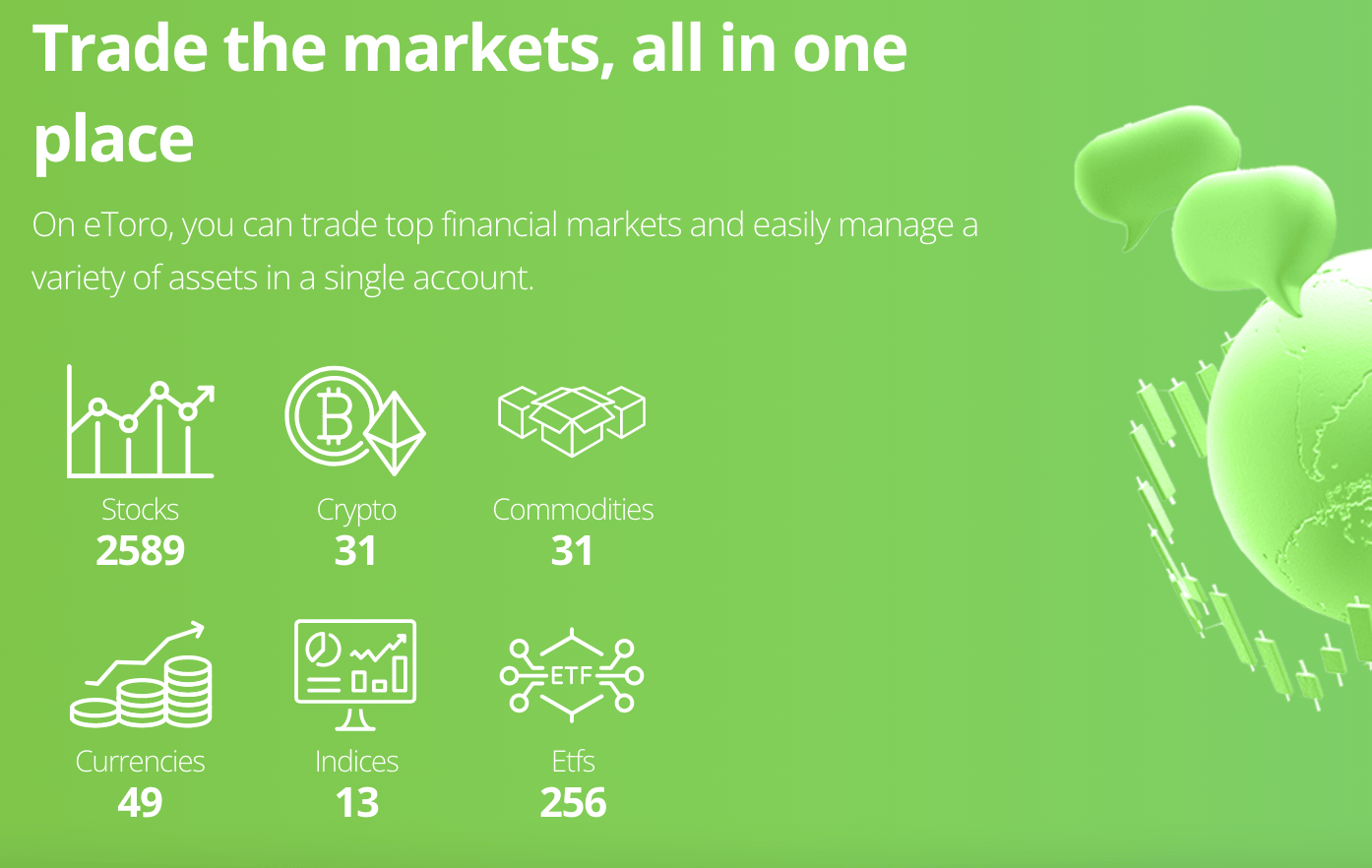 We recommend eToro because you'll be able to trade commission-free. This aspect of eToro's platform will be particularly appealing to active traders, as they can avoid the hefty transaction fees charged by some other platforms. Aside from commissions, eToro also don't charge any deposit fees or monthly account fees.
Finally, eToro accepts deposits from as little as $50 (£37), one of the industry's lowest thresholds. Users will be able to fund their accounts via credit/debit cards, bank transfers, and numerous e-wallets – including PayPal and Klarna. This ease of access, combined with the attractive fee structure, makes eToro one of the best CFD brokers when investing in cryptocurrency.
ATOM Price Prediction – Conclusion
To summarise, this ATOM prediction has covered what the token is and its prospects for the future. As you'll likely be aware, Cosmos (and ATOM) offer a seamless way for blockchains to connect, reducing the adversarial nature of the market. This feature will likely be important in the years ahead – meaning Cosmos might be a great addition to your portfolio at current prices.
If you're looking to buy cryptocurrency today, we'd recommend using eToro. eToro is one of the world's largest brokers, with over 20 million users globally. What's more, eToro offers commission-free investing on various cryptos – all from a minimum of $50!

67% of retail investor accounts lose money when trading CFDs with this provider.
FAQs
What is the price of ATOM right now?
The ATOM price today is fluctuating around the $33.29 level. This represents an increase of just over 424% since the turn of the year.
What drives the price of ATOM?
As more blockchains join the Cosmos ecosystem, this will increase the value of ATOM. This is because ATOM can be used across blockchains and is also used as a governance token.
Where can I buy ATOM?
Many large crypto exchanges, such as Binance, offer ATOM as a tradeable asset. However, if you're looking to invest in another crypto, then we'd recommend using eToro due to their commission-free trading structure.
Why is ATOM going down?
The recent decline in the ATOM price is more of a pullback rather than anything serious. Thus, now may be a great time to buy ATOM at a lower price.
What will ATOM be worth by 2022?
Our ATOM prediction estimates that the token could reach a valuation of $58 by early 2022. This would be an increase of around 72% from today's prices.
What will ATOM be worth in 2025?
Our ATOM prediction estimates that this token could hit $100 by 2025. As more blockchains emerge, the Cosmos ecosystem will likely become more popular than it is today. This will increase the value of ATOM due to the token being used for staking and governance.
About Connor Brooke
PRO INVESTOR
Connor is a Scottish financial expert, specialising in wealth management and equity investing. Based in Glasgow, Connor writes full-time for a wide selection of financial websites, whilst also providing startup consulting to small businesses. Holding a Bachelor's degree in Finance, and a Master's degree in Investment Fund Management, Connor has extensive knowledge in the investing space, and has also written two theses on mutual funds and the UK market.