So, today we're going to walk you through all of that best Cardano wallets of 2021. Which wallet can you use to store your ADA cryptocurrency? The best options available are in terms of speed, high UI and design, and more importantly, how secure they are. We'll also discuss the underlying functions of all supported wallets so that you can easily form an opinion. Let's begin.
The famous ADA coin
The cardano project was started in 2015. The man behind this project was Charles Hoskinson, who is also a co-founder of the Ethereum network. Cardano's main goal is to create blockchains that are more powerful and effective than the older blockchains like Ethereum. In short, cardano can help you make transactions cheaper and faster.
The founders of cardano believe that Cardano is the third generation blockchain while Ethereum and Bitcoin are the first and second. However, the meaning of the terms changes slightly. Cardano is the blockchain used to conduct transactions while ADA is the coin of this particular blockchain. Just like Ethereum, cardano Blockchain also helps people build smart contracts. Cardano's networks are decentralized. This means that the blockchain is not regulated by a single authority. Instead, all transactions and smart contracts are thoroughly reviewed by the community.

Best Cardano Wallets 2021

Below is the updated and complete list of Cardano Wallets that are easy to store your Cardano (ADA) coins in
1. Ledger Nano S
(Recommended)
The Nano S device is one of the preferred crypto hardware wallets when it comes to security and efficiency. The device is considered a smooth connection between the blockchain world and the user.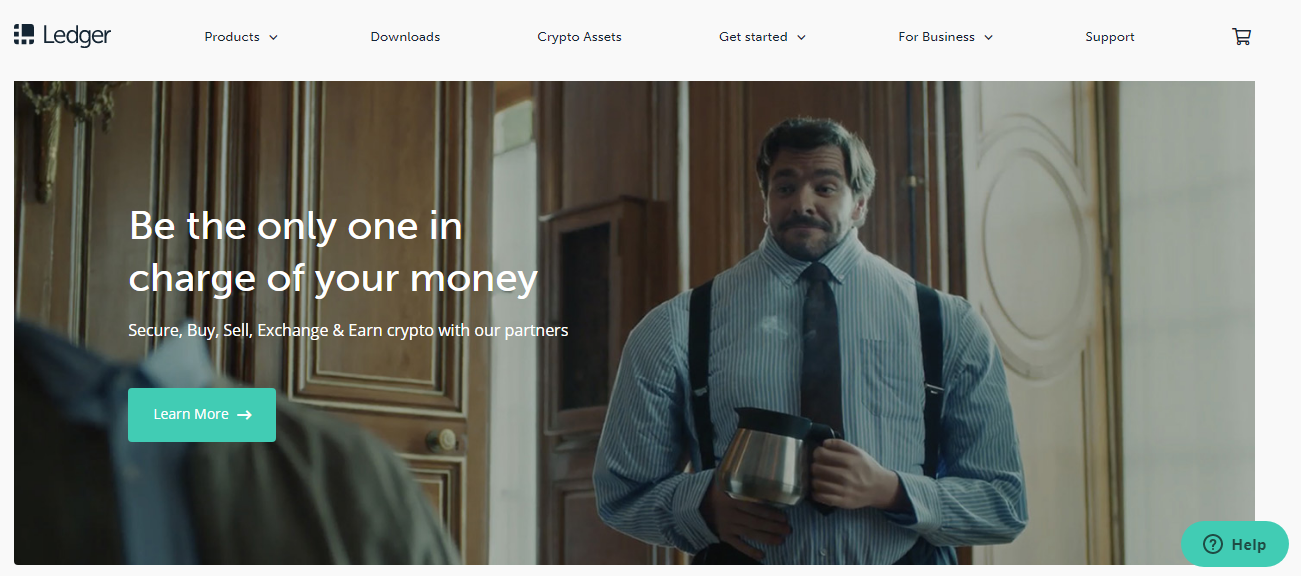 The wallet supports more than 1100 tokens and coins. When it comes to security, the device does not make any compromises. It stores all of your private data in bits and pieces. The device's user interface is simple, elegant, yet comprehensive. You can easily estimate your transaction fee live before making a real transaction.
Due to its remarkable security, it is impossible to attack or hack the device with virus. It offers multi-asset support. Users can store more than one token or coin with the same wallet that they own.
The wallet offers you an OLED display. This means that you can review every transaction you make.
2. Trezor (hardware wallet)
Trezor One is one of the top hardware wallets that is widely used. The design of the wallet is elegant and comfortable to use. The wallets store almost all types of digital assets that come onto the market.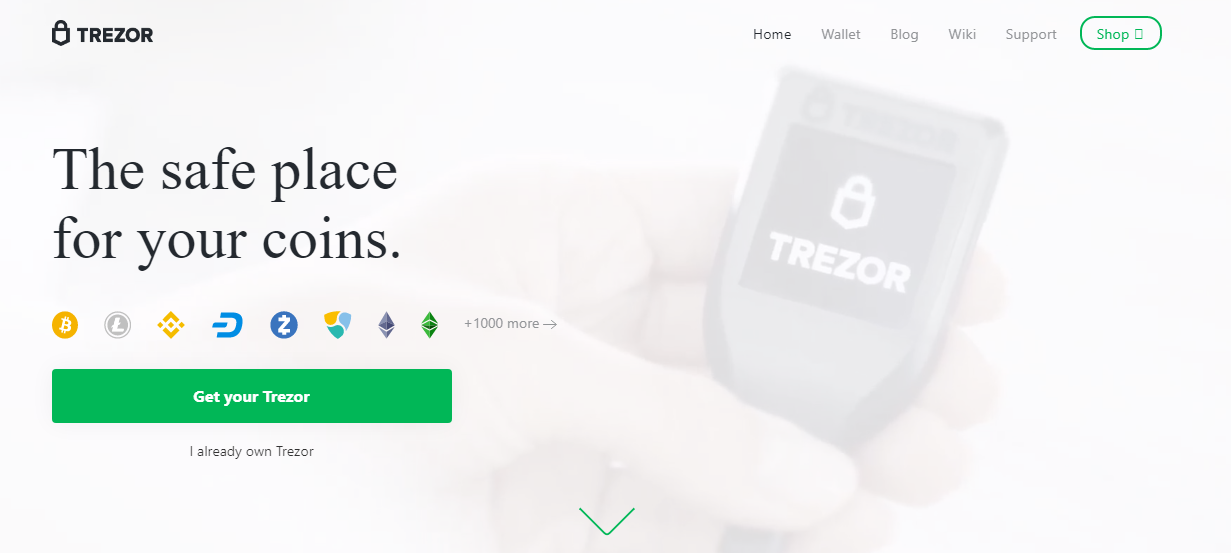 You can save your cryptocurrencies offline. The wallet's security patches are up to date. The wallets store your private keys and confidential data offline so that no one can access them over the Internet. While a little more expensive than the Ledger devices, the features are well worth using.
The wallet is quick and easy to set up. Due to the connection via a USB cable, the device is not considered to be as portable as other hardware wallets.
In Trezor you can easily exchange your assets via the integrated exchange without intermediaries. Trezor is a bit expensive. Investing in hardware wallets is a little under pressure when you are on a budget. Undoubtedly, the team offers a high level of security that is not cheap.
3. AdaLite wallet
Formerly known as CardanoLite, the lightweight, web-based AdaLite wallet. The wallet is safe and quick to carry out transactions. You can use the Ada Lite Wallet to access your ADA coin in a number of ways. This wallet was created keeping security in mind as a primary concern. Otherwise, the wallet should be user-friendly.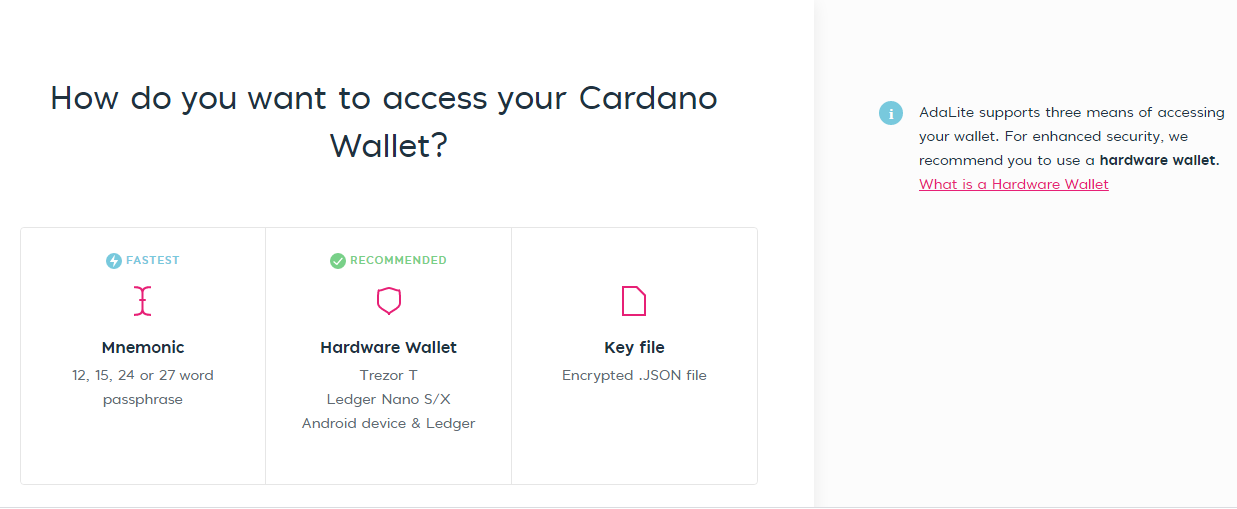 When you create a new wallet, you get a 12-word key phrase. If you've lost your password, you can use this 12-phase key to access all of your credit and restore your account. AdaLite is a self-hosted wallet. This means that all of your private keys remain in your possession.
Even the Wallets website doesn't have your data. Good news that hardware wallets like Ledger and Trezor devices are compatible with this wallet.
4. Yoroi wallet
Yoroi Wallet was designed by Emurgo, one of the top organizations behind the Cardano project. The wallet was first released in 2018, a web-based light wallet in which you can easily store your Cardano.
Yoroi Wallet is available as an extension that you can easily get from the Chrome App Store. The download process is not that complicated and very easy.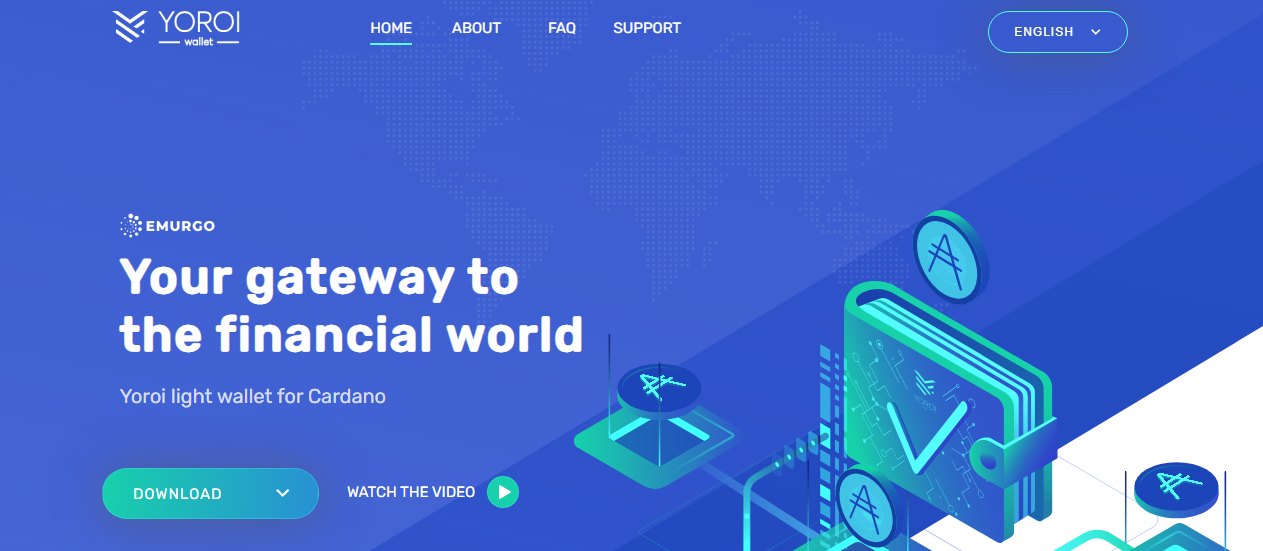 The Chrome extension offers its users a very simple, safe and fast environment to manage all of your Cardano stocks. The main point to make this wallet lightweight is that users don't have to download the entire blockchain to their computer.
Download the extension and you can carry out any transaction by sending and receiving cardano instantly. However, since the wallets are not that old on the market, there are opportunities for bugs and minor errors that any user can be exposed to.
5. Infinite wallet
Infinito Wallet is a free universal wallet available on both Android and IOS platforms. The wallet is able to store all A-list cryptocurrencies. Starting with all ERC20 tokens, NEO NEP-5 tokens up to BTC, ETH and last but not least the Leasing ADA aka Cardano. The company has expanded the list based on the needs of the market and as per coinmarketcap's ranking.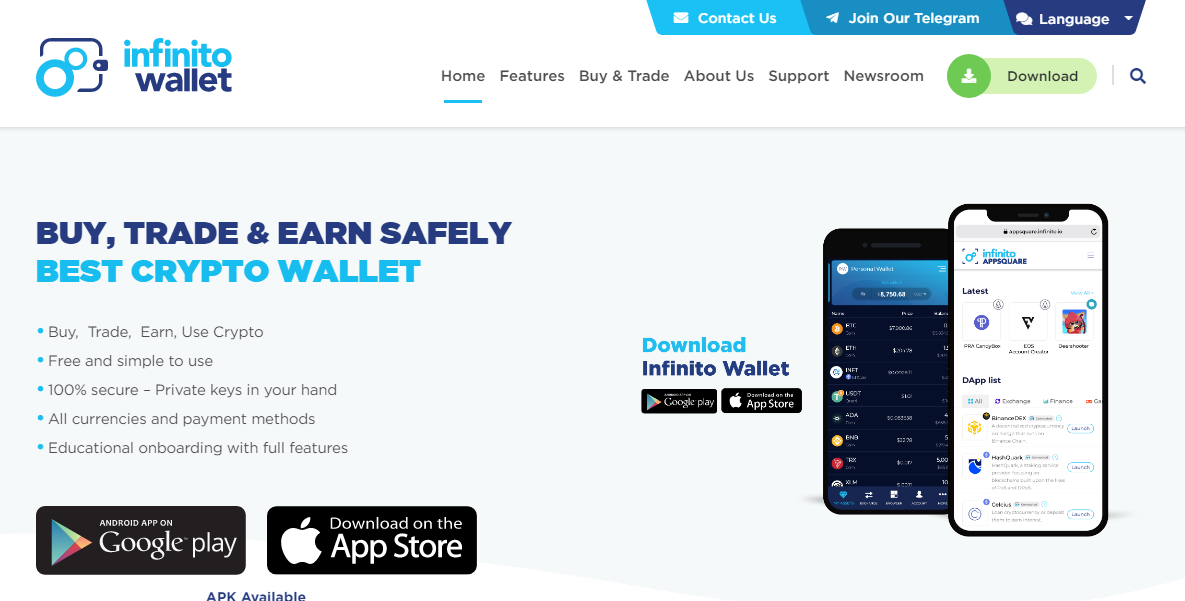 Since the wallet is a mobile app, it offers its user a very quiet and smooth user interface. Infinito makes it easy to access your wallet anytime, anywhere in the world by providing proof of mobile apps.
Regarding the security concerns, Infinito offers Touch ID support. The wallet app supports more than 12 languages.
6. Daedalus purse
This wallet is the official wallet and the supported product of ADA. It's an open source wallet that's only available for desktop. The wallet supports Windows, Mac operating systems and ADA storage, which are provided by Daedalus Wallet itself. Daedalus only participates in the Cardano network and only runs in its network.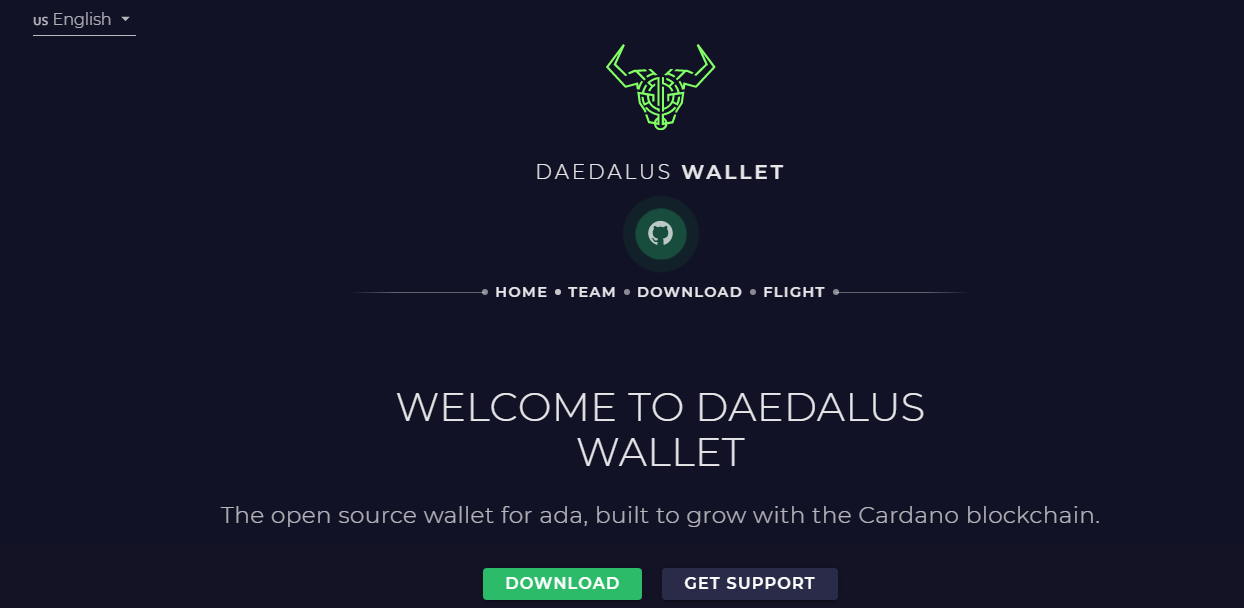 With the Hierarchical Deterministic Wallet (HD) function, you can manage any number of wallets and fully organize your digital assets.
The development team recently claimed that in future releases, developers will be able to develop their application according to their needs in order to increase functionality.
Speaking of the downside, the wallet isn't available on IOS and Android. The safety concerns are less high. All of your passwords are protected by advanced cryptography.
7. Look at the wallet
Guarda Wallet is new on the market. While not as popular as hardware wallets, it's still worth a try. Guarda wallets are known as mainstream coin and offer you unlimited support with all tokens and coins connected to the Bitcoin and Ethereum network.
The Guarda team is available 24/7 to answer all your questions and help you if you have any. The user interface is very simple and beginner friendly. Good security measures are the main feature of this wallet.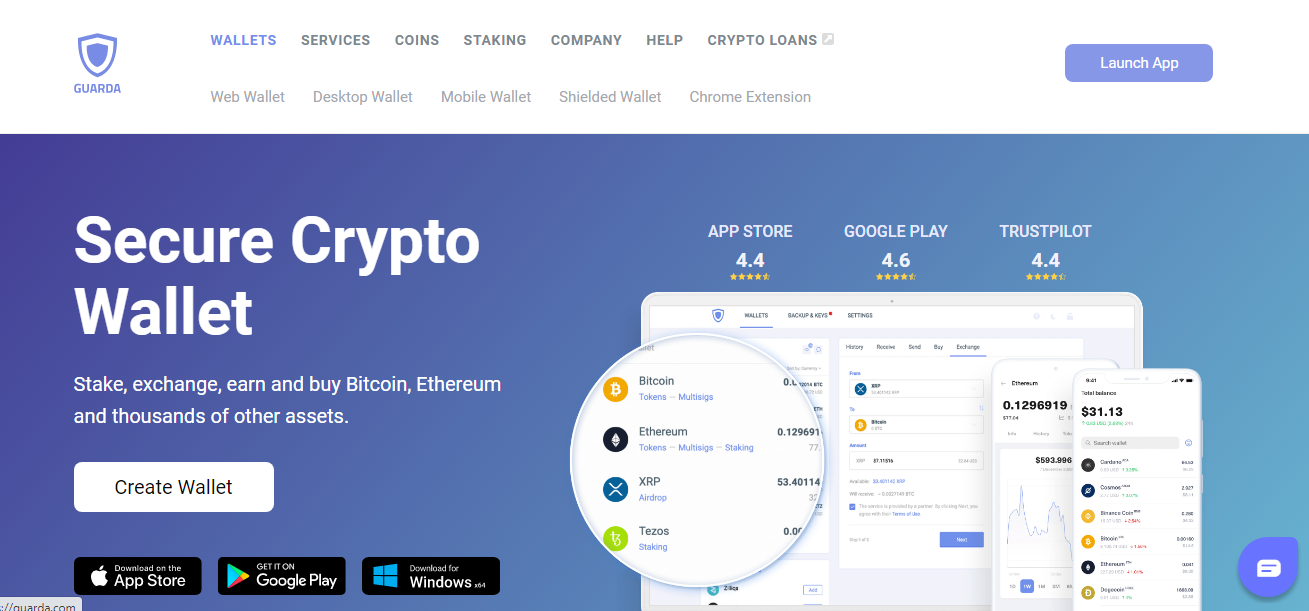 While the app is completely free to download, there is a certain amount of fees you'll have to pay when using the build in exchange for the wallet.
3.5% fees are high compared to other crypto wallets and one of the wallet's biggest flaws. If you end up looking for the best wallet to keep your DOT or other cryptocurrencies more secure, then you should stop your search. Because after reciting all the best about this wallet, hopes should be high.
8. Trust wallet
The motto of this wallet is to make crypto more accessible to the public. The wallet is officially supported by Binance means that it is the official product of the Binance group.
Trust Wallet is most popular with merchants and especially those who are more interested in investing in Cardano aka ADA. Your search must end with this wallet if you are looking for a most suitable wallet.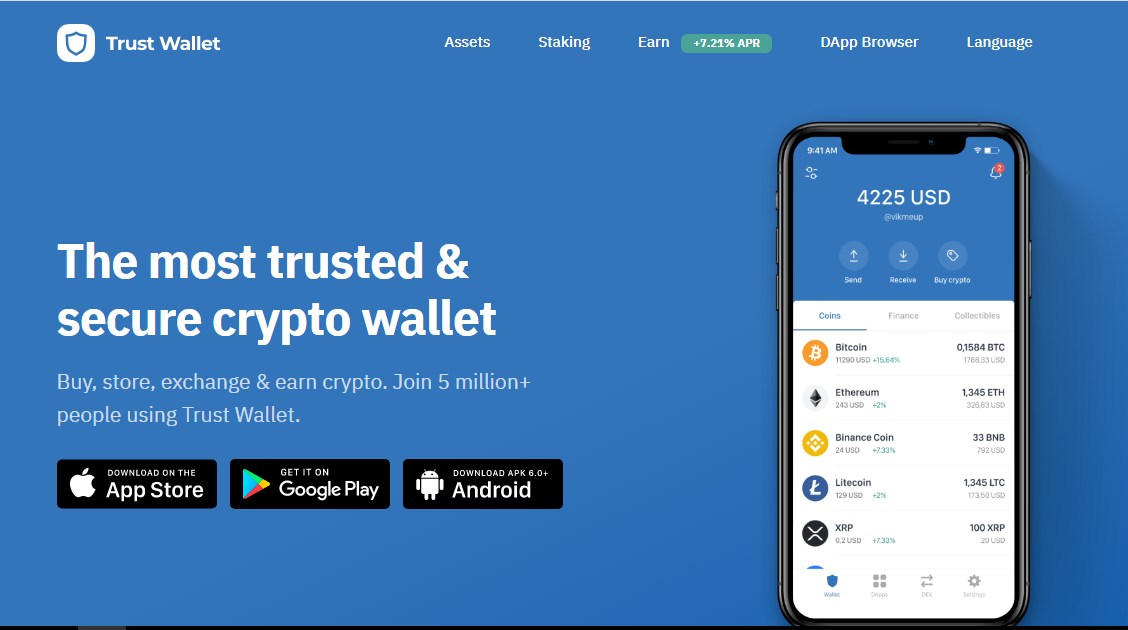 The wallet's interface is very user-friendly and easy to understand. For them, the user experience is always in the foreground. There are many handfuls of features out there and the team is adding more features that can completely change the perspective of decentralized finance.
This means that the wallet supports different coins and tokens on a single platform, i.e. Ethereum, Bitcoin and of course Cardano.
Frequently asked questions about Cardano
Is Cardano a Good Investment?
With the crypto market volatile, experts predict that Cardano will soon hit its all-time high. Yes cardano is a good long term investment. The coin will rise as high as $ 2 by early 2021.
Who Owns Cardano?
The founder of the Cardano Blockchain is Charles Hoskinson. This is the same man who co-founded the Ethereum blockchain. So expect high!
Conclusion
And there you have it. We finish our thought and present you with our comprehensive list of the top wallets to keep your ADA in.
If any of you want the most secure option, hardware wallets are the best. Yes, they are a bit expensive, but worth paying for. On the other hand, if you are looking for highly functional wallets, Atomic Wallet and Daedalus Wallet are the best options.
Whatever you choose, make sure you are following Security 101. Make sure that your PC is virus-free and that you have antivirus software installed. Do you still have questions that need to be answered? Comment below and we will be in touch shortly.