Price, analysis and graphics for Bitcoin (BTC / USD), Ethereum (ETH / USD) and Dogecoin (DOGE / USD):
Bitcoin and Ethereum kick off Turkey's ban.

Dogecoin goes ballistic, the rise and rise of altcoins.
A week of Bitcoin and Ethereum hitting new record highs ends on a downward trend after Turkey announced it would ban cryptocurrency payments. Turkey's central bank said the ban, which goes into effect April 30, was due to the irrevocable risks associated with cryptocurrency transactions and the fact that their "market values ​​can be excessively volatile". While this news is holding back the recent rally, any further profit taking in this area is likely to be seen as another opportunity to enter the market at cheaper levels. As always, caution should be exercised over the weekend sessions in this 24/7 market as decreased liquidity can lead to strong movements.
The rise and rise of altcoins – Dogecoin is on the rise
This week's star performer and media headliner is Meme Darling Dogecoin, which has risen from just over 6 cents in the past seven days to a current level of 38 cents, an increase of over 500%. The token, a favorite of Tesla founder Elon Musk, more than doubled today – with a market cap of $ 48 billion – backed by another bullish tweet from Musk. When you've received 273,000 Twitter likes, you know your message will come home. Any kind of serious technical analysis of Dogecoin is currently controversial as price movements are solely driven by various Reddit boards in Cryptocurrency, StockTwits and Elon Musks considerations.
Bitcoin is in decline that day but remains positive for the week, only on Turkish central bank news. As can be seen on the daily chart, each recent sell-off has been seen as an opportunity to get in or re-enter the market. The chart shows an uninterrupted series of bullish waves with higher highs and higher lows. As long as this pattern persists, higher prices are likely. If the sell-off continues, a support zone between $ 58,400 and $ 59,200 (20-day SMA) will come into play ahead of the April 7th swing low of $ 55,530.
Daily Bitcoin (BTC / USD) Price Chart (October 2020 – April 16, 2021)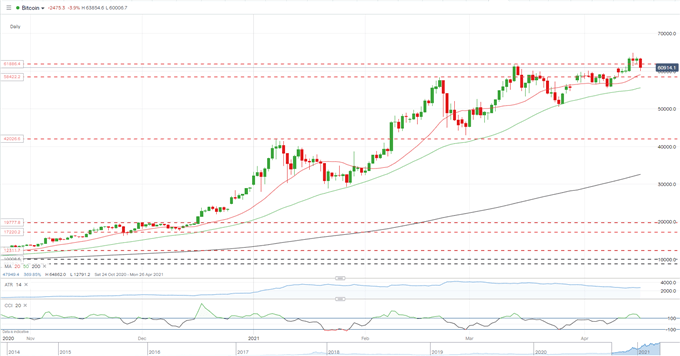 Ethereum is another outperformer lately and continues to make new heights. The Ethereum / Bitcoin spread is approaching 0.0400 again after trading just 0.01605 in early September last year, showing Ethereum's outperformance in recent months.
Weekly chart for Ethereum / Bitcoin spread (July 2020 – April 16, 2021)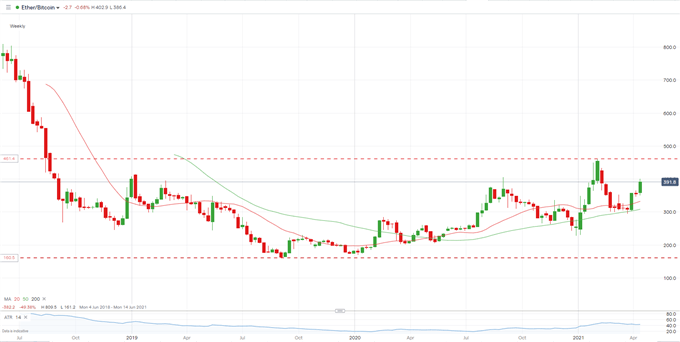 The daily Ethereum chart remains positive this week despite today's sell-off with a series of recent highs and lows on $ 2,100 each page as an area of ​​potential support as the sell-off deepens. All three moving averages remain bullishand as with Bitcoin, higher prices are likely to be expected in the future.
Daily price chart for Ethereum (ETH / USD) (November 2020 – April 16, 2021)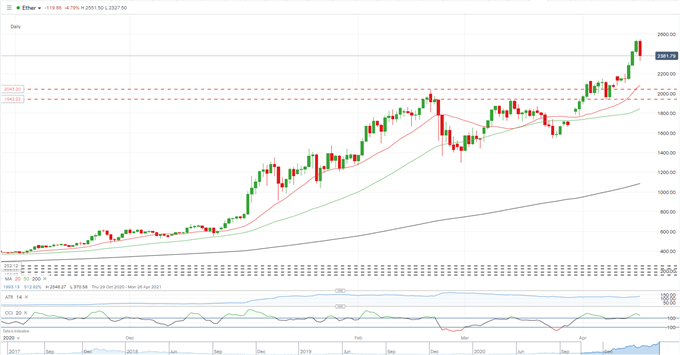 Traders of all levels and skills will find something to help them make more informed decisions in the new and improved area DailyFX Trading Education Center
What do you think about it? Bitcoin (BTC), Ethereum (ETH / USD) and Dogecoin (DOGE / USD) – bullish or bearish? You can let us know using the form at the end of this article or contact the author via Twitter @ nickcawley1.
https://www.dailyfx.com/education?ref-author=Cawley&CHID=9&QPID=917709
Element within the element. This is probably not what you were up to! N n Instead, load your application's JavaScript bundle into the element.