Source: Adobe / agnormark
Bitcoin (BTC) transaction fees hit an all-time high after an explosion in Xinjiang, China, and miners went offline last week.
According to BitInfoCharts, the average (median) fee is now USD 58.42, above the previous record of USD 55.16 set in December 2017.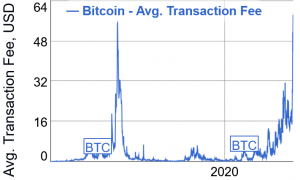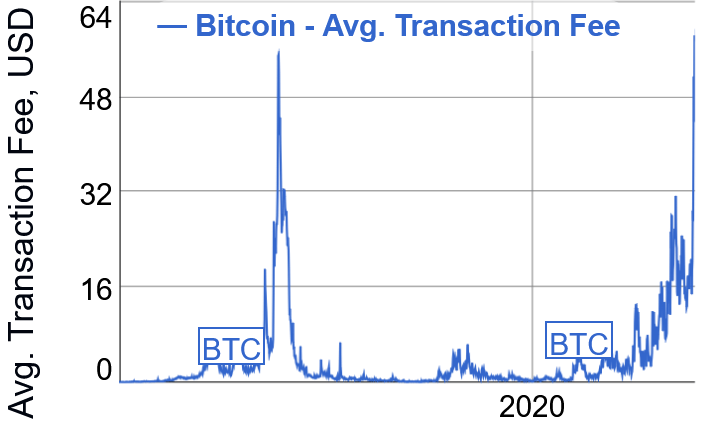 Source: bitinfocharts.com
The decline in hashrate, which coincided with the increase in difficulty in BTC mining, has resulted in an increase in unconfirmed transactions, leading to an increase in fees as users outbid each other to put their transactions at the top of a rapidly growing queue put.
And since Bitcoin's automatic difficulty adjustment won't happen for about 11 days, these new record fees may persist for some time.
Bitcoin transaction fees are reaching new heights
While the average Bitcoin network fees are at an all-time high, the median fees have hit a three-year high of $ 26.89, according to the same data compiler. This is roughly equivalent to BTC 0.00049 in the current market.
That number is still relatively high and was mainly caused by a power outage in Xinjiang.
Alex Zhao, the CEO of Standard Hashrate Group, stated that miners in Xinjiang would likely be out of service for at least a week.
He said,
"A broken substation exploded in an industrial development zone that is trying to reduce utility charges. This triggered a mandatory week-long shutdown and safety inspection of the entire industrial development zone, which currently houses a significant portion of the Bitcoin hashrate. "
Reports on how far Bitcoin's hashrate fell after the gas explosion in Xinjiang vary. Data from BitInfoCharts suggests it has fallen as much as 37.5% since April 15, although analysts who examined data from mining pools suggest the decline is actually closer to the 20% mark .
Made some quick numbers on the actual HR decline and it currently looks like around 20%. The biggest decrease occurred from April 1st… https://t.co/2TKjBLdX35
– Larry Cermak (@lawmaster)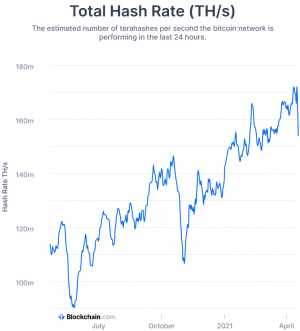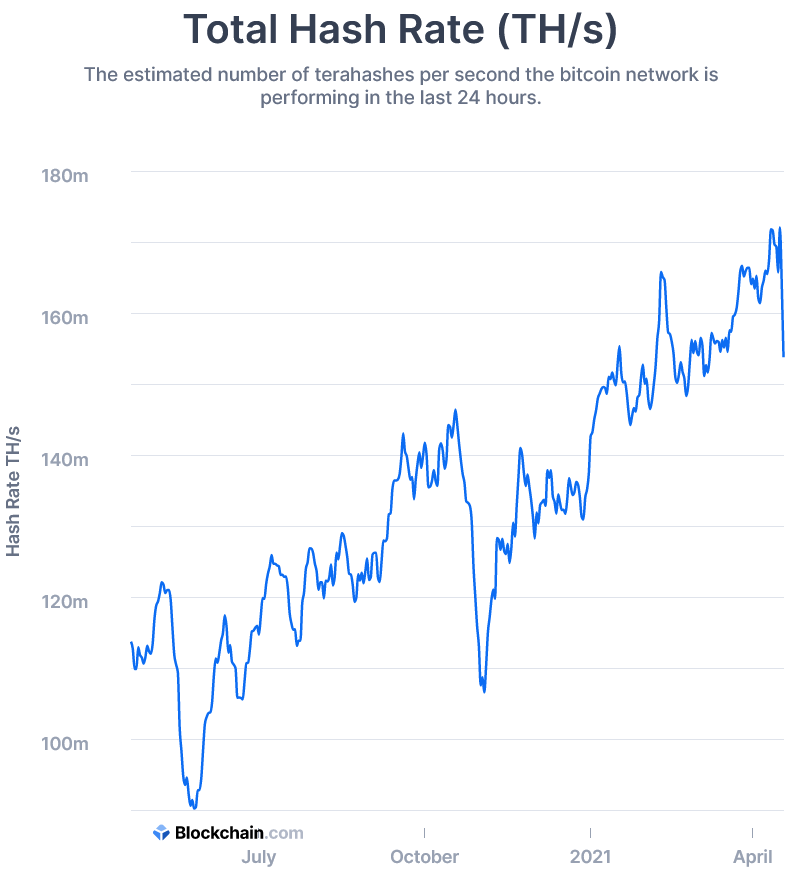 7 day average. Source: blockchain.com
In both cases, the effect is noticeable, as can be seen from the number of unconfirmed transactions in the Bitcoin mempool. On April 15, the number fell to 47,000, rose to around 136,000 on April 18 and is currently 117,000.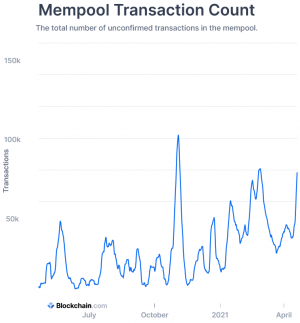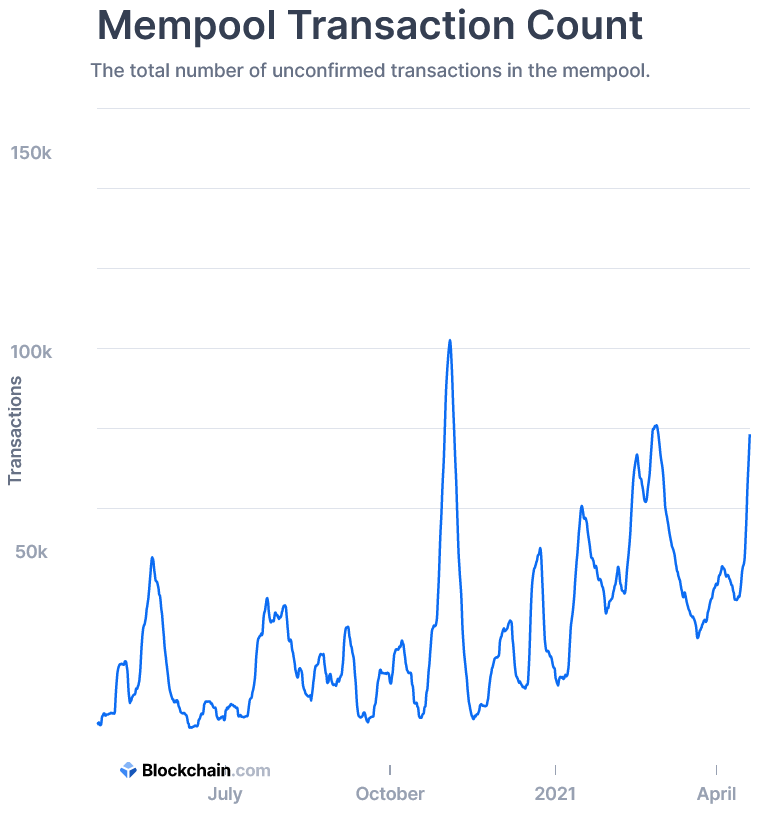 7 day average. Source: blockchain.com
Ongoing malfunction
The disruption is likely to continue in the short term.
"Personally, I've had a BTC transaction pending in the past nine hours with no confirmation in sight. It's no fun," wrote Mati Greenspan, founder of Quantum Economics, in his newsletter yesterday. "If we don't see a rapid recovery in hash rate, it's safe to say that things are going to be a little slow for a while."
Bitcoin's mining difficulty is adjusted roughly every two weeks (more precisely every 2016 blocks) to keep the normal block time of 10 minutes. The 7 day simple moving average block time on April 19th was more than 12 minutes.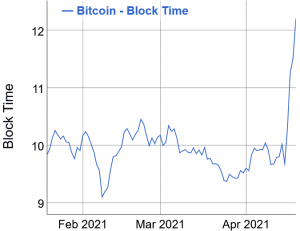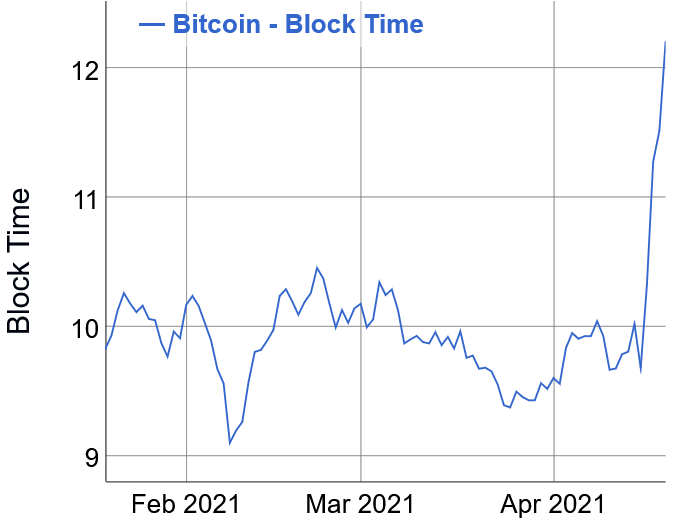 Source: bitinfocharts.com
In the long term, some numbers in the industry are looking forward to a future in which Bitcoin is less dependent on Chinese hash power.
Barry Silbert, the founder and CEO of the Digital Currency Group, advocated for non-Chinese mining pools on Twitter, claiming they provide the "diversity" the industry "needs".
According to the Cambridge Bitcoin Electricity Index, China's share of the Bitcoin hashrate declined between 2019 and 2020, falling from 75% in the third quarter of 2019 to 65% in the second quarter of 2020 (the last period for which data is provided).
That gradual decline is likely to have continued through 2021 as new mining pools like Foundry USA, SBI Crypto, and others went online last year.
How could this affect the future of bitcoin mining? Miners have learned a great lesson not to centralize their operations in one place.
– Mustafa Yilham (@MustafaYilham)
In summary, this means more decentralization and renewable energies in the Bitcoin network in the near future. Tbh, I'm always … https://t.co/hMuX2jZTHB
– Mustafa Yilham (@MustafaYilham)
___
Learn more:
– Ethereum fees drop when analysts point to bots as the cause
– A closer look at the environmental impact of Bitcoin mining
– New Bitcoin mining giant in the US with $ 651 million deal
– Proof of Disagreement: Bitcoin's Work vs. Ethereum's Planned Staking
– Bitcoin Mining in 2021: Growth, Consolidation, Renewable Energy and Regulation