Ethereum has a major DeFi lead in several key metrics including the total number of DeFi apps, number of DeFi users, number of DeFi developers, and the total value served through DeFi apps.
As the race for decentralized finance (DeFi) supremacy intensifies, Ethereum is still a step ahead, and it doesn't look like that will change anytime soon. In the past few months, a variety of other blockchains have skyrocketed DeFi development activity, with platforms like TRON, Cardano, EOS, Algorand, KAVA, and several others seeing an increase in the number of DeFi-related apps.
So far, however, no one has come close to the success of Ethereum – although many claim to offer advantages over the platform, such as lower fees, better scalability or better development tools.
Here we take a look at an often overlooked reason why this may be.
DeFi is about community
Although several next-generation blockchains have emerged in the past few years, many of which offer impressive scalability, speed, interoperability, and more. No one has managed to overtake Ethereum as a hub for decentralized finance.
This is because DeFi is about both new, exciting technologies and opportunities, and community. Although Ethereum sometimes suffers from high fees and delays at peak times, it also has by far the largest community in the cryptocurrency scene (with the exception of Bitcoin).
Over the past six years, Ethereum has gradually expanded its community, including avid developers, node operators, and general enthusiasts, creating a solid foundation for the rapid adoption of new, innovative protocols and tools.
Because of this, Ethereum has an important DeFi lead on several key metrics including the total number of DeFi apps, the number of DeFi users, the number of DeFi developers, and the total value served through DeFi apps. As a result, a single Ethereum DeFi app (Uniswap) has more transaction volume and total blocked value (TVL) than all other DeFi apps on all other blockchains combined.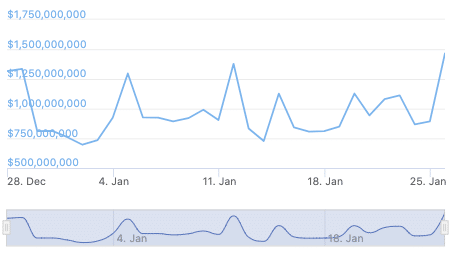 The Uniswap trading volume exceeds that of all other DeFi apps (on other blockchains) combined.
Not only does this mean that DeFi apps on Ethereum have a drastically higher chance of success than those on competing blockchains, but also a better chance of attracting investment, generating community code contributions, and earning recognition – as there is always a legion of Voices, passionate community members to draw from.
If DeFi was a race, then Ethereum is just inches from the finish line.
Use of the community
Other projects that have already built a strong community are likely to have some understanding that that community is an integral part of their success. That is why many of them build on Ethereum.
Take NewsCrypto as an example. As a community-centered platform for analyzing crypto markets and improving trading performance, NewsCrypto has succeeded in building its own community.
NWC / ETH is live on @UniswapProtocol! 🦄
We are excited to see what a market volume of USD 1 billion per day can do for NWC!
Official link to the trading pair: https: //t.co/wY7pnTEZC2
Warning signsBeware from fake NWC trading pairs on Uniswap. pic.twitter.com/SnR8WbZK8B
– NewsCrypto.io (@NwcPublic) January 25, 2021
Although the NewsCrypto Coin (NWC) token was originally launched on the Stellar blockchain, it was recently launched on the Ethereum blockchain as an ERC-20 token. This enabled him to list tokens on Uniswap and open the doors to DeFi for the hundreds of thousands of users – something that was not possible with Stellar.
Even so, Polkadot is one of Ethereum's biggest potential rivals. Although the platform is still in the early stages of development and its main network only recently started (mid-2020), the number of upcoming DeFi launches on the platform number will be in the hundreds.
Not only that, but a stunning community that can add to success when other platforms are down.
But for now it remains Ethereum against everyone else.
Next Altcoin News, Blockchain News, Cryptocurrency News, Ethereum News, News

After graduating in intercultural communication, Julia continued her studies with a master's degree in economics and management. Captivated by innovative technologies, Julia was passionate about researching aspiring technicians who believe in their ability to transform all areas of our lives.
Many Thanks!
You have successfully joined our subscriber list.