Bitcoin
Bitcoin hit an all-time high of ~ $ 63,000 last week. Quite an odd number psychologically. To me, the strange number suggests that the cause of the record price was a somewhat unmotivated bull market. That said, the cops were aiming for a record price, mostly hell, but didn't want to push it any further than they needed to. The price of Bitcoin has been hovering between 60 and 62,000 for some time. A small push was all it took to hit the new milestone.
Is the world happy now with a Bitcoin price of more than 50,000? I think so, and it's unlikely to drop below $ 50,000 without a significant catalyst. Adoption would have to fall or governments would have to start banning or restricting their use. Instead, I'm forecasting a new record of $ 70,000 within a few weeks. 63K is not satisfactory enough while 70K is a milestone to write home about.
Dogecoin
It was hard to miss the news about Dogecoin last week. The OG meme coin started at $ 0.07 per coin on Monday. When I left the office on Friday night, Doge touched $ 0.40 a coin and would hit new highs when I got home.
Perhaps the identity of the coin is shifting? On Monday it was a meme coin that was largely still viewed as a joke. It was a serious crypto good until Friday. Perhaps it is now worthwhile to be included in the more speculative area of ​​an investor's portfolio alongside Bitcoin and Ethereum.
As of this writing, Dogecoin is priced at $ 0.32 and is remarkably stable. Bulls and bears both like to slide the coin around the 30 cent area.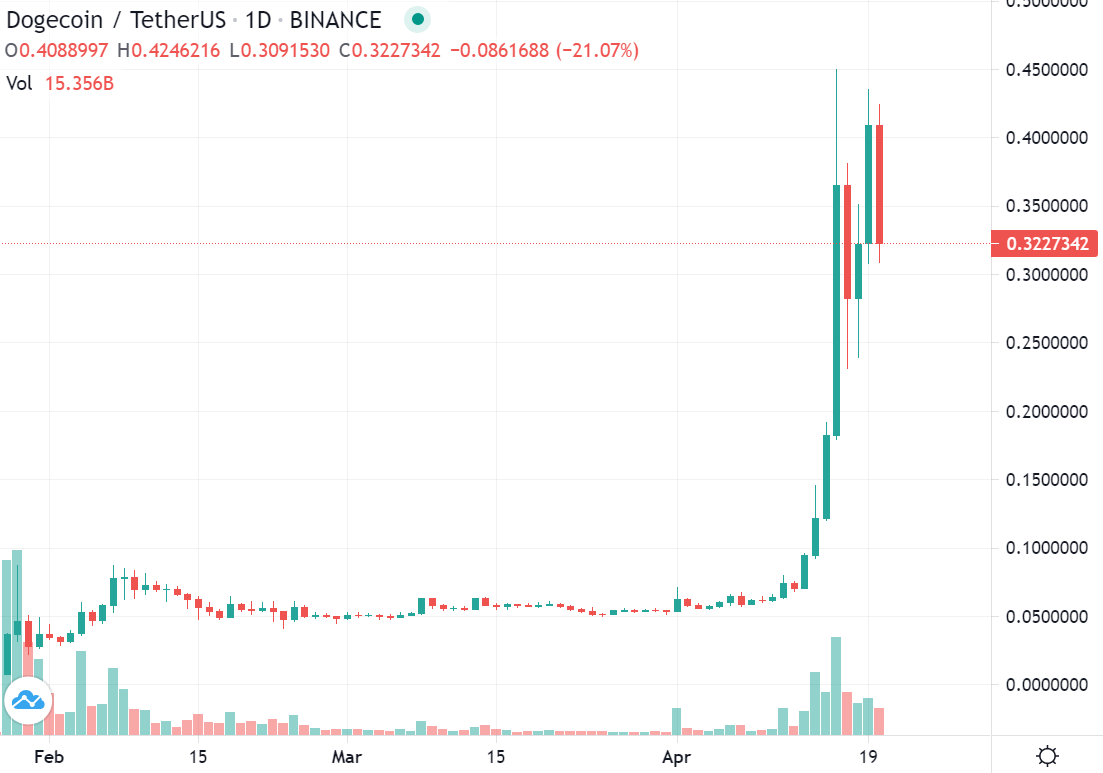 Cardano
Cardano has been overtaken by Dogecoin in terms of market cap, and now ranks seventh with a value of $ 40 billion. Cardano didn't deserve much attention during the bull run last week. Last Friday's meager gains were gone by Monday, much like the rest of the top ten. A fortune reversal has occurred since yesterday evening and Cardano is now sitting at $ 1.26 and is gaining on Dogecoin number 5.
ether
Ethereum also hit a record high last week. But similar to Bitcoin, its performance was overshadowed by Dogecoin's inflated price pump. After the coin peaked at ~ $ 2,500 on Thursday, bear pressure reigned for four days. Yesterday there was a reversal with a bull day worth two bears. Ethereum is currently trading at ~ 2.3K but control is passing to the bears.