In the past few days, Ethereum has delivered incredible returns for investors. According to CoinMarketCap, ETH gained over 16% on Monday, taking the coin to a new record of just over $ 3,450. At the time of writing, the coin was trading at around $ 3,470, up 9.43% over the past 24 hours.
Ethereum Short Squeeze is responsible for the rally
One speaks of a short squeeze when short selling orders on the futures market are liquidated in a short time. If the shorts are liquidated, short sellers will have to buy back their positions. This automatically leads to an increase in the demand of buyers in the market.
As a result, the number of short positions is rapidly decreasing and long contracts or buy orders begin to dominate the market.
In the case of Ethereum, there have been record short liquidations on all derivatives exchanges in the past 24 hours. According to the cryptanalysis firm CryptoQuant, liquidations of cryptocurrencies reached around $ 55 million in exit leveraged long positions, which rocketed the price to a new record high.
Source: CryptoQuant
As a result of the increased volatility, Ethereum (ETH) saw its market capitalization surge to nearly $ 400 billion. It is noteworthy that, according to the metrics provided by CoinGecko, the daily average trading volume was around $ 72.7 billion.
According to the graph, more support is needed to keep the bears at bay and allow the bulls to focus on price levels above $ 3,500 and $ 4,000, respectively. The Moving Average Convergence Divergence (MACD) suggests that Ethereum is firmly in the hands of the bulls.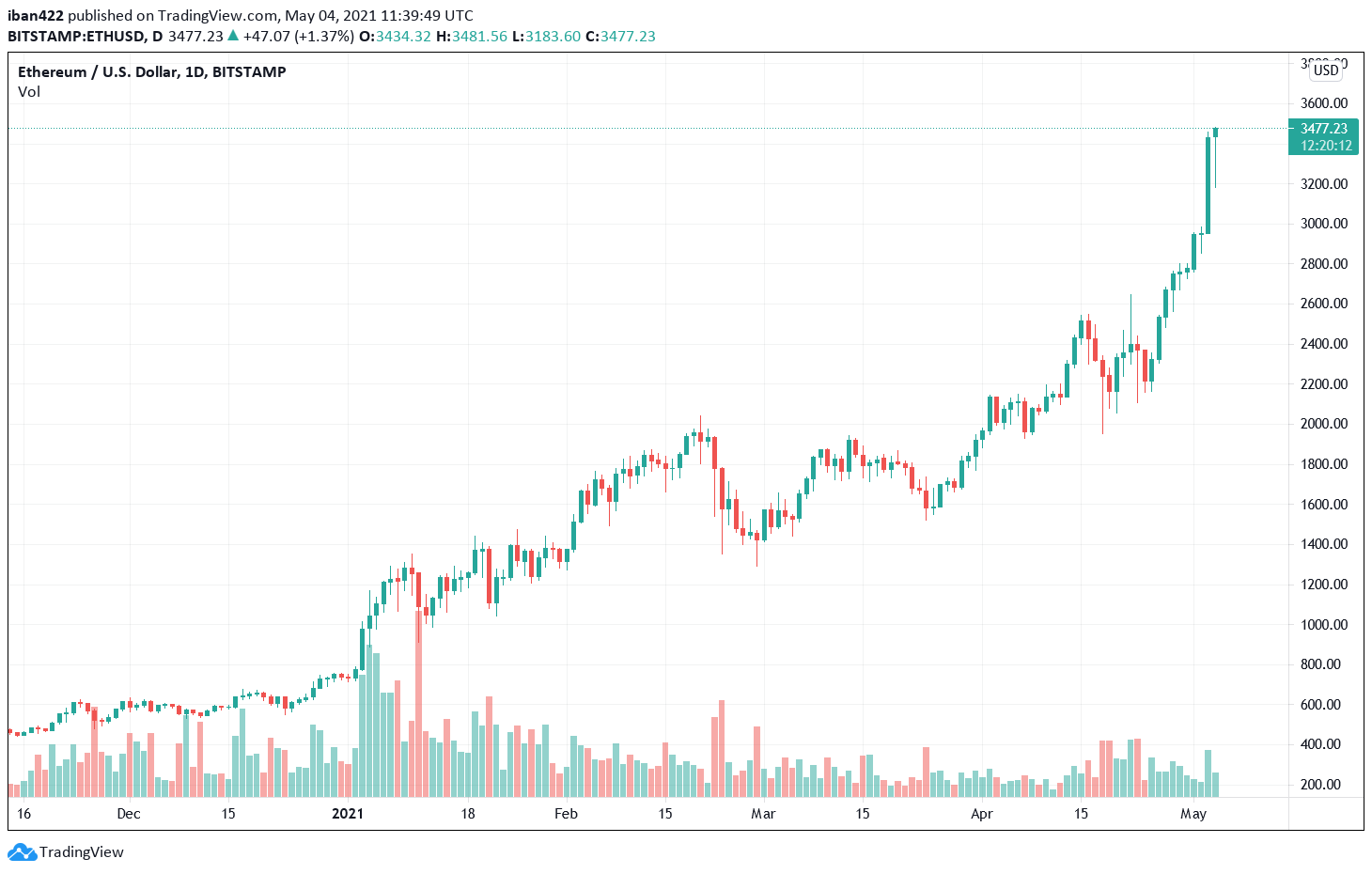 ETH / USD has risen sharply in the past few days. Source: Tradingview.com
Related article | Short-term $ 150 million squeeze liquidated as Bitcoin scales over $ 53,000
Ethereum continues to enjoy acceptance
Ethereum, the second largest digital asset by market cap, has been warmly received by institutional investors due to its massive DeFi predominance. Coincidentally, Ethereum began to eat up Bitcoin's market share, with the latter accounting for around 44.6 percent versus 16.7 percent for ETH. The average amount of ETH gas is 39 gwei.
After a two-week period of consolidation, the cryptocurrency bulls were revitalized by a spike in the Ethereum price. However, the cryptocurrency market is in a super cycle. According to Dan Held, a prominent cryptocurrency analyst, it will continue to rise in the coming months.
"Money printers go brrrr … Bitcoin was planted as an antidote to poor central bank policy during the 2008 financial crisis, but grew during a macro bull run (largely no recessions or depressions from 2008 to 2020)," noted Held.
He further added:
"Since Bitcoin's current 4 year microcycles coincide with the longer ~ 10 year macro cycles, Bitcoin is in a potential super cycle. This is similar to Ray Dalio's observation of short and long-term debt cycles, but on an accelerated schedule. "
For most decentralized financial networks, the Ethereum ecosystem is considered a pioneer in the smart contract market. DeFi networks like Uniswap DEX are based on the Ethereum ecosystem and manage the majority of daily cryptocurrency transactions.
"Thousands of developers are developing applications that replicate traditional financial products in a decentralized manner on Ethereum, and as more and more users flock in to interact with these apps, they need ETH (Ether) to conduct every transaction," said Sergey Nazarov. Co-founder of the smart contract company Chainlink.
"Second, there seems to be growing institutional interest in the public Ethereum blockchain as stakeholders play around with ways to use the public network," he added.
It's also interesting to note that Ethereum's co-founder Vitalik Buterin put it on the list of the world's youngest cryptocurrency billionaires. The 27-year-old programmer's crypto holdings rose to higher levels as the Ethereum price hit new record highs.
With a balance of over 333,520.81+ in his public ether wallet, Buterin passed the billion dollars when this cryptocurrency hit $ 3,000. Shop at address 0xAb5801a7D398351b8bE11C439e05C5B3259aeC9B since September 8, 2015, Buterin's lowest value in USD was on September 19, 2015.
Related article | Ethereum rally spans $ 3,400 on why dips remain attractive
Selected image from Pixabay, charts from Tradingview.com and CryptoQuant.