Source: Adobe / Boscorelli
The average 7-day Moving Crypto Market Sentiment Score for 10 large coins rose from 5.03 last week to 5.15 today, shows the market sentiment analysis service Omenics, while Ethereum (ETH) became the only coin with a slightly positive send score .
After overall market sentiment deteriorated last week, sentiment around the top crypto assets seems ripe for a turnaround. Most assets have improved their sentiment, with the exception of the most popular stablecoin, Tether (USDT), which fell 15% from 5.2 to 4.5, possibly due to reports of upcoming regulatory reviews in the US. Even so, USDT remains in the neutral zone. Interestingly, its competitor, the second largest stablecoin by market capitalization, the USD-Coin (USDC) has boosted its social sentiment by 6% and is now in the middle of the neutral zone with a score of 5.
On the positive side, ETH continues to lead the crypto market in terms of sentiment, which rose by 6% last week and is now the only coin in positive territory with a Sentscore of 6.2. At the same time, Cardano (ADA) has improved its market sentiment the most in the past seven days, as it rose from a neutral 5.1 to 5.7 this week – a 10% increase. Binance Coin (BNB) was second best as it posted a 9% increase in sentiment but remains in a neutral zone with a relatively low send score of 4.8.
Change of mood among the top 10 coins *:
Interpretation of the senscore scale:
– 0 to 2.5: very negative
– 2 to 3.9: somewhat negative zone
– 4 to 5.9: neutral zone
– 6 to 7.49: somewhat positive zone
– 7.5 to 10: very positive zone.
Source: Omenik, 10:20 UTC
Looking at the daily situation, today it is XRP that leads the market in terms of sentiment. His 24-hour send score is up 13% but still remains in the neutral zone with a total of 4.8. The weekly front-runners ETH and ADA are both somewhat positive today as they score 6.4 and 6 points, respectively. Bitcoin (BTC) is also on the brink of the positive with a daily send score of 5.9. However, this Monday is not a good day for Chainlink (LINK) as it lost 7% of its weekend mood and is currently on the edge of a somewhat negative zone at 4.1.
Daily bitcoin send score change in the last month: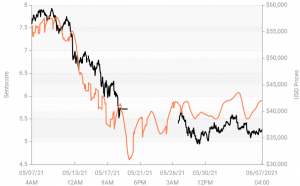 Source: Omenics
Among the other assets measured by Omenics, the best performer was the 0x (ZRX) protocol last week, sentiment improving by over 20% and re-entering the neutral zone at 4.2. Aside from the top 10 coins mentioned above, the last week has done well for Maker (MKR), Vechain (VET) and Stellar (XLM), all of whom have improved their Sentscore by a little more than 9%, but in the neutral Zone remain from 4.9 to 5.1. On the other side of the spectrum, we find omiseGo (OMG) and qtum (QTUM) tokens. The former fell by almost 10% and is now the only measured coin in the slightly negative area (3.7), while the sentiment of the latter fell by almost 7% and is currently at 4.3.
____
* – methodology:
Omenics measures market sentiment by calculating the Sentscore, which aggregates sentiment from news, social media, technical analysis, viral trends and coin fundamentals based on their proprietary algorithms.
As their website explains, "Omenics aggregates trending news articles and viral social media posts into an all-in-one data platform that you can also use to analyze content sentiment," and later adds, "Omenics combines the two sentiment indicators from news and social media with 3 additional verticals for technical analysis, coin fundamentals and buzz, resulting in the Sentscore, which shows a general outlook for each coin. "They are currently evaluating 35 cryptoassets.