Hello everybody,
It's rare for a sporting event to have an impact on global markets, but the graphics don't lie. Here we see the action on the pound sterling with the exact time of the game in the purple box.
Watch the rally at the start of the game after Trippier's goal, then the excitement subsides at the end of the game.
It was a great game. Good luck next time, England. Now the focus is shifting back to Brexit, about which there is a lot to be discussed.
@MatiGreenspan – eToro, Senior Market Analyst
Today's highlights
100 pages of Brexit
Trade talks are on / off
Bitcoin ETF decision
Please note: All data, figures & graphics are valid from July 12th. Every trade carries risks. Only venture capital that you can afford to lose.
Traditional markets
After losing several key cabinet members this week, Theresa May's government is currently not doing well, which is really not good as there are only 8 months left to Brexit.
May's government is due to publish an extensive 100-page white paper today that it hopes will clarify the Brexit strategy for its allies and opponents in both the UK Parliament and Europe.
Donald Trump is due to arrive in the UK today and although the media has focused on some rather creative protests, there is hope that he will be ready to help with the Brexit negotiations. Certainly Trump could use an ally at the moment after his inflammatory remarks at the NATO summit in Brussels.
To his credit, Trump seemed to relax at the end of the day. This makes me think that maybe this tough stance is just a ruse to stir up China. By demonstrating his ability to be ruthless, Trump believes it will increase his bargaining power.
Asian stocks rise this morning on optimism that the trade war may cool …
Trade war is on / off
The initial tariffs of $ 50 billion imposed by Donald Trump were quickly answered by China with tariffs of the same amount for the United States. However, the latest round of $ 200 billion proposed by Trump is more than China could possibly answer in kind.
As we noted in a June 19 update (titled Escalation Overflow), China simply doesn't have $ 200 billion worth of imports from the United States to take revenge, so they are currently weighing their options.
The nuclear option would be some sort of reduction in their holdings of US debt. China is currently by far the largest foreign holder of US Treasuries and a reduction strategy could have devastating consequences. But that would also be bad for China, especially given its globalist strategy.
The other possibility could be a devaluation of the Chinese yuan. If China makes its currency cheaper, which Trump particularly annoys, it could potentially offset many of the effects of these new tariffs.
Interestingly, an ominous pattern has emerged in the yuan today known by Chartists as the "death cross."
In the graphic below you will notice two lines …
Blue = 200 day moving average
Yellow = 50 day moving average
The last time the two paths (white circle) crossed was almost exactly a year ago, and as you can see, the yuan rose sharply. Today's death cross (purple circle) is particularly noteworthy.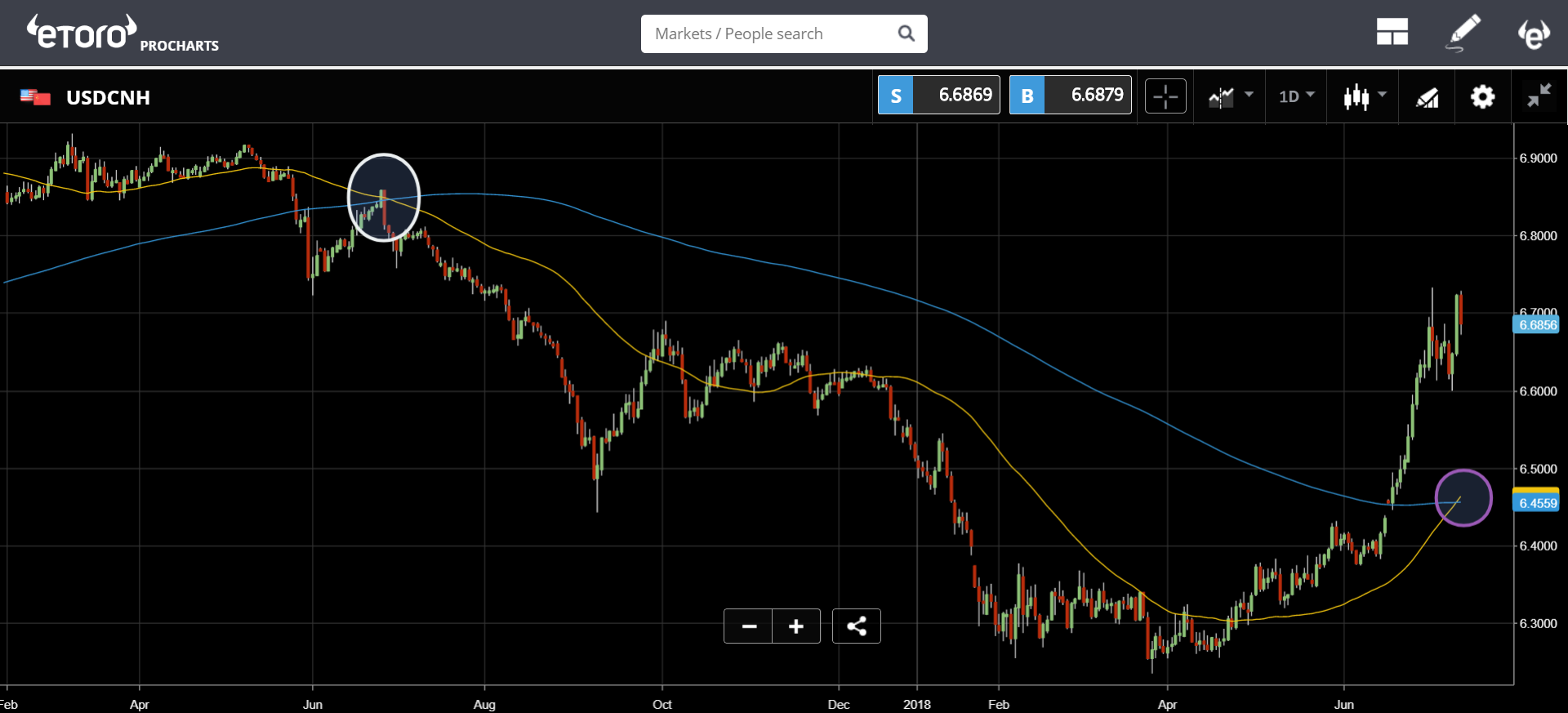 On the other hand, there is another option here. It appears that the White House has expanded some sort of olive branch, hinting that the United States is now ready to open a dialogue of de-escalation.
Keep an eye out for CPI inflation data today, released 1 hour before the Wall Street opening bell.
Could we finally get a bitcoin ETF?
The crypto community has caused quite a stir over a new Bitcoin-backed ETF.
The prospect of Wall Street traders holding Bitcoin is extremely exciting, but there is nothing to celebrate yet. The previous attempt to introduce a BTC ETF, which is known to have been submitted by the Winklevoss twins, was shot down on March 10, 2017.
The purple box in this graph shows the excitement leading up to the SEC's decision, the volatility of the announcement, the disappointment, and ultimately the market rejecting the decision and waning.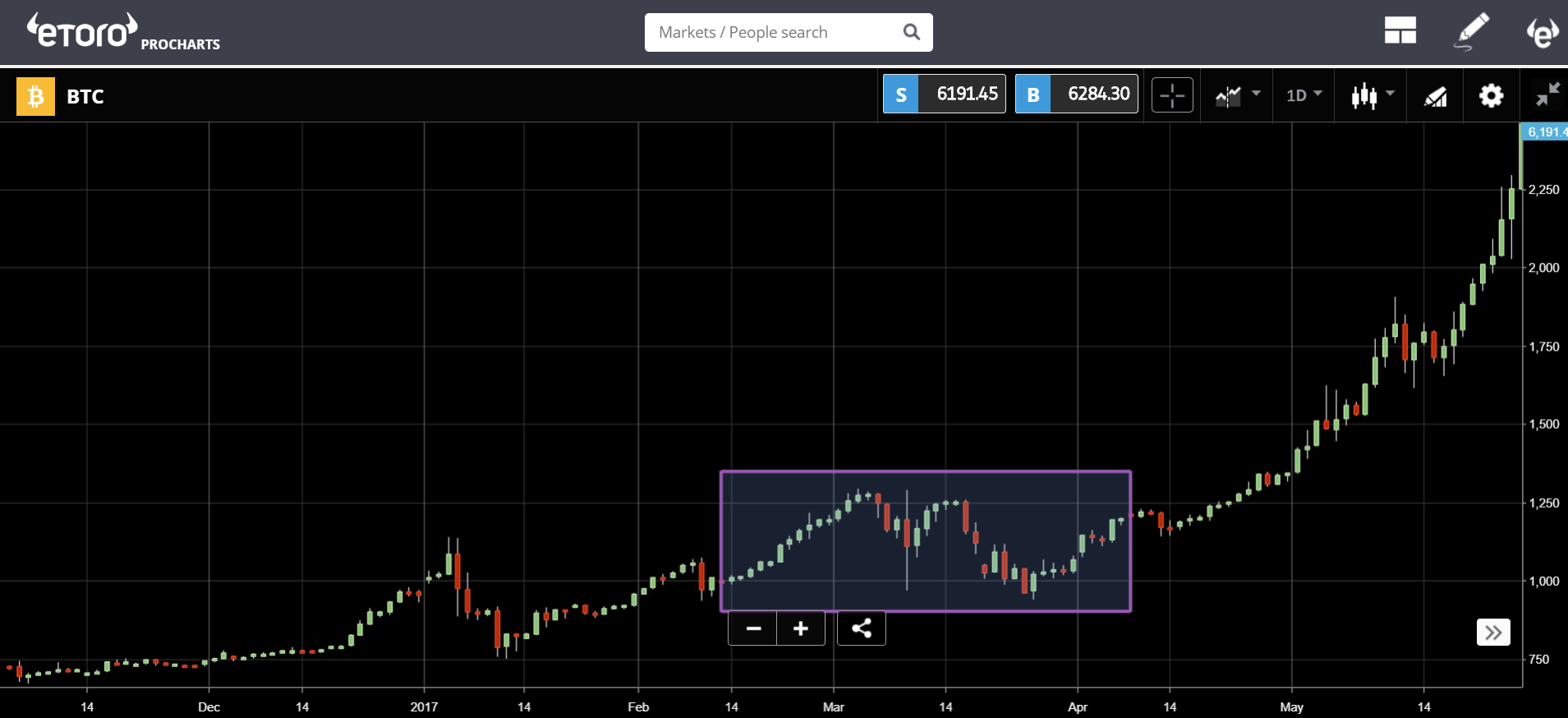 If we look at that particular day, which can be done with the crosshair tool on the eToro charts, we can see the massive rise of $ 321 from high to low, but the overall result for the day was a loss of only $ 87. What happened next is history.

As we've mentioned many times before, Wall Street is currently building the bridges to crypto and this ETF, if approved on Aug. 10, will be an eight-lane highway.
Let's have a great day ahead of us!
This content is provided for informational and educational purposes only and should not be viewed as investment advice or a recommendation.
The outlook presented is a personal opinion of the analyst and does not represent an official position by eToro.
Past performance is not an indication of future results. Every trade involves risks; only venture capital that you are ready to lose.
Cryptocurrencies can fluctuate widely and are not suitable for all investors. Trading in cryptocurrencies is not monitored by any EU regulatory framework.
About the author: Mati Greenspan is a Senior Market Analyst at eToro
Connect with Mati on….
eToro: http://etoro.tw/Mati | Twitter: https://twitter.com/matigreenspan | LinkedIn: https://www.linkedin.com/in/matisyahu/ | Telegram: https://t.me/MatiGreenspan | Office phone: + 44-203-1500308 (extension: 311)
Disclaimer: The opinions expressed in this article do not reflect the views of NewsBTC or any of its team members. NewsBTC is neither responsible nor liable for the accuracy of the information in sponsored stories / press releases like this one.