Since 2011, Litecoin has been marketed as a natural alternative to the likes of Bitcoin, with investors eager to get involved due to the coin's high potential value. Although the price of Litecoin has declined markedly in the last few months, there are now some positive signs to note – leading to potentially lucrative opportunities over the next few months and years.
In this article, we'll discuss our Litecoin Price Prediction across a variety of timeframes. Our analysis will include both technical and fundamental elements, ensuring a logical prediction – and we'll also highlight where you can buy Litecoin commission-free!

Litecoin (LTC)
Price
$ 147.95
Litecoin Price Prediction 2021 to 2022
Given the current Litecoin price, the optimism is growing for this particular altcoin. Found below is our LTC price prediction for the upcoming months, decided on through in-depth analysis of various factors. The following sections dive into our Litecoin stock forecast in detail, highlighting the potential outlook over the longer term.
One Month – Price is rapidly approaching a strong resistance level at $190. Over the next month, we believe the price will break this level and move into the $225 level.
Three Months – The following months should see Litecoin gradually increase in value. By the three month mark, we will likely see a return to the previous resistance at the $310 level.
Start of 2022 – Our Litecoin prediction for the beginning of 2022 could see Litecoin continue showing upwards momentum and return to the highs of $410 experienced in May 2021. This would represent a 127% increase from current levels.
Litecoin Price History – the Story of 2021 So Far
When considering how to buy cryptocurrency, it's essential to look back at what has happened previously to provide an indication of the price's future movements. With this in mind, this section will dive into the history of the price of Litecoin, analysis how we reached this point. But first, let's get a brief overview of what Litecoin is and how it works.
Litecoin was developed by a former Google employee called Charlie Lee and was released in 2011. Essentially, Litecoin (LTC) is a peer-to-peer cryptocurrency project that is very similar to BTC. However, Litecoin does have a faster block generation time on its blockchain, a higher maximum threshold of coins, and a different hashing mechanism.

Due to these differences, Litecoin does have some tangible benefits compared to Bitcoin. The faster block creation time means that transactions are confirmed in a quarter of what Bitcoin's are, making the Litecoin network much faster. Furthermore, the different hashing mechanism used by Litecoin means that mining is more accessible for the everyday person compared to Bitcoin's advanced mining system.
Litecoin never really took off until May 2017, when the coin joined in on the incredible bull market that saw its value rise by 3951% over the following seven months. At this point, CNBC reported that Litecoin was the fourth-largest cryptocurrency in the world, with many investors clamouring to get involved as an alternative to Bitcoin.
However, a big crash ensued as Litecoin lost 93% of its value between December 2017 and December 2018. Much of this wasn't directly attributable to Litecoin and was instead related to the overall bursting of the crypto bubble. If you look at the price charts of most digital currencies during this period, you'll likely see significant decreases in value. Investors believed that cryptocurrency was nothing more than a gimmick and a way to make a quick buck.

As we have seen in the years that followed, that isn't the case. People don't just buy Ethereum for speculative reasons – they also buy it for the real-world uses it has. This is the same for Litecoin, which led to the most recent price rally in December 2020. The Litecoin price live rose by a remarkable 595%, with many people believing that price would keep going up.
Again, this wasn't the case, and the price fell drastically once it reached the $410 level. Again, much of this was an indirect effect of China's regulation of crypto mining, which harmed Bitcoin and the cryptocurrency market as a whole. However, in recent times, the current price has begun to rise again. This newfound momentum could Litecoin go up to previous yearly highs – and potentially beyond.
Litecoin Price Forecast
Throughout our research for this Litecoin price prediction, we incorporated both technical and fundamental elements into our analysis. This approach ensures that our Litecoin forecast is as accurate as possible, enabling more effective investing. The sections below dive into the technical and fundamental factors that affect the LTC price, providing good insight into the coin's outlook.
Technical Analysis
Using a similar approach to when you buy stocks, it's crucial to study the price chart and look for technical factors that can provide insight into future price action. In the case of Litecoin, the eye is immediately drawn to the enormous spike that occurred in May 2021. You can see a clear uptrend before this, with higher-highs and lower-lows forming on the daily chart.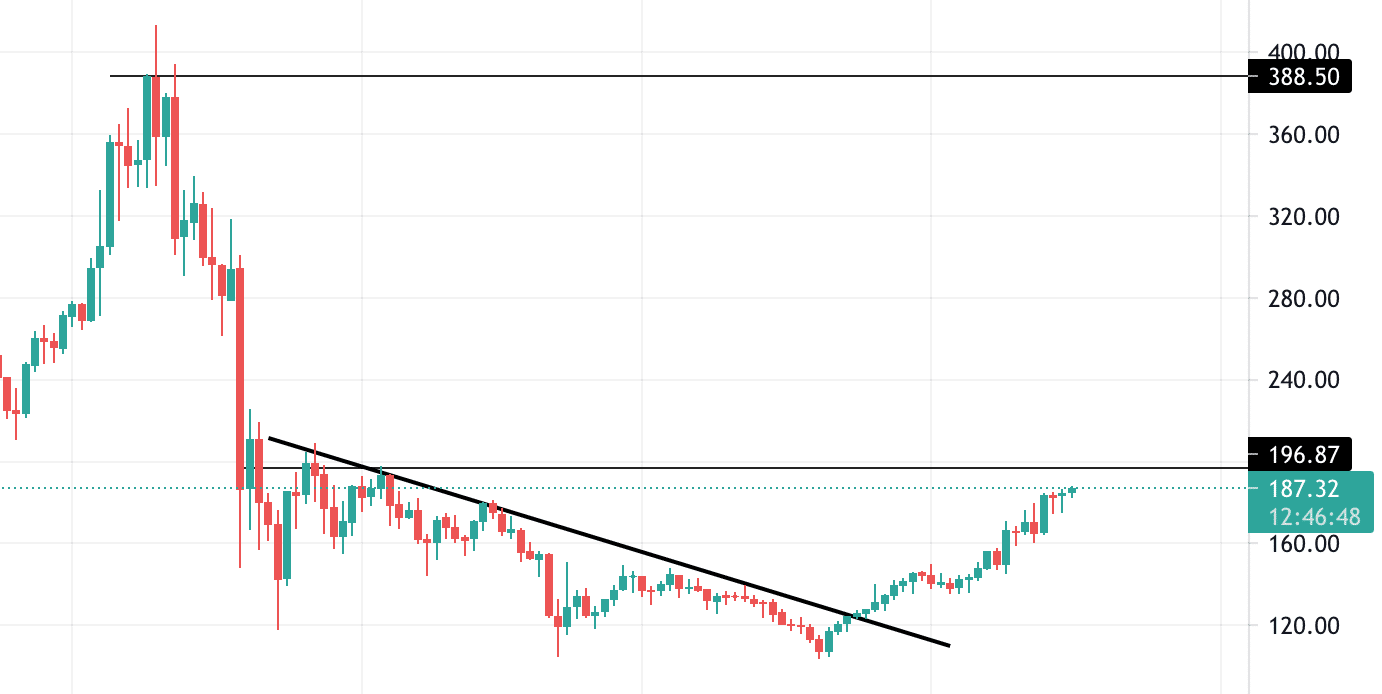 67% of retail investor accounts lose money when trading CFDs with this provider.
Price did meet a strong resistance level at the $390 mark, prompting a substantial bearish decline over the following months. However, the Litecoin price did breakout of the descending wedge pattern in July 2021 – these patterns tend to form when there is about to be a notable surge in bullish momentum. Since that break, the Litecoin price has increased around 70% in the space of a few weeks.
As we advance, our Litecoin prediction notes some resistance around the $200 mark. This is also a solid psychological level, which may be hard to break. However, if the price does go on to break this level, there's a clear path back to the highs experienced in May 2021.
Fundamental Analysis
Fundamental factors also come into play during our Litecoin price prediction. As noted, Litecoin is very similar to Bitcoin because it can be used as a way to transfer value from one person to the next. Notably, Litecoin is faster and has lower fees than Bitcoin, so many people believe it is a better digital currency.
One of the most appealing things about Litecoin is that it is relatively stable. Again, this is all relative, but compared to other coins, Litecoin is perhaps the one with the least volatility. Due to this, investors who are slightly more risk-averse may feel more inclined to include it in their portfolios instead of alternatives such as Cardano, Dogecoin, or Ripple.
Finally, Litecoin is relatively well established, with many vendors and merchants accepting it as a payment method. The more partners that Litecoin has, the higher the value of the digital asset will be. If this trend continues, there will undoubtedly be further increases in the Litecoin price.
Litecoin Price Prediction 2025 – Long Term Outlook
Our Litecoin prediction over a longer timeframe is relatively optimistic. Litecoin has been around since 2011, making it one of the original cryptos to enter the market. This factor goes in Litecoin's favour, as it is well established, making it more appealing for potential partners. Furthermore, as there is a lot of price data, it's easier to predict future movements.
According to Sygnum, Litecoin has a maximum supply of 84 million LTC compared to Bitcoin's 21 million. Although this may mean less volatility than other cryptos, the increased supply makes Litecoin much more stable. Furthermore, the lowered barriers to entry for Litecoin miners compared to other cryptos is another appealing reason to own this coin.
Looking ahead, our Litecoin prediction 2025 is very optimistic. As more and more companies adopt Litecoin as a payment method, it's sure to help increase the coin's reputation within the crypto market. If this occurs, the 'hype' generated will help push the price higher. We believe this will likely happen over the next few years, moving Litecoin to the $500 mark by 2025.
Moreover, our Litecoin price prediction 2030 is similarly optimistic. By this point, most merchants will likely be accepting digital currencies as a payment method. Due to this shift, merchants will require a fast and cheap way to make transfers. This is where Litecoin comes in – as it has better stats than Bitcoin overall, we could see mass adoption in the future. This would put Litecoin around the $1000 mark by 2030.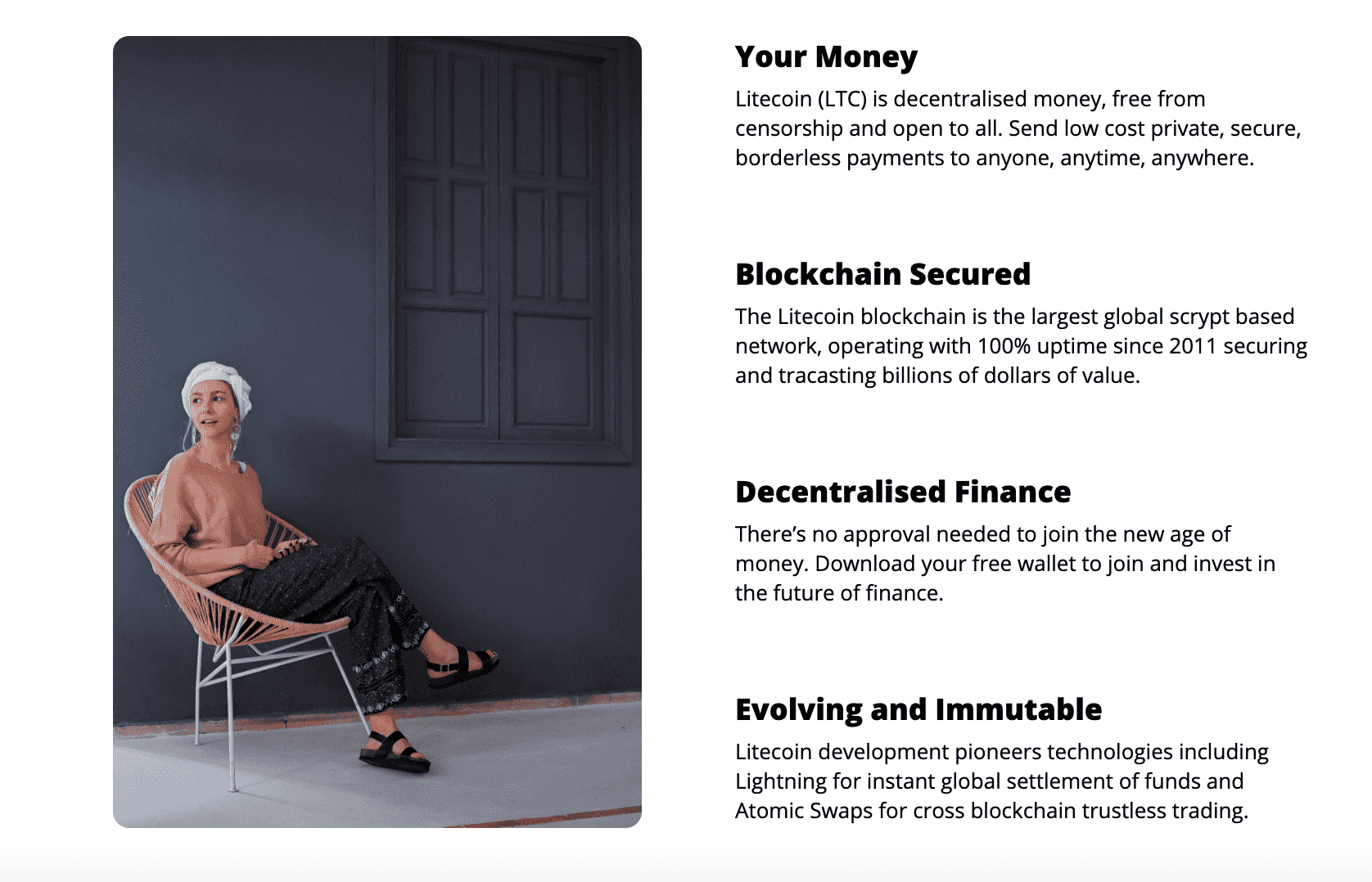 As a disclaimer, these predictions are based on our own analysis, so they may differ from the claims you see elsewhere. Overall though, the idea to buy Litecoin UK is undoubtedly a good one. With excellent prospects and stable characteristics, this coin would certainly represent an exciting addition to your crypto portfolio.
Litecoin Price Chart
As our Litecoin forecast has highlighted, the future is certainly bright for this crypto. Although it doesn't have the same 'brand appeal' as Bitcoin, it actually performs much better on a purely technical level. The critical thing for Litecoin's developers is to translate this into better performance in the market.
The recent price rise could be the initial sign of this happening. However, one of the main reasons investors aren't as bullish about Litecoin as they are for Bitcoin is because Litecoin founder Charlie Lee sold all of his LTC holdings during the considerable spike of December 2017. This led to many people saying that he used the coin as a vehicle for personal gain, which has deterred investors.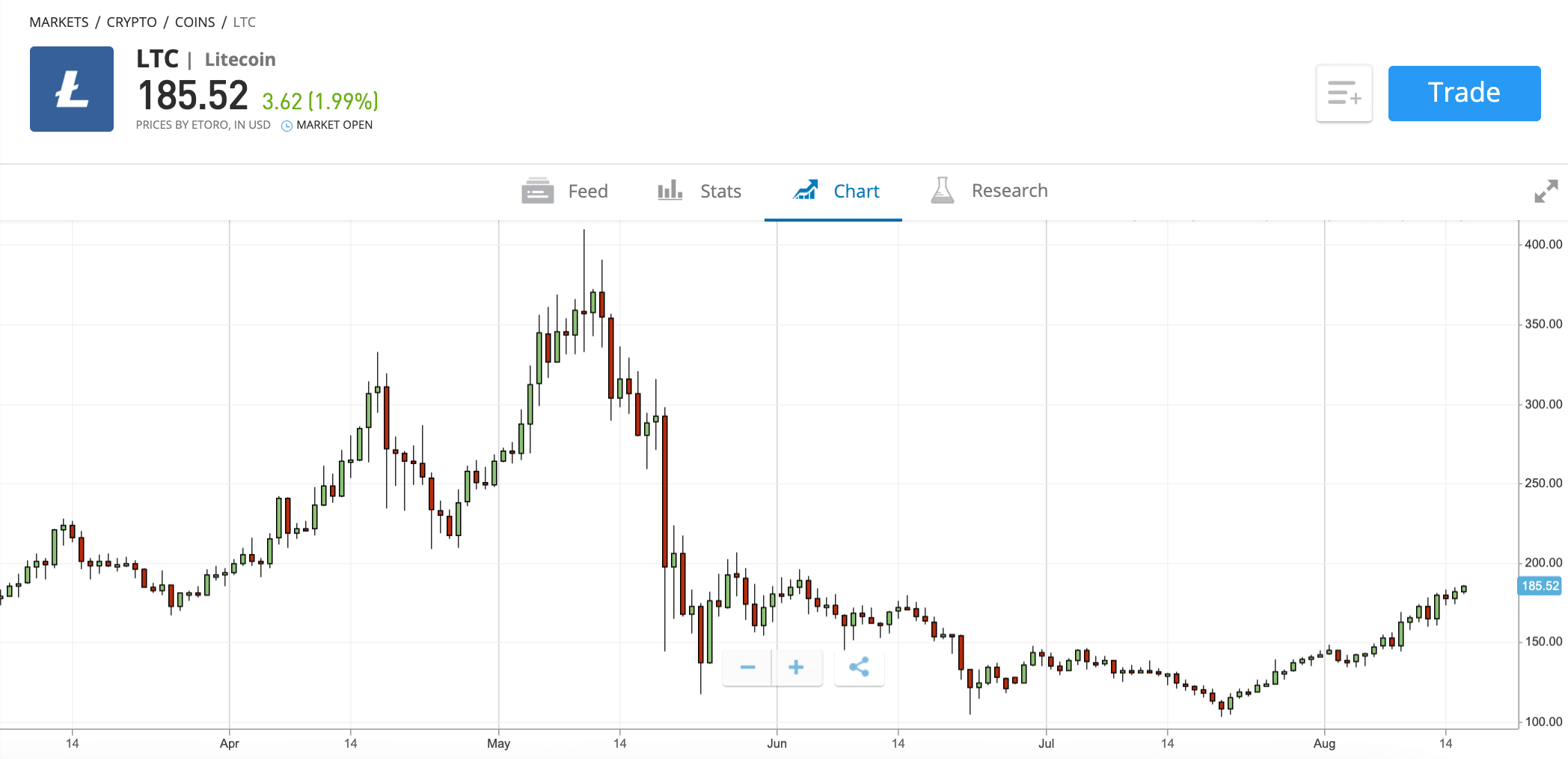 67% of retail investor accounts lose money when trading CFDs with this provider.
If Litecoin can move away from this perception, it'll pave the way for more credibility and further price increases. According to Publish0x, Litecoin has partnered with some huge enterprises such as the UFC and The Miami Dolphins. If the developers can add different companies to their list of partners, it'll mean great things for the coin's price.
Where to Invest in Litecoin
As this article has highlighted, Litecoin does look like a good investment going forward. Compared to many other cryptos, this coin shows lower volatility and higher stability, making it attractive to lower-risk investors. However, to invest in Litecoin, you do need to set up an account with one of the best trading platforms UK that offers it.
Through our research and testing, we've found that eToro provides the best platform to invest in Litecoin. eToro is regulated by the FCA, ASIC, and CySEC, ensuring that all users are protected whilst trading. Furthermore, eToro has over 20 million users worldwide, adding to the platform's credibility.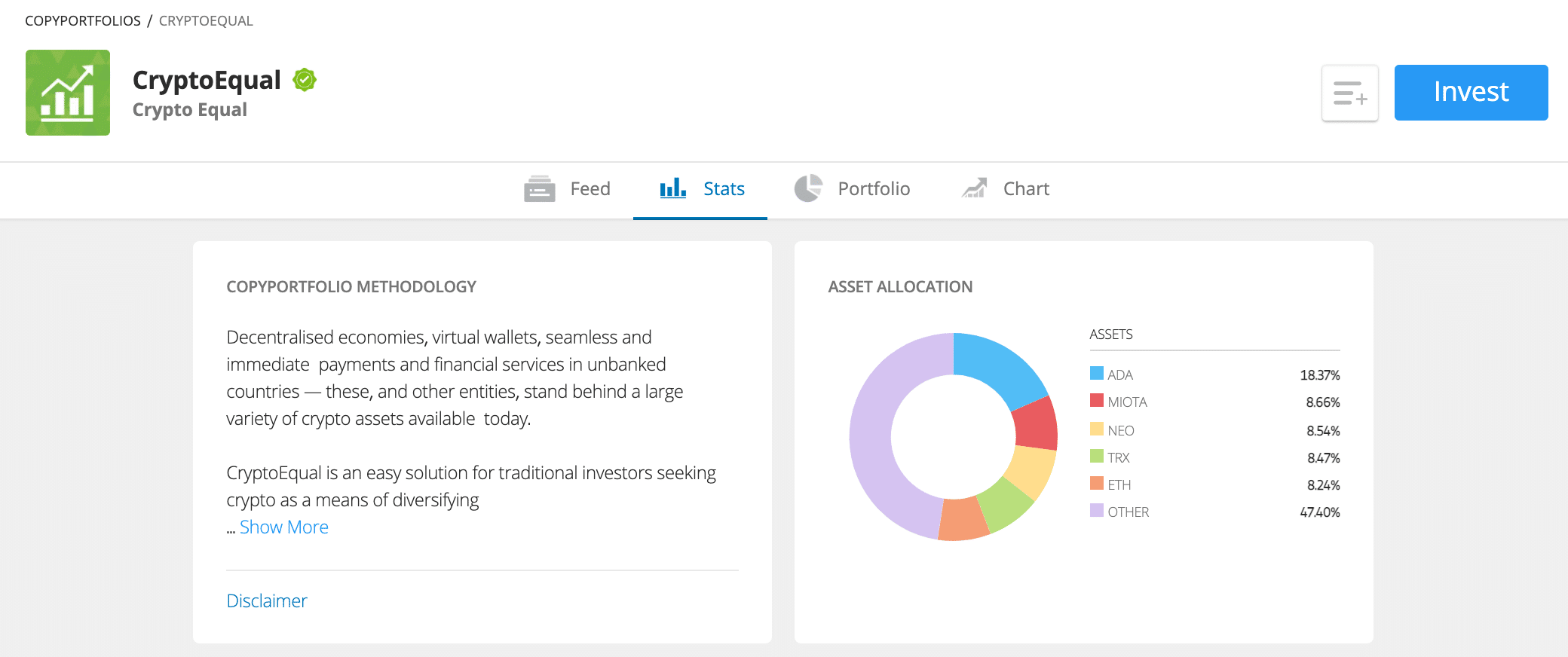 One of the best things about eToro is that users don't have to pay any commissions when placing trades. Whether it's crypto or any other asset, eToro offers a 0% commission structure, making them an incredibly low-cost place to make investments. What's more, eToro doesn't charge any deposit or monthly account fees either.
The minimum deposit amount at eToro has recently been reduced to only $50 (£37), meaning users can start small and work their way up. Deposits can be made via credit/debit card, bank transfer, or various e-wallets. Included in this list of e-wallets is PayPal, which is an attractive addition for many investors.
Finally, eToro offers various helpful features, such as their CopyTrader and CopyPortfolio features. The former allows users to copy the trades placed by other eToro users automatically, whilst the latter enables users to invest in professionally managed portfolios without paying any management fees. These two features combine to make eToro one of the most trader-friendly platforms available today.
Litecoin Price Prediction – Conclusion
In summary, the fact that Litecoin is a viable alternative to Bitcoin puts it in an excellent place to benefit from broader market effects in the future. Furthermore, many payments systems currently offer (and will continue to offer) Litecoin through their services – adding to the coin's availability. If Litecoin can continue adding further benefits that distinguish it from the rest of the pack, we could see some significant value increases going forward.
So, if you'd like to buy Litecoin today, we'd recommend using eToro. eToro is one of the safest platforms to buy crypto due to regulation from the FCA and ASIC. What's more, eToro doesn't charge any commissions when crypto trading and allows investments from only $50.

67% of retail investor accounts lose money when trading CFDs with this provider.
FAQs
What is the price of Litecoin right now?
At the time of writing, the Litecoin price today is $185.72. This represents an increase of over 75% from the lows that price experienced in July 2021.
What drives the price of Litecoin?
Much of the momentum in Litecoin's price is driven by momentum in the crypto market as a whole. If other cryptos and altcoins are rising in value, this tends to have a knock-on effect on Litecoin. On the other hand, if coins are falling in value, Litecoin tends to fall too.
Where can I buy Litecoin?
Litecoin is firmly in the top 15 cryptos by market cap, so many brokers will offer it as a tradeable asset. However, we recommend using eToro to invest in Litecoin, as the platform is heavily regulated and uses a 0% commission structure on crypto investments.
Why is Litecoin going up?
At present, Litecoin is going up due to the broader bull run in the crypto market. As most coins are rising at the moment, Litecoin's value is benefitting as an indirect effect.
What will Litecoin be worth by 2022?
By 2022, our analysis indicates that Litecoin could head back to the highs of May 2021. This would put the coin's value in the $410 range.
What will Litecoin be worth in 2025?
Price will likely experience another significant pullback in the years ahead. However, looking at technical factors, there's a good chance that Litecoin could be valued at around $500 by 2025.
About Connor Brooke
PRO INVESTOR
Connor is a Scottish financial expert, specialising in wealth management and equity investing. Based in Glasgow, Connor writes full-time for a wide selection of financial websites, whilst also providing startup consulting to small businesses. Holding a Bachelor's degree in Finance, and a Master's degree in Investment Fund Management, Connor has extensive knowledge in the investing space, and has also written two theses on mutual funds and the UK market.