With many crypto-assets (cryptocurrencies) falling on the 17th, traders are actively moving in the options market to regain their positions.
● Bitcoin (BTC) is currently trading at around USD 44,211 on the 17th at 9:00 PM (Coordinated Universal Time = UTC / 6:00 AM on the 18th Japanese time), a decrease of 2.8% over the past 24 hours corresponds to.
● Bitcoin 24-hour range: $ 42,269 to $ 46,462 (CoinDesk 20 data).
● Ethereum (ETH) was trading at around USD 3,376 in the past 24 hours, a decline of 1%.
● Ethereum 24-hour range: $ 3,142 to $ 3,587 (CoinDesk 20 data).
Bitcoin falls, more crypto assets follow
Source: TradingView
Bitcoin is above the 10-day moving average but below the 50-day moving average, with a flat signal in technical analysis.
"For the past three months, Bitcoin has fluctuated widely from $ 45,000 to $ 60,000 and stayed at around $ 50,000. Overall, it's still positive, but many market participants have already bought Bitcoin. We are long (buy = bullish investment). We need bullish news to break this range, "said Jean-Marc Bonefas, managing partner of the investment firm Tellurian Capital. Jean-Marc Bonnefous) said.
Bitcoin volatility is increasing, according to data from CoinDesk Research. As of March 16, Bitcoin's 30-day volatility was over 77%, the highest since March 24.
Source: CoinDesk Research
Greg Magadini, CEO of Genesis Volatility data website, also uses data from the Deribit derivatives exchange to track the crypto asset market. On the late 16th, according to the DVOL (Volatility Index for Derivatives Traders) according to Genesis, about 160 hit the highest level in the past month.

Bitcoin DVOL
Source: Genesis Volatility
"Elon Musk's tweet and the subsequent decline in Bitcoin have proven the correctness of the options market. In the Bitcoin options market, traders panic after put options, "said Magadini. He commented.
The current move on Bitcoin options confirms Magadini's words, according to Skew. More than 60% of options trading is put.
The bitcoin range is in the $ 40,000 range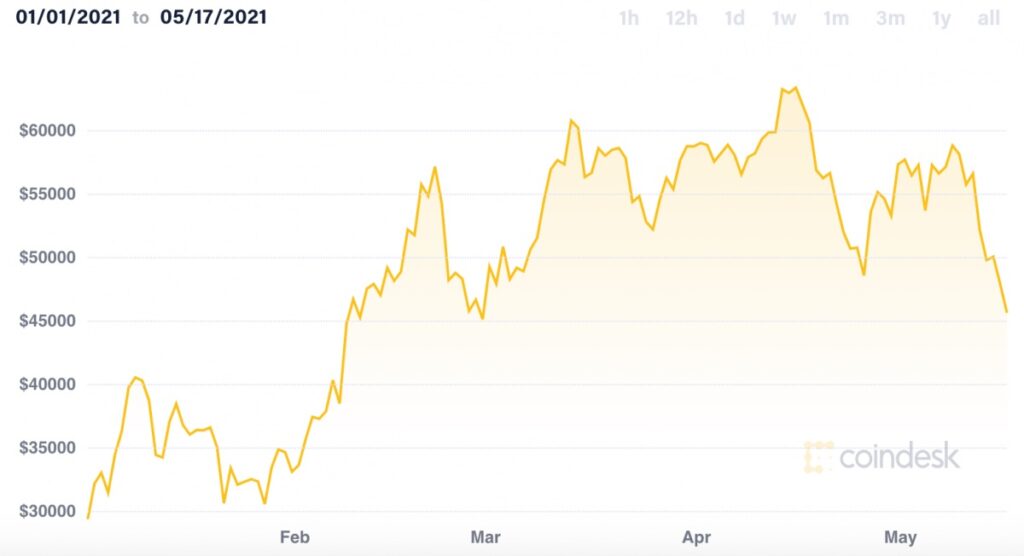 Source: CoinDesk 20
Bitcoin was trading around $ 38,000 when Mr Musk tweeted about Dogecoin on Feb.7. It hit a record $ 64,829 on April 15, but is now back at February levels (CoinDesk 20 data).
What will happen to bitcoin prices in the future?
"The indicators show that Bitcoin is expected to stay in the $ 42,000 to $ 47,000 range," said investor and technical analyst Constantin Kogan.
"Bitcoin prices seem to be randomly driven by unsubstantiated tweets and rumors, while Ethereum is still low on investment and has a stronger outlook and resilience in the short term," Terrion said. Said Bonefas.
Ethereum follows Bitcoin
Ethereum (ETH) is above the 10-day moving average but below the 50-day moving average, a flat signal in technical analysis.
Analysts watched Bitcoin on the 17th, but most other crypto assets appear to be following Bitcoin. According to Genesis Magadini, the derivatives market is now moving very differently.
"Bitcoin was relatively bearish despite a slight increase in price, while Ethereum was surprisingly bullish."
* Skew: Strength of the demand for put (right to sell) to call (right to sell)
The Ethereum options market remains bullish. On the options market on the 17th, more than 60% of Bitcoin options are puts, while 55% of Ethereum options are calls (purchase right).
Options trading is a derivative that is based on the value of the underlying and gives the right to buy or sell a certain amount of the underlying on or before the exercise date (maturity date). Cole gives the right to buy and traders invest in anticipation of price increases.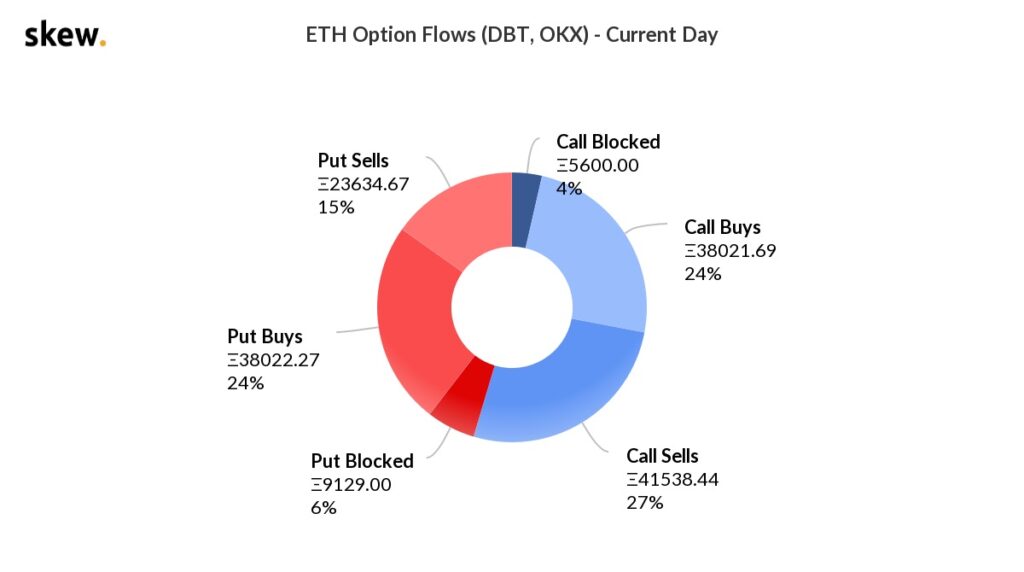 Source: Skew
Ethereum / Bitcoin (ETH / BTC) trading pairs are offered on most cryptocurrency exchanges. When this pair rises, it indicates that the trader is selling Bitcoin and buying Ethereum. If it's down, the opposite is true. The ETH / BTC pair hit high levels of 0.082 BTC on May 15th but is currently on the downward trend.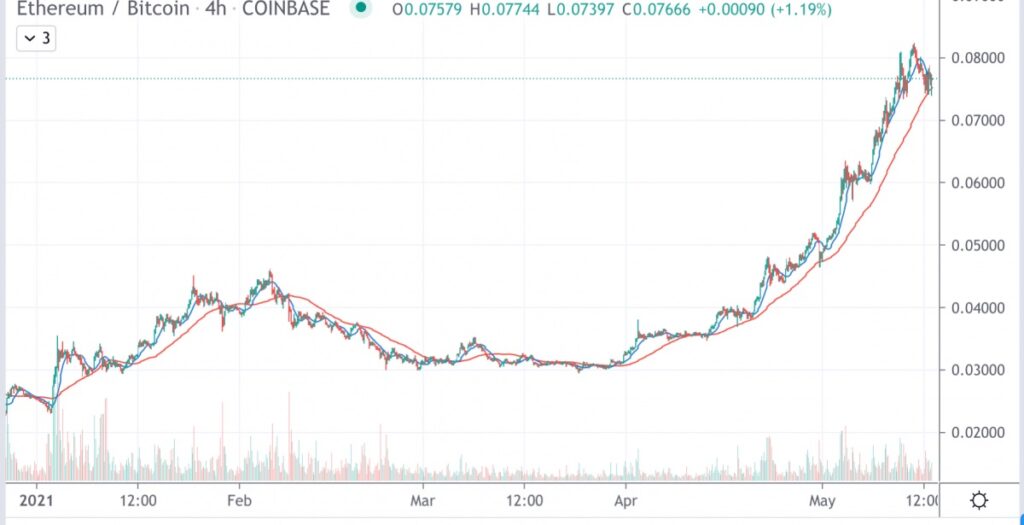 Source: TradingView
"Ethereum performed strongly against Bitcoin. ETH / BTC has risen to 0.08 BTC, the highest level since June 2018, "said the highest execution of Crypto Asset Exchange OKCoin. Chief (COO) Jason Lau said.
ETH / BTC fell almost 1% on the Crypto Asset Exchange Coinbase on the 17th.
| Translation: coindesk JAPAN
| Editing: Takayuki Masuda, Shigeru Sato
| Image: TradingView
| Original: Market Wrap: Elon takes away – Bitcoin continues to fall as options traders pile in puts
About the post author
Miu Lin

Miu is a major in journalism and wrote for various daily newspapers as a business journalist before joining OBN. She currently writes on blockchain, cryptocurrencies, and business news.