It was an event that Jada Williams had been preparing for all week.
After all, two of the best sprinters in the 100-meter run came to their home course in Mohawk Field just behind Mason City High School for the meeting of the CIML Iowa Conference on Tuesday evening.
Mason City's Jada Williams competes in the 100-meter run Tuesday at the CIML Iowa Conference meeting at Mohawk Field.
Lisa Grouette
Williams didn't win the race but felt more confident than ever.
With a time of 12.62 seconds in third place, the junior set a new personal best and took it as the tenth fastest sprinter in class 4A from Wednesday.
"I was like, 'I have to stay with them,'" said Williams. "It motivates me to get better because they are really good athletes."
Ankeny's Mytika Mayberry had won Williams the upper hand at the Jim Duncan Relays almost a month ago with 0.55 seconds.
Mayberry was still the winner on a sunny and chilly night in Northern Iowa, but the gap between the two upper classes narrowed to 0.12 seconds.
"This is the best she's run all year," said Mohawks head coach Jim Lee. "I think she gave her a lot of confidence tonight."
Ames' runner-up Cameron Moon finished runner-up in 12.59 seconds. It was the first time Williams competed against Mayberry and Moon.
People also read …
It opened her eyes to what could happen next week at the state qualification meeting in Urbandale.
"This meeting really gives me a better understanding of how I'm going to do in districts," said Williams. "These are really good teams and it motivated me to do better."
To match her runner-up in the 100, Williams cruised to victory in the Open 200 and was on two seasons – 400 and 1,600 – that were placed in the top five.
She believes she can run faster than Tuesday's 26.17 p.m. and her current best time of the season on November 26th.
"I think I can run better," added Williams. "I just have to believe that I can do it.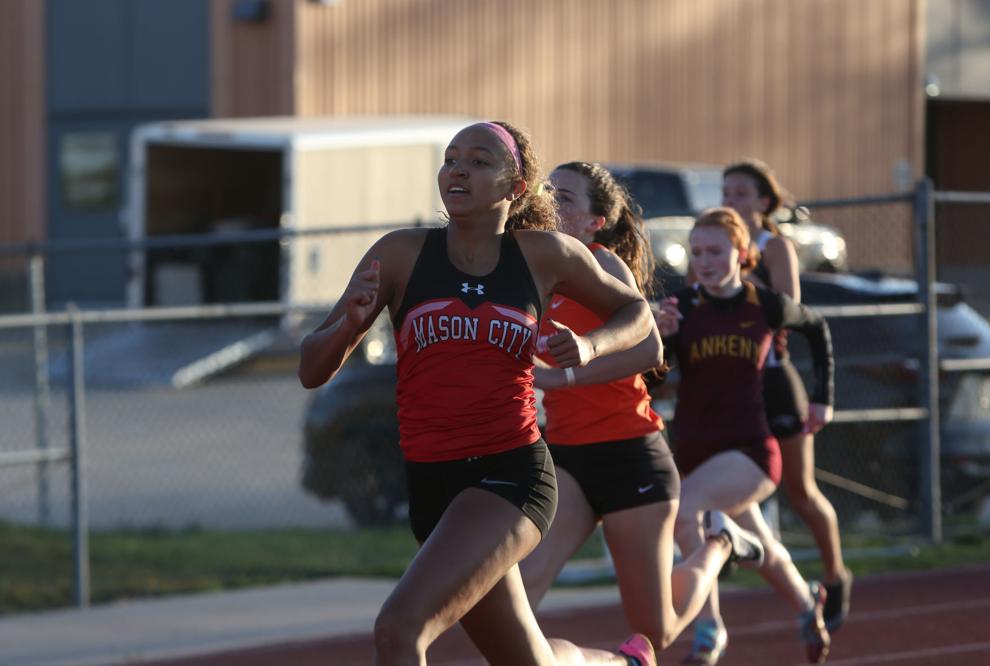 Mason City's Jada Williams starts off her heat and wins the varsity's 200-meter run at the CIML Iowa Conference meeting at Mohawk Field on Tuesday.
LISA GROUETTE – Globe Gazette


It's a sudden growth from where the UW Milwaukee basketball team was two springs ago in their freshman year. While she broke 26 seconds in the 200, her best 100 time was 12.99.
Lee believes this comes from increased competitiveness.
"She was always quick, always had talent," he said. "Her maturity and the knowledge that she should be one of the best kids in the state and now this year. She lets go of time and says, 'Hey, I belong.
While Williams had quite a bit of success during the regular season, the bigger get-togethers haven't seen a breakthrough yet.
She did not qualify for the 4A final in the 200 as a freshman at the state meeting; In that season's Drake seasons, she ran for 13.23 seconds and finished 24th in the 100.
She has not yet qualified for a final in her career.
Still, it motivates another chance to run at Drake Stadium.
"I didn't have a very good start and I didn't get where I wanted to go," said Williams.
Which events does she want to run on the blue oval? At least three.
Lee said after the meeting that she will definitely be running the open 100 and 200 and the 1,600 series. It is the fourth event that emerges between a decision.
He added that it will be one of two options: the 400 season or no other events.
Currently, Mason City's 400 series is the 17th fastest in 4A. As the highest classification, the top 2 placed in each event automatically qualify for the status, then the next 12 best performances, distributed among all other status qualifiers, travel to Des Moines.
Do the math and that equates to 24. This is the qualification limit for the three-day meeting from May 20th to May 22nd.
"If we run 52.5 we won't qualify," said Lee. "If we hit our handoffs and Ariel (Lee) is back, we'd let it go. If we have a bad handoff, it'll take us half a second. We'll see how it goes."
Zach Martin is a sports reporter for the Globe Gazette. Follow him on Twitter at @ Zach_Martin95.
Weekly straight to your inbox!