Michael Saylor, CEO of MicroStrategy. Source: a screenshot, Youtube / Swan Signal – A Bitcoin Channel
Shares in MicroStrategy, the American software company known in Cryptoverse and beyond for using its balance sheet to buy Bitcoin (BTC), accelerated after the company announced its new BTC plans last Monday.
The company is now considering how it can "take advantage of the opportunities that are emerging in the Bitcoin economy" and "provide business intelligence for the Bitcoin blockchain," said Michael Saylor, CEO of MicroStrategy, at a virtual investor day a week ago.
At MicroStrategy, the price of its shares rose almost 9% from USD 203.93 last Monday to USD 222.11 last Friday.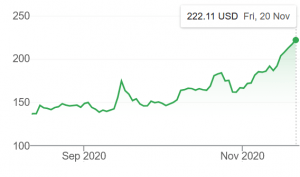 Source: Google
The company forms a team that deals with the data and analysis products, with a focus on Bitcoin.
"We're going to take Hyper.Now [Hyperinteligence, launched on Nov 16] and Intel.Now [Business Intelligence, launching in 2021] and the entire multi-tenet SaaS out-of-the-box offering. Think about how you can provide business intelligence of interest to the bitcoin community and possibly the larger crypto community as that business evolves, "said the CEO.
Some interesting ideas, says Saylor, include customized BTC applications, blockchain data hyperinteligence, crypto intelligence, and "manifesting blockchain data as a MicroStrategy dataset in our central MCI platform".
However, this is more of a plan for the future than something that is (almost) ready to be introduced. "We don't have anything that we're sure of makes sense to commercialize yet," said Saylor, adding that "there's a whole exploding universe of intelligence possibilities, all of which revolve around this kind of unique Bitcoin intelligence spin that comes off the blockchain and we'll examine everything and look for efficient, artsy ways to integrate and deploy it into our existing business. "
There is a team that does it, however, and "it's almost a composite team that we put in place," said Tim Lang, MicroStrategy's chief technology officer, adding that they are also recruiting. "The ability to use some of Bitcoin's techniques and yourself could actually be key to some of the future modernizations of our platform," Lang said. "So there are the immediate parts that we see in relation to analyzing Bitcoin, but there are also ways we can potentially leverage the chain at the core of the platform, and we are evaluating both parts."
Meanwhile, the company's BTC acquisitions totaled approximately $ 425 million, Saylor said. Since the news announcement in July, added Phong Le, MicroStrategy's chief financial officer, the company has seen "a substantial upward trend in our market value" after buying BTC when it averaged $ 11,111.
At the time of writing (12:33 UTC), BTC is trading at $ 18,513 after rising nearly 3% in one day, 14% in a week, and 42% in a month. Ir rebounded 157% in one year.
____ ____
Learn more:
New Bitcoin Narrative Targets Multi-trillion Bond Market
MicroStrategy is buying more Bitcoin as its CEO owns BTC 17.7K
The CEO of MicroStrategy confirms no plans to sell Bitcoin in the short term
MicroStrategy CEO on Bitcoin Buying As Trillions "Melt" into Treasuries