Solana price rebounded strongly after posting a loss of more than 7% on Wednesday.
Buyers have returned but need to move Solana above key resistance to maintain momentum towards new all-time highs.
A bearish fakeout pattern in point-and-figure analysis could trigger massive spikes to the upside.
The Solana price remains the leader in the altcoin space and gives many examples of why it is being called the Ethereum killer. Although the rebound has been significant, the bulls need to add more persuasive power to the intraday rally to move Solana forward. Otherwise, short sellers are likely to benefit from the weakness.
Solana price could catch short sellers above $ 255, but failure of the bulls could instigate aggressive selling pressures
The Solana price will most likely confirm a strong bear trap pattern on the point-and-figure chart known as the bearish fakeout pattern. This pattern develops when a multiple bottom has two Os shapes below it, then an X column forms and creates a bullish entry. This hypothetical long setup has a buy stop at $ 225, a stop loss at $ 205, and a forecast profit target at $ 355. A trailing three box stop would help protect any suspected profit after the breakout.
SOL / USDT $ 5.00 / 3 box reversal point and number chart
The bullish trading idea will be void if the Solana price drops below $ 180.
A hypothetical short trade also presents an opportunity. A break of a double bottom at $ 180 would coincide with a break of the bull trendline, which would turn Solana price into a bear market. Additionally, momentum can be strong enough to see Solana move below the subjective trend line (black trend line), which increases selling pressure. The theoretical short idea is a sell stop order at $ 175, a stop loss at $ 195, and a profit target at $ 115.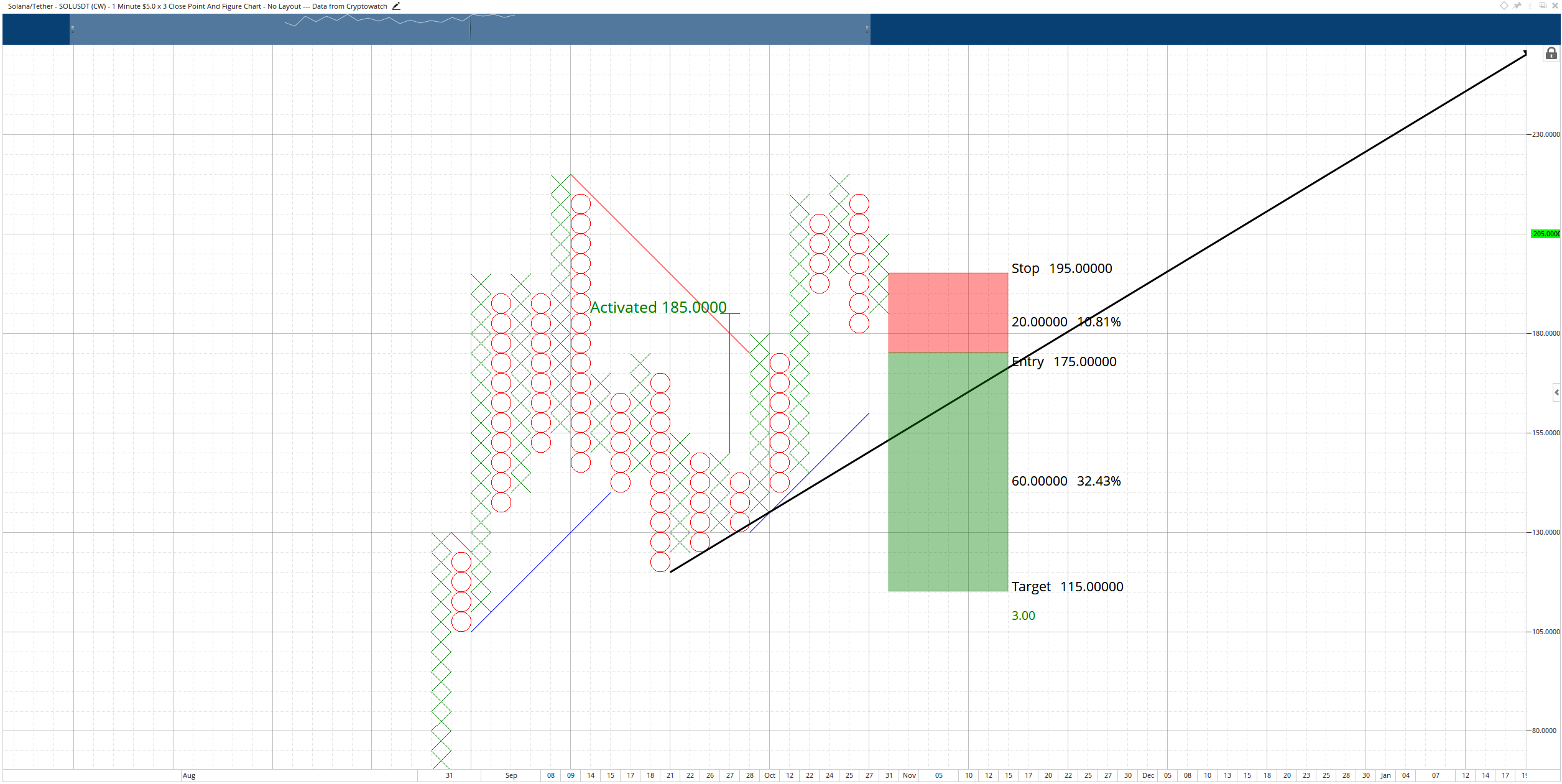 SOL / USDT $ 5.00 / 3 box reversal point and number chart
The short trade idea will be void if the Solana price rises above $ 220.