Source: Adobe / EwaStudio
A survey of 30 central banks produced somewhat surprising results as some bankers showed signs of openness to crypto-assets like Bitcoin (BTC). In addition, central bankers are increasingly concerned about inflation.
First, 14% of respondents said central bank digital currencies (CBDCs) would put pressure on these banks to invest in crypto, while 83% of respondents said the learning process of investing and managing this new asset class itself could be valuable for the institution they represent, according to this year's survey by the Swiss investment bank UBS among unspecified central bankers.
"28% of respondents see the benefits of cryptocurrencies as an uncorrelated asset, and another 11% would see them as an alternative to gold," the report added.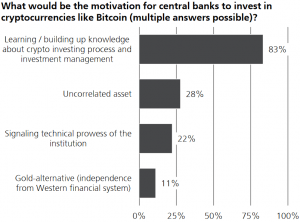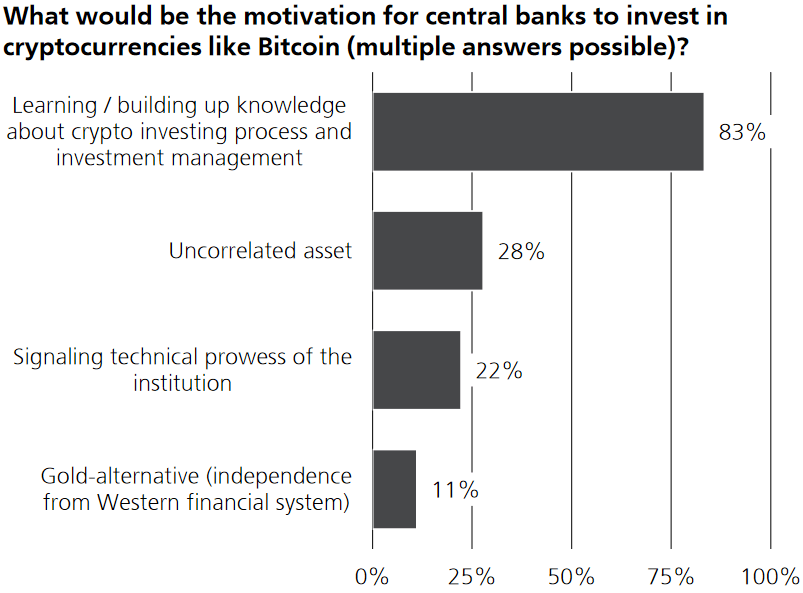 Source: UBS
"When I hear central bankers say they don't see cryptocurrencies as a major store of value over gold, it shows a complete lack of understanding," said Joshua Scigala, co-founder of the crypto-financing project TheStandard.io, in an emailed comment. "Imagine now, as a saver, you have the option of using the decentralized financial market to achieve an annual return of 6 to 12%, or you can stick with the old central bank system and pay 1% negative interest! Select?"
Meanwhile, 46% of respondents said they believed that CBDCs would not displace Bitcoin and other crypto assets, while 33% took the opposite view and 21% had no opinion.
In both cases, around 40% of the central banks surveyed expect a wholesale CBDC to be introduced within the next three years. About 46% of participants confirmed that their central bank was already involved in CBDC pilots or should be doing so within the next 1 to 3 years.
The majority of participants stated that they "cannot yet predict whether reserves will be invested in other central banks' CBDCs in the foreseeable future," said UBS, adding that "57% of participants see no significant impact on reserve management". at their institution, while 24% say it may have an impact on their back office operations. "
"Bitcoin as a foreign exchange reserve cannot be publicly supported by any central bank for one simple reason; it is not controlled by any nation state, "Luke Sully, CEO of treasury technology specialist Ledgermatic, said in an email comment. According to him, BTC and gold can be viewed as safe havens during economic downturns, both as a hedge against inflation and as the state influence that cash has.
According to the survey, more than 60% of respondents do not believe that the introduction of the CBDC will lead to a lesser role for the USD, and more than 50% do not yet know what impact a digital yuan will have on the internationalization of the Chinese currency.
"Not surprisingly, central bankers speak their book. The reality is that Bitcoin went from zero to legal tender in just 12 years. The number of users doubles every year, and adoption is where the internet was in 1997. Will the central banks get out? – Renew Bitcoin? That is the question people have to ask, "says Edan Yago, who works for the Bitcoin-based DeFi protocol Sovryn.
___
Other key results of the survey:
Macro and economic concerns: The main concern is not to end the pandemic (79%), followed by rising debt levels (71%) and fear of inflation (57%). Inflation was not mentioned at all in last year's survey.
Macro and financial concerns: In line with survey results over the past three years, 86% of respondents cite lower / negative returns in the bond markets. 64% of the surveyed institutes name rising interest rates and inflation, a dramatic increase compared to only 6% in the previous year. 67% of participants expect the US Federal Reserve to raise interest rates in 2023.
Strategic asset allocation: The "secular" trend towards greater diversification of reserves across asset classes has continued during the pandemic. Equities are an appropriate asset class for over 40% of central banks, and emerging market bonds saw the eligible asset class increase (54%). 21% of participating banks are considering investing in illiquid asset classes such as real estate and infrastructure. A shift towards inflation-protected assets can also be seen in 2021.
Currencies: The RMB continues its "marathon" of becoming a major reserve currency, with the average long-term target allocation in the Chinese currency rising to 5.7%. Decreased USD demand over the year and increasing demand for euro-denominated assets.
Sustainability: 19% of participants considered adding sustainability as a fourth goal of reserve management. 31% said they have recently switched from traditional to ESG benchmarks or are considering switching.
____
Learn more:
– Central banks step up bitcoin and stablecoin bashing efforts amid CBDC plans
– Russia's Foreign Minister: Crypto will inevitably play a role in international trade
– Think of bitcoin as a reserve asset. So what?
– El Salvador will be a serious test of Bitcoin's Layer 2 networks
___
(Updated at 13:44 UTC with additional comments.)