Bitcoin is back and so is altcoins. That is the story of crypto this year.
Tezos is the only one in the top 10 (ranked 10th with a market cap of $ 2.5 billion) trading at all-time highs. Yes, that's right. Admittedly, contributing to this feat was the fact that it only came onto the market (June 2018) after the crypto boom went bankrupt.
Nonetheless, its price performance is remarkable and is currently trading at an all-time high of $ 3.495
How Tezos came back from the lawsuits
Back then, it was one of the most successful initial coin offerings that raised $ 232 million. However, this early success turned out to be the beginning of his problems.
With so much money at stake, perhaps it was inevitable that some of the largest investors and key stakeholders would clash with one another.
In the months after the ICO ended, it looked like Tezos' smart contract platform would never launch as key figures fought among themselves.
In particular, Arthur and Kathleen Breitman – Tezos intellectual property owners – have been at the center of complaints from disgruntled investors who grew tired of the circus.
Tezos – an adult Ethereum?
But Tezos survived the nonsense and lived to launch an innovative proof-of-stake consensus protocol with built-in adult governance. Tezos is probably what Ethereum should be … or hopes to be when it finally migrates to the proof-of-stake. So if you are starting to think about diversifying from Bitcoin to buying cryptocurrency further down the food chain, it may be worth paying attention to Tezos (XTZ).
Now let's look at this price chart since XTZ started trading; there is really something to see.
From an initial coin offering price of $ 0.47, the price has hit a high of $ 3.95, with by far the largest part of that appreciation this year has occurred since mid-January.
What then upset the buyers and could this rocket continue flying or is it running out of fuel?
Developer chooses Tezos
On October 30, 2019, a British real estate developer – Alliance Investments – announced a development in which investors can make a contribution through a Security Token Offering (STO). River Plaza is the name of the development in Manchester, England, where property prices are rising faster in some districts than in London. The 20-story property will offer 180 luxury apartments when completed.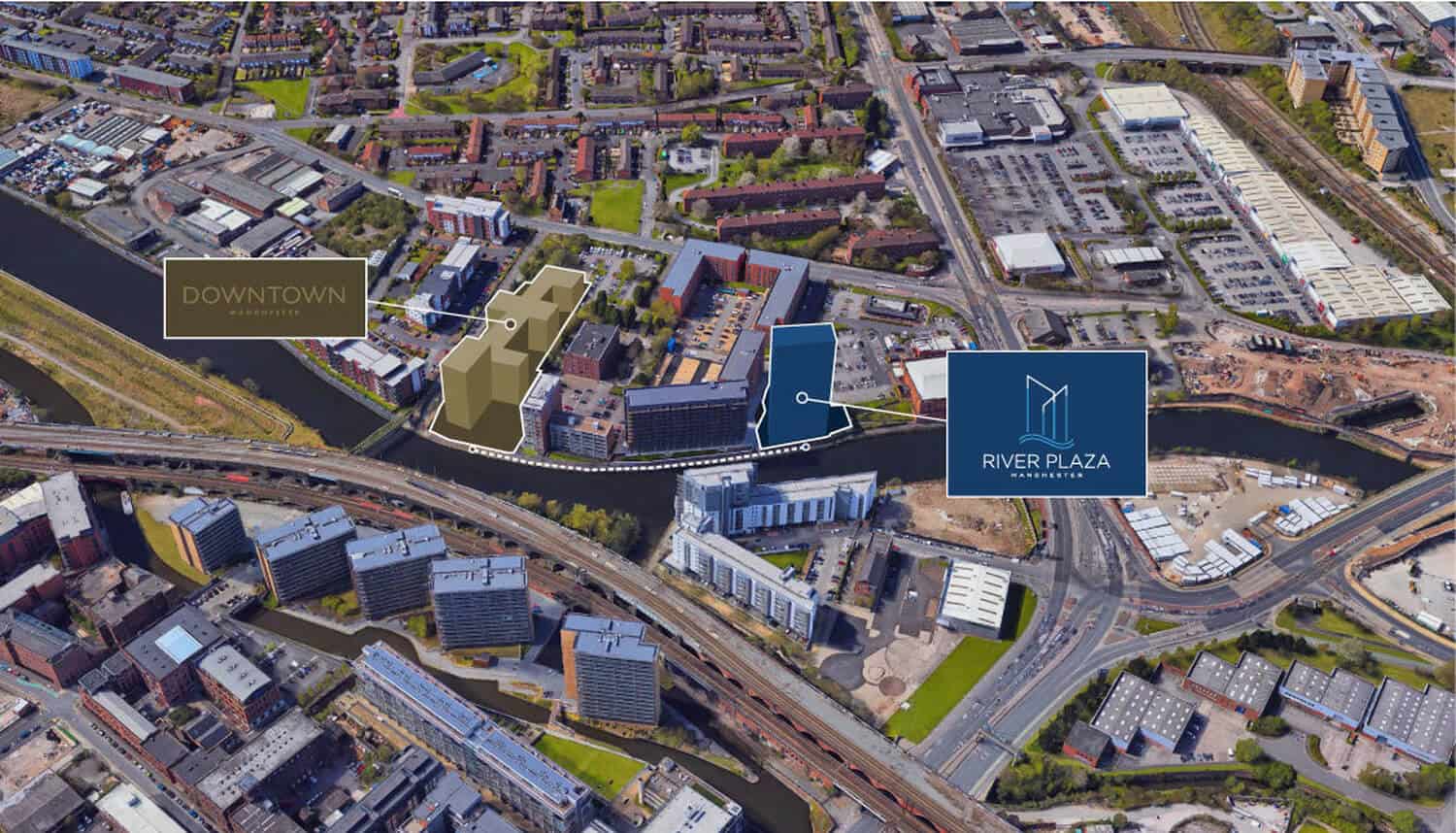 Alliance Investments' River Plaza development in Manchester is being sold to investors with a security token offering running on the Tezos blockchain
The digitization of real estate is one of the few areas where crypto has started, albeit on a small scale.
Alliance Investments said at the time of the announcement that it has partnered with Overstock's tZERO STO platform to sell its new development to real estate investors. The Tezos Foundation was mentioned in the small print of the deal – the rail for the STO is the Tezos Blockchain.
This is a huge win for Tezos, and more to come.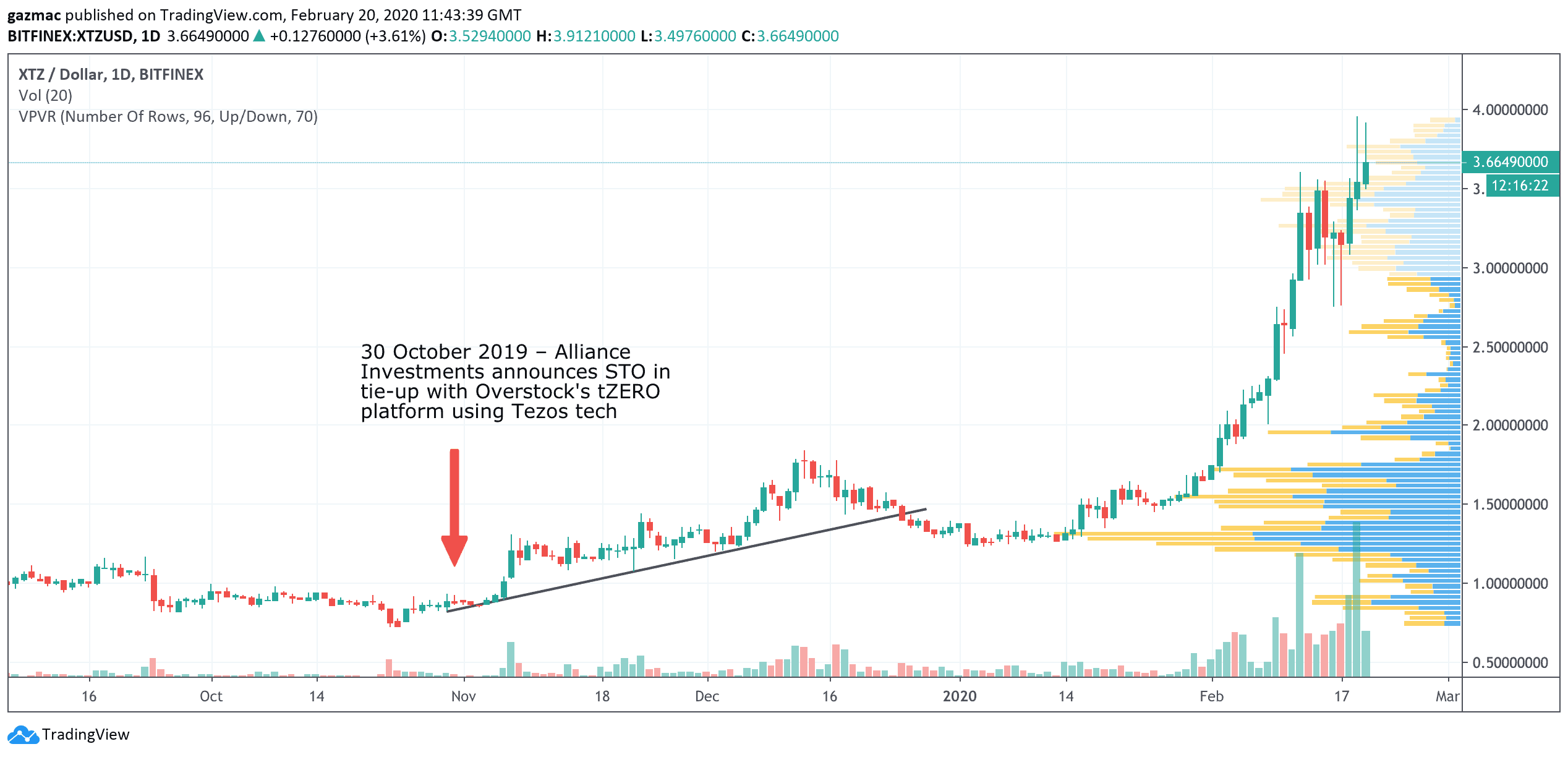 After all, it's good for Tezos supporters like Cameron Winklevoss to declare he's a fan with his "Love Tezos" tweet last year and cheer Tezos as the main challenger for Ethereum, but eventually a network has to start delivering – Tezos delivers .

In January of this year, Tezos revealed that the UK real estate deal was not a flash in the pan.
Vertalo STO platform drops Ethereum for Tezos
Security token company Vertalo announced in January that it would be ditching Ethereum and moving to Tezos.
Dave Hendricks, Vertalo CEO, says his company will indeed continue to support Ethereum, but Tezos is now his default platform. He says Tezos allows more languages ​​and has faster transaction speeds than Ethereum.
"A real estate fund managed via a Tezos security token could, in addition to an asset-based dividend, also pay out a share-based dividend, as traditionally paid for investments such as real estate investment trusts, an area that is a focus for Vertalo and other security token platforms all over the world, "explains Hendricks.
While Tezos is indeed a challenger, it should be noted that the vast majority of asset digitization tokens are still running on the Ethereum network.
Ok, so there we have some basics that tell us that this Tezos bull run is not all based on rumors and the tailwind of support from the likes of the Winklevoss twins and billionaire Tim Draper.
How about buying the Tezos story now?
Significantly, given its performance during the recent $ 10,000 Bitcoin retreat, which saw BTC price plummeting and taking the bulls by surprise, it is very significant that Tezos stayed green / is bleeding – that must be a sign of his confidence among the Tezos owners.
With an increase of almost 200% since mid-January, however, it is easy to fear that the price could abruptly withdraw from the parabolic development since then.
Tezos support levels and a break in a bullish channel – but price target $ 4.00
At the time of writing, the price was $ 3.620 with support at $ 3.254 and $ 2.892.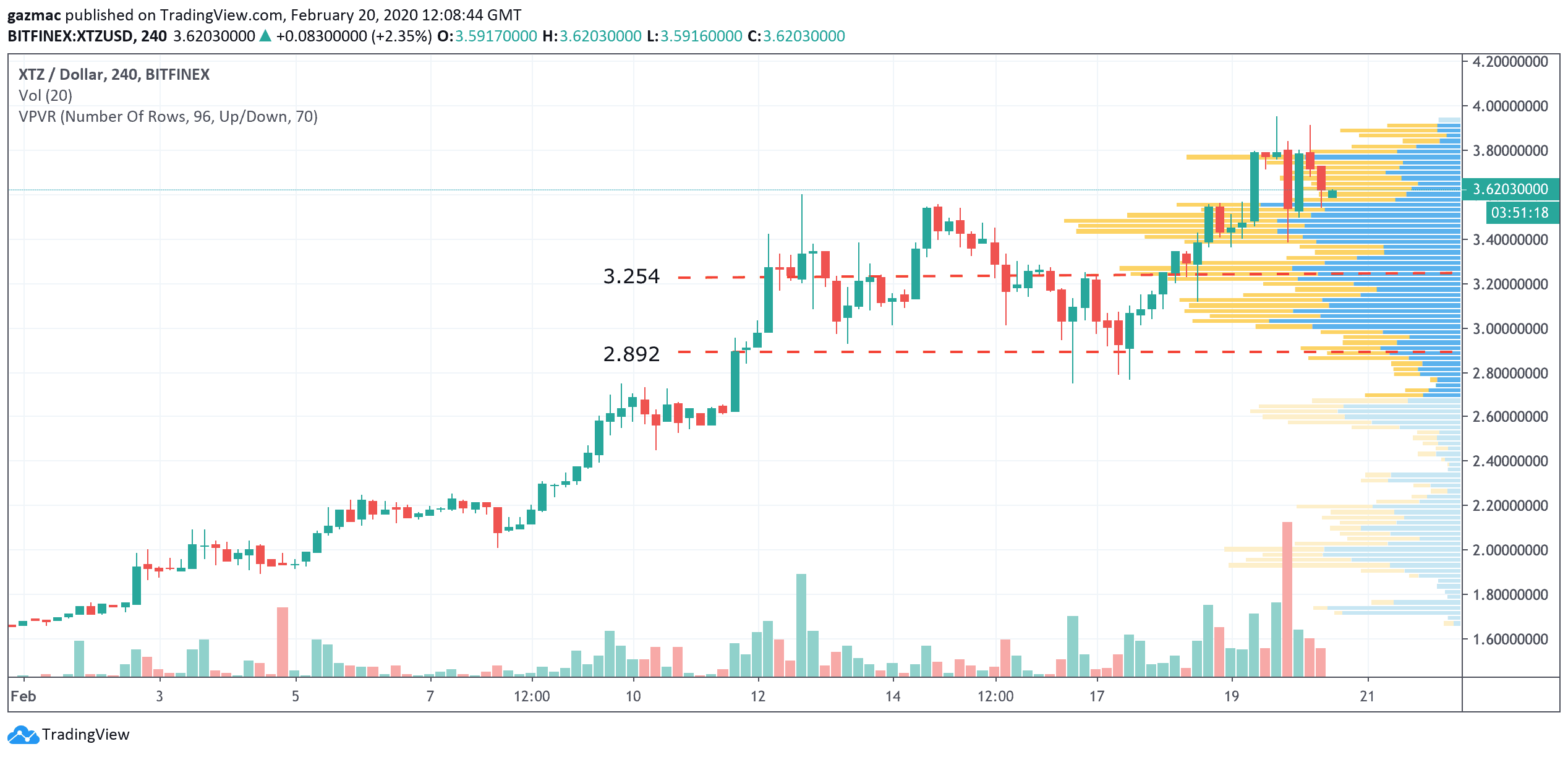 However, the bulls will be on the lookout for the rising channel that has been built in the past few days to look for an injury. In fact, the price had risen higher every time it approached the lower band. That has changed today, as the following graphic shows: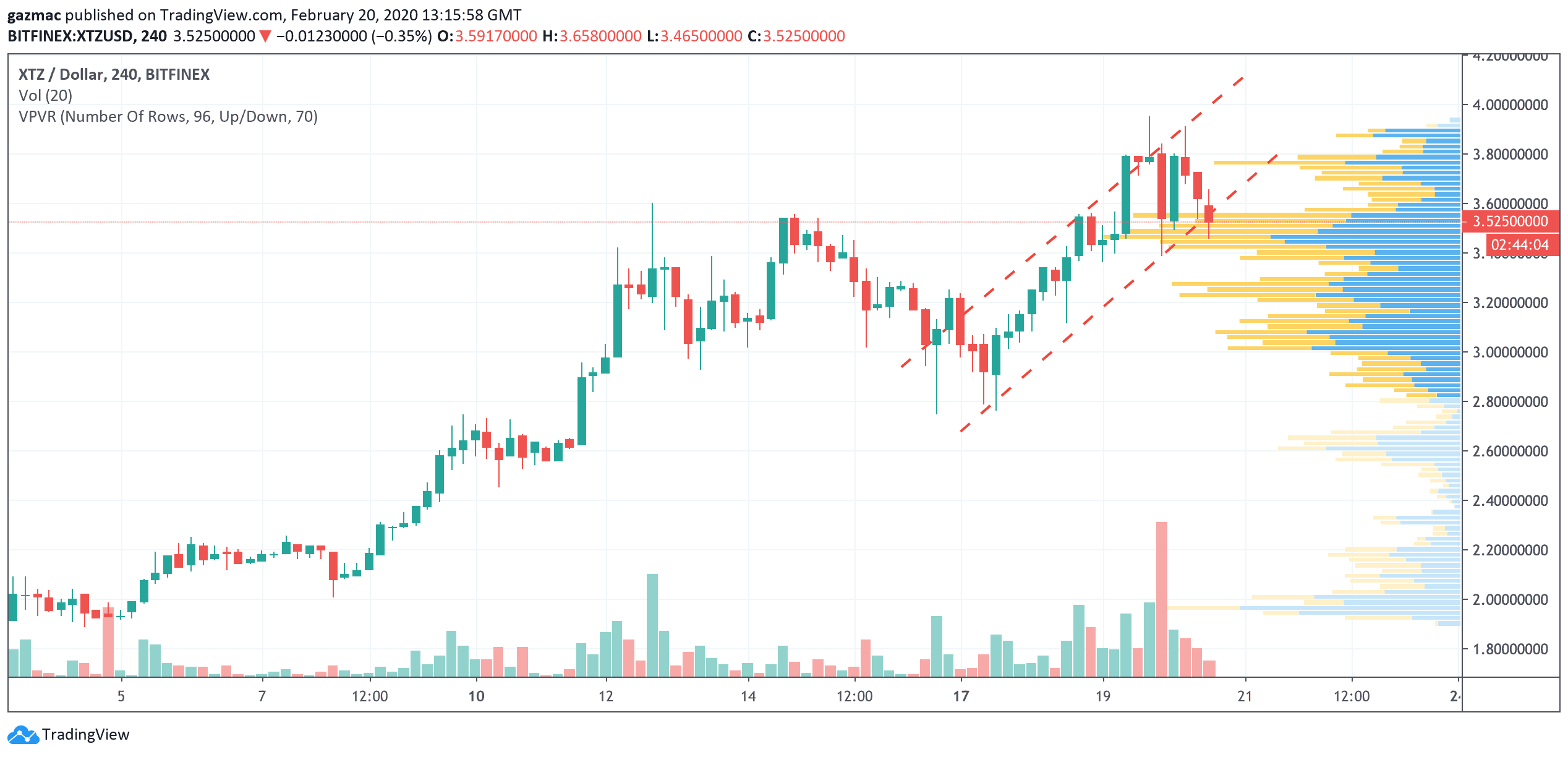 Regardless of the near-term outlook, accumulation at this level makes sense for those looking to view Tezos as one of their altcoin portfolio holdings. Target price $ 4.00.
However, this is still a market led by Bitcoin.
If the top dog doesn't return to $ 10,000 and above, it could lose support at $ 9,500. That would really get the bears out of the woods.
Not even Tezos would stay green in such a scenario.