Source: iStock / primeimages
The 7-day combined moving average of the crypto market sentiment score (Sentscore) for the top 9 coins by market capitalization is 5.92 – higher than last week (5.68) and on the edge of the positive zone, as the data of the Crypto Market Sentiment Analysis Show Service Omenics Show.
This week doesn't include Bitcoin Cash (BCH), which went through another hard fork a week ago.
In both cases, the vast majority of coins have seen their individual scores increase over the past seven days. At the top is EOS, which is up almost 20%. It is followed by Binance Coin (BNB) and XRP, while the smallest double-digit increase is in Litecoin (LTC), which has increased its score by 10%.
Compared to the two last week, four coins are now in the positive zone: Bitcoin (BTC) and Ethereum (ETH) are complemented by XRP and LTC.
On the flip side, two coins ended the week in red. Tether (USDT) fell again, almost 13%. Add to this the 2.8% drop in Chainlink (LINK), even though USDT is the only coin below grade 5 (except for BCH).
Change of mood among the top 10 coins *:
Interpretation of the Sentscore scale:
– 0 to 2.5: very negative
– 2 to 3.9: somewhat negative zone
– 4 to 5.9: neutral zone
– 6 to 7.49: somewhat positive zone
– 7.5 to 10: very positive
Source: Omenics, 12:16 UTC
Over the past 24 hours, the combined Sentscore for these 10 coins was 5.58, and without the 0 from BCH, the positive value is 6.2. Additionally, 6 out of 10 are in the positive zone, with Cardano (ADA) and BNB joining the aforementioned four-coin team. And while EOS and and LINK are at the limit of the positive zone with a value of 5.9 each, the USDT is still below 5. All this said that only ADA and BNB recorded (slight) increases during the past day the high values ​​of others are actually results of drops.
Daily Bitcoin Sentscore change in the last month: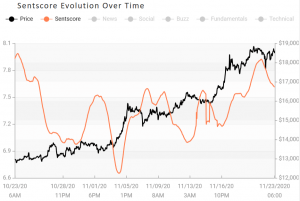 Source: Omenics
___
* – methodology:
Omenics measures market sentiment by calculating the Sentscore, which aggregates sentiment from news, social media, technical analysis, viral trends and coin fundamentals based on their proprietary algorithms.
The website says: "Omenics combines trending news articles and viral social media posts into an all-in-one data platform that you can also use to analyze the sentiment of content. Later, Omenics merges the two sentiment indicators from news and social Media added. " with 3 additional verticals for Technical Analysis, Coin Fundamentals, and Buzz, resulting in the Sentscore which contains a general outlook for each coin. "They currently rate 39 cryptocurrencies.