The MVRV ratio, a bitcoin indicator, could suggest that the current bull run is not over yet and that the price of the cryptocurrency is still at its peak.
The MVRV ratio indicates that the cycle is not over yet
As highlighted in a Crypto Quant post, past cycles appear to be following a certain pattern on the MVRV charts. This could indicate that the current bull run has not yet peaked.
MVRV stands for "Market Value to Realized Value". The ratio is defined as the market capitalization of Bitcoin divided by the realized capitalization.
Related reading | SpaceX has Bitcoin on its balance sheet, Elon Musk
MVRV Ratio = Market Capitalization ÷ Realized Capitalization
The MVRV ratio is useful for knowing whether or not the current price is fair. If the value is very high, it means that the price of Bitcoin may be overvalued and therefore investors tend to have selling pressure.
Conversely, if the value of the indicator is low, it could indicate that the price of BTC is undervalued, which could lead to buying pressure in the market.
Related reading | Bitcoin volume continues to hit annual lows as the price rebounds
This is what the Bitcoin MVRV Ratio Chart looks like for the 2013 cycle:
The BTC MVRV zones seem to decide up and down
In the graphic above, the blue zone indicates a floor. The MVRV ratio line only touches this zone during a bear market, while the red box indicates a top.
In the middle there is another box with the color green. The MVRV ratio seems to touch this zone once after hitting a top in the middle of the bull run and then going back up for the true top.
Because of this, buying Bitcoin could be a good choice if the MVRV ratio hits the green after a correction.
Below is the diagram showing the 2017 cycle as well as the current run.
BTC MVRV shows that the current cycle may not have peaked yet
As the graph shows, the 2017 cycle appeared to have followed a similar pattern, where a high hit the middle of the cycle and then a correction moved into a green zone.
As it stands, the current cycle could be in the middle right now and a new top could be ahead of us.
Bitcoin price
At the time of writing, the price of BTC is around $ 32.3,000, up nearly 2% over the past 7 days. Here is a graph showing the trend in crypto price: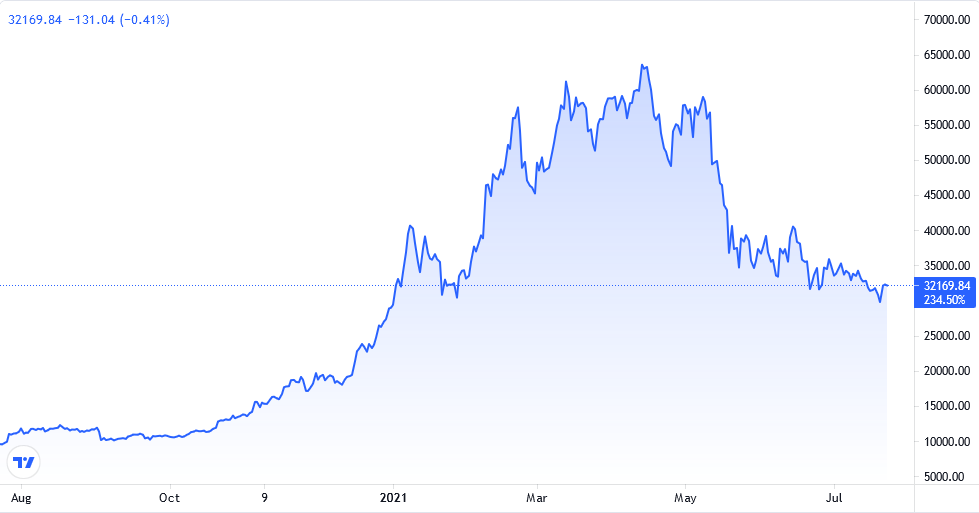 The price of BTC seems to be in an uptrend again | Source: TradingView
If the MVRV ratio pattern applies, then the bull run may not have peaked in that run. So that the price could go up soon. However, this cycle could turn out differently and a bear market could be imminent instead.
Featured image from Pexels.com, charts from CryptoQuant, TradingView.com