US Treasury Secretary Janet Yellen calls Bitcoin "extremely inefficient", BTC price drops below USD 50,000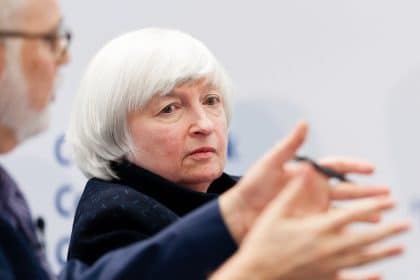 Yellen's comments, questioning Bitcoin's price stability and volatility, came at a time when Bitcoin (BTC) was under heavy selling pressure, falling 16% from its all-time high in a very short space of time.
On Monday, February 22nd, US Treasury Secretary Janet Yellen issued a warning that Bitcoin (BTC) is putting to its investors. Yellen said there are some important questions about Bitcoin's stability and legitimacy. Speaking to CNBC's Andrew Ross Sorkin at a New York Times DealBook conference, Yellen said:
"I don't think Bitcoin… is widely used as a transaction mechanism. To the extent that it is used, I fear that it is often used for illegal finance. It's an extremely inefficient way to conduct transactions, and the amount of energy that goes into processing those transactions is staggering. "
Bitcoin mining activity involves using high-end machines to solve the algorithm and add blocks to the network. This high-end machine also consumes excess electricity. Bitcoin critics have always pointed out the energy that is consumed in Bitcoin mining activities.
Bitcoin's volatility has also always been a point of criticism for legislators. Bitcoin remains a very volatile asset class despite strong institutional participation. Given the most recent example, BTC price fell 16% on Monday February 22nd.
From its all-time high of $ 58.3,000, Bitcoin (BTC) has fallen below $ 50,000 in less than 48 hours. With this, Bitcoin (BTC) is also losing its status as a trillion dollar asset class. At press time, BTC is trading at $ 49,762 with a market cap of $ 921 billion.
"It is a highly speculative asset and you know I think people should be aware that it can be extremely volatile and I am concerned about the possible losses that investors can take," Yellen said.
However, Yellen remains positive about digital currency technology and its inclusion in the payment system. "I think this could result in faster, safer and cheaper payments, which I think are important goals," said Yellen.
Market analysts are not put off by Yellen's views on Bitcoin
Crypto market analysts have urged central banks to print money out of nowhere under the guise of stimulating economic activity. Concerns about inflation have already brought financial institutions and corporations closer to Bitcoin (BTC). Shortly after Yellen's comments on Bitcoin, Rich Dad author Robert Kiyosaki said:
"Sec Treasury Janet Yellen explains," Bitcoin is extremely inefficient. "Give me a break. Does she think it's efficient to print trillions of counterfeit dollars? Doesn't she know that the more counterfeit dollars it prints, the more efficient and valuable Bitcoin becomes? God bless you."
Just before the interview, Meltem Demirors, CoinShares Chief Strategy Officer, spoke to CNBC. She said:
"The regulatory problems have been around for a long time, we eliminated them a long time ago. At this point we believe: Bitcoin is not about if, but when. We certainly believe that the best time to invest in Bitcoin was yesterday – the second best time to allocate is today. "
You can find more news from the world of cryptocurrency here.
Next Bitcoin news, cryptocurrency news, news
Bhushan is a FinTech enthusiast and has a keen understanding of the financial markets. His interest in economics and finance draws his attention to the emerging markets for blockchain technology and cryptocurrency. He is constantly in a learning process and keeps himself motivated by sharing what he has learned. In his spare time, he reads thriller novels and sometimes explores his culinary skills.
Many Thanks!
You have successfully joined our subscriber list.
Subscribe to our telegram channel. To join