Bitcoin is often called the best investment of the decade, and for good reason. Many people believe it to be one of the greatest innovations in finance. You might think that such an impactful invention would be extremely complex, but it's not. It arose at a tumultuous time for the United States and much of the world, 2008. Satoshi Nakamoto, the anonymous founder of Bitcoin, released the now infamous Bitcoin Whitepaper in the middle of the financial crisis. He proposed a new system with no central authority to lord it over everyone else. He didn't want to include banks and other financial middlemen in transactions they had no business taking a part of. So, he created Bitcoin, an electronic cash system (or cryptocurrency) using peer-to-peer technology. 
What Is Bitcoin?
Bitcoin was the first cryptocurrency and remains the largest in terms of market capitalization, more than a decade later, at a tremendous $884 billion at the time of writing. It's difficult to understand the absolute scale of Bitcoin just by looking at that number, so let's put it in perspective. That market cap would make it the 7th largest company in the world, towering over the GDP of most countries. Ethereum, the second-largest cryptocurrency, only has a market capitalization of $418 billion, less than half of Bitcoin's. 
Bitcoin is used for many different things, but the 2 most popular use cases are as a store of value like gold and as a payment method. As more users adopt BItcoin, it seems to not be the best way to make payments because the network is a bit too slow and fees are too high. However, it has become one of the most popular stores of value assets in the world, and its price reflects that. 
Blockchain Technology Explained
Bitcoin was the pioneer of blockchain technology. The word blockchain seems a bit confusing and indeterminate on the surface to many people, but its meaning is straightforward. Essentially, public blockchains are a specific kind of distributed database or ledger that is open and accessible to anyone. Blockchains differ from regular databases in a few important ways. Data on the blockchain is aggregated in blocks, linked together chronologically one after another. 
Decentralized blockchains like Bitcoin are not just accessible to everyone, but they are also controlled by their users. Network participants around the world, called nodes or validators, verify Bitcoin transactions by running the necessary software on expensive hardware. The security of blockchains also arises from this decentralized control of the network. A malicious attack on the network to steal tokens or double-spend them, for example, would require the hacker to control more than 50% of the network's validators. 
The security that decentralization provides also makes changing the blockchain much more arduous because no central authority exists to decide on the changes. Instead, modifications are implemented with blockchain forks. In essence, a fork is when the validators or nodes on a blockchain no longer align with each other or are running different software. The 2 main types of forks, hard forks and soft forks, are used for different kinds of changes. 
Hard forks split the blockchain in 2 parts, the first fork adhering to the old rules and the other using the intended modifications.  Soft forks don't create a new blockchain; they just add a new rule to the old one. Soft forks generally cause less turbulence in the community and have fewer downsides, but they can't be used for everything.  Examples of Bitcoin forking include Bitcoin Cash and Bitcoin SV, both of which massively increased the block size, allowing for faster and cheaper transactions. Neither of these was incredibly successful, and most of the community has remained on the main Bitcoin blockchain. 
Who Made Bitcoin?
Bitcoin was the brainchild of an anonymous visionary who went by the pseudonym of Satoshi Nakamoto. One of the first main use cases of Bitcoin was as a somewhat anonymous payment system, often misused on illegal internet marketplaces. Nakamoto could have easily seen serious consequences, even though he didn't have any say on how it was used. This aspect of Bitcoin could have been the main reason why he has stayed anonymous. 
If you have spent any time in cryptocurrency investing circles or on crypto Twitter, you have almost certainly heard the question, "Who is Satoshi Nakamoto?" Despite anyone's claims that they know who Nakamoto is, we don't know the answer to that question. However, hundreds of theories exist as to who created Bitcoin, and some seem to be far more likely than others. 
One of the most popular theories names Bitcoin's creator as Hal Finney, who was an important figure in Bitcoin and the entire cypherpunk movement. He was involved with Bitcoin before and after it launched and was the first person to receive Bitcoin in a transaction. He even lived extremely close to Dorian Nakamoto, another possible candidate, although Nakamoto has categorically denied any involvement. Finney may have gotten his pseudonym from the man only a few blocks away. Unlike Dorian Nakamoto, a third relatively popular candidate is Craig Wright, the creator of Bitcoin SV (SV stands for Satoshi's Vision). While he claims to be Satoshi, he still has not managed to prove to the public at large that he is who he says he is. The proof he has provided so far has not added up to a conclusive case in his favor. We may never find out who exactly created Bitcoin.
Bitcoin Mining
Mining is perhaps the most controversial part of Bitcoin, and it is central to the function of the blockchain. Cryptocurrencies have a system to verify and process transactions called a consensus mechanism. These currencies use many different types of consensus mechanisms, but Bitcoin pioneered one of the most popular methods, called Proof of Work. In this system, miners use sophisticated computer hardware to guess a random long number. Once a miner finally guesses the number correctly, the next batch of transactions is processed and added to the blockchain. Proof of Work was originally designed to make email spamming unprofitable, but it seems to work much better running cryptos. 
Miners are compensated for their help in running the network with Bitcoin. The amount of Bitcoin they earn per block mined, the block reward, halves every 4 years. This process is often called the "halvening" and is a highly awaited event for crypto investors.  For example, between 2016 and 2020, miners earned 12.5 Bitcoin per block. After 2020, they only earn 6.25 Bitcoin and after the next halvening in 2024, they will earn 3.125. After each halvening, every block added to the blockchain adds less Bitcoin into circulation, which helps drive its scarcity. Eventually, the supply of Bitcoin will reach its maximum set explicitly in the source code, 21 million tokens, and there will be no more block rewards whatsoever. 
Investing in Bitcoin vs. Stocks
Bitcoin is quite different from traditional stocks and bonds. One of the most impactful differences is its volatility. Some stocks, especially those smaller market capitalizations, can have volatile prices, but most see far fewer dramatic price swings than Bitcoin. It's not unusual for Bitcoin to suffer a 50% loss whereas stocks rarely suffer such losses without large scandals or similarly damaging situations for the company. Bitcoin also has more bombastic bull runs than most stocks due to this volatility. Many investors like to invest a smaller portion of their wealth into cryptocurrencies to manage the risk they are taking on. This decision should depend on your risk tolerance; however, quite a few investors do keep the majority of their holdings in cryptocurrencies. 
Risks of Investing in Cryptocurrency
Investing in the cryptocurrency market is notoriously risky and not only due to dramatic price swings. Volatility is one thing, and it comes with the upside of greater possible profit potential. 
However, you have to consider other risks including the security of your cryptocurrencies and the possibility of damaging regulation to be passed in the future. 
Security Risk: It is of the utmost importance to store your cryptos in secure wallets. Millions of dollars worth of cryptos have been stolen in cryptocurrency exchange hacks over the past decade. Most of the top trading platforms, like the ones listed below, are incredibly secure, but they can't be completely invulnerable to attacks. Two other storage options are generally considered to be safer than exchanges, software and hardware wallets. Both usually offer you complete control over your cryptocurrencies and better security. Hardware wallets are often the safest because they are usually kept completely offline, invulnerable to cyberattacks. 
Volatility Risk: Volatility is a substantial part of the nature of cryptocurrencies. If or when that volatility dies down, many crypto investors would be disappointed. High volatility doesn't just mean the asset suffers devastating crashes every once in a while. It can also mean massive upswings and bull runs. ETFs full of tens or hundreds of stocks are much more stable than most cryptocurrencies, so they are often less risky. However, you probably won't ever earn 100% or even 1,000% returns on them, which is quite possible with successful cryptos. Beware of dramatic price movements because they can be absolutely devastating in crypto. It isn't uncommon to see Bitcoin and Ethereum drop 40% or 50% once or twice a year. 
Risk of Regulation: One of the greatest fears of investors in the cryptocurrency market is damaging regulation. Right now, only certain facets of the market are regulated significantly. For example, in the United States, the U.S. Securities and Exchange Commission (SEC) regulate aspects of the cryptocurrency market. Cryptocurrency exchanges that allow USD deposits and trading are regulated significantly, and the IRS gets its cut whenever investors sell their cryptos for USD. Recently, the cryptocurrency community was set ablaze by a short paragraph in the proposed infrastructure bill that would effectively suffocate important aspects of crypto with red tape.
How to Buy Bitcoin
Because Bitcoin is the largest and most popular cryptocurrency, you can buy it on most cryptocurrency exchanges and even some brokerage apps. Some of the best trading platforms that offer Bitcoin trading are Coinbase (NASDAQ: COIN), eToro, Robinhood (NASDAQ: HOOD), Webull, Voyager and Crypto.com. 
Before you can purchase any cryptocurrencies on these platforms, you need to verify your identity. This process entails providing your address, Social Security number and a picture of your driver's license or other valid ID. Once your account is verified, you can fund your account and start trading. 
You can deposit either a fiat currency or another supported cryptocurrency. All the trading platforms recommended above offer instant trading after your deposit so you can purchase your Bitcoin immediately. All you need to do now is look for the trading pair with Bitcoin and the currency you want to buy it with, set your price and complete the transaction. 
Commissions
Account Min
$0
1 Minute Review
Coinbase is one of the Internet's largest cryptocurrency trading platforms. From Bitcoin to Litecoin or Basic Attention Token to Chainlink, Coinbase makes it exceptionally simple to buy and sell major cryptocurrency pairs. 
You can even earn cryptocurrency rewards through Coinbase's unique Coinbase Earn feature. More advanced traders will love the Coinbase Pro platform, which offers more order types and enhanced functionality.
Though Coinbase doesn't offer the most affordable pricing or the lowest fees, its simple platform is easy enough for complete beginners to master in as little as a single trade.
Best For
New cryptocurrency traders
Cryptocurrency traders interested in major pairs
Cryptocurrency traders interested in a simple platform
Pros
Simple platform is easy to operate
Comprehensive mobile app mirrors desktop functionality
Coinbase Earn feature rewards you with crypto for learning about available coins
Cons
Higher fees than competitors

Commissions
. 25% or less
Account Min
0.00001 BTC
1 Minute Review
Gemini is a cryptocurrency exchange and custodian that offers investors access to 26 coins and tokens. Founded in the US, Gemini is expanding globally, in particular into Europe and Asia. Offerings include both major cryptocurrency projects like Bitcoin and Ethereum, and smaller altcoins like Orchid and 0x.
Gemini is 1 of the only brokers with multiple platform options based on skill level. New investors will love the streamlined interface of Gemini's mobile and web apps, while advanced investors might appreciate all the tools that come with ActiveTrader. 
In addition to a host of platform choices, Gemini users also have access to insured hot wallets to store tokens without worrying about digital asset theft. Learn more about what Gemini can do for you in our review.
Best For
New investors looking for a simple mobile and web app
Experienced investors who need a more advanced platform with more tools
Users looking for a 1-stop-shop to buy, sell and store all of their coins
Pros
Easy and quick signups — can get started in as little as a few minutes
Multitude of platforms to accommodate traders of all skill levels
Hot wallets include insurance to protect your from theft and hacking attempts
Cons
Charges both a commission and a convenience fee for users buying and selling through the desktop or mobile app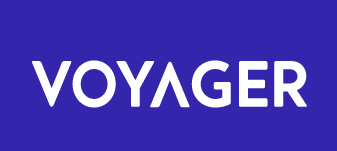 Commissions
FREE
Account Min
$10.00 USD
1 Minute Review
Voyager is a leading name in the sphere of cryptocurrency investing, giving you access to over 50 tokens and coins. Buy, sell and swap assets using Voyager Crypto's simple mobile platform available as a free download for iOS and Android users. 
When you invest through Voyager, you'll pay nothing in commissions, which is a major benefit when compared to other cryptocurrency brokers. Voyager is also one of the only brokers we've seen that allows users to earn interest on their crypto investments. 
Though the broker could do more to improve its customer service, it's an excellent option for beginner investors and seasoned professionals alike.
Best For
Cryptocurrency investors looking for a wide selection of supported projects.
Investors who prefer mobile trading.
Anyone interested in earning interest on their crypto investments.
Pros
Simple, straightforward and intuitive mobile platform
Wealth of investment opportunities
Allows users to earn interest on select crypto investments
Cons
Only available for mobile users — no desktop platform
Limited routes to contact customer service team

1 Minute Review
Robinhood is the broker for traders who want a simple, easy-to-understand layout without all the bells and whistles other brokers offer. Though its trading options and account types are limited, even an absolute beginner can quickly master Robinhood's intuitive and streamlined platform. On the other hand, more advanced traders might be frustrated by Robinhood's lack of technical analysis tools, a feature that's now nearly universal across other platforms.
Best For
Beginner traders
Mobile traders
Pros
Streamlined, easy-to-understand interface
Mobile app with full capabilities
Can buy and sell cryptocurrency
Cons
Almost no trading analysis tools available
Only taxable brokerage accounts available
No option to open a retirement account
No access to mutual funds, forex or futures trading
Limited customer service
Is Bitcoin Worth Investing in?
Bitcoin was worth investing in at nearly every point in time until 2021 (so far). It has broken its last all-time high over and over again. That history doesn't necessarily mean that it will always go up, and it won't. However, looking at the price history of Bitcoin usually points to it being a great investment. It might never reach its all-time high again, or it might take years, but historically, it has eventually broken that barrier time and time again.
Benzinga crafted a specific methodology to rank cryptocurrency exchanges and tools. We prioritized platforms based on offerings, pricing and promotions, customer service, mobile app, user experience and benefits, and security. To see a comprehensive breakdown of our methodology, please visit see our Cryptocurrency Methodology page.
Gemini builds crypto products to help you buy, sell, and store your bitcoin and cryptocurrency. You can buy bitcoin and crypto instantly and access all the tools you need to understand the crypto market and start investing, all through one clear, attractive interface. Gemini Crypto Platform offers excellent account management options. You can manage your account at a glance, view your account balance 24-hour changes and percent changes. Get started with Gemini now.