Craig Wright. Source: a video screenshot, Youtube, Crypto Finder
Rumors of self-proclaimed Satoshi Nakamoto, Australian computer scientist Craig Wright, have apparently sparked a more than 100% rally in Bitcoin SV (BSV) – the Wright-backed cryptocurrency – in the past seven days.
In the last 24 hours alone, there was an increase of 43%. This makes Bitcoin SV the most powerful coin among the top 50 cryptocurrencies by market capitalization. At pixel time (14:02 UTC), BSV trades in 6th place based on market capitalization, with c. USD 233.
Although Bitcoin SV has been in an uptrend since late December, the specific driver behind the recent explosive rally seems to be screenshots of a chat with Craig Wright floating around online.
According to the screenshots posted on Twitter by Arthur van Pelt, co-founder of the fintech company Dragon Industries, among others, Wright seems to confirm that he received the last part of a private key from the so-called Tulip Trust. The key is said to be able to unlock more than a million bitcoins (BTC) that were supposedly mined in the early days of the original cryptocurrency.
The screenshots, which appear to be from a Slack chat, show Wright saying, "We're filing next week," and "Already arrived," which probably points to the missing part of the key and his intention to do so next week to file in Florida court.
However, Pelt also tweeted a clear warning with the screenshots, saying, "This is nothing short of a fabricated scam, a pump 'n' dump orchestrated by the people at the helm."
And don't get me wrong here. This is nothing less than a fabricated scam, a pump 'n' dump orchestrated by the people … https://t.co/UR28Koect4
– Arthur van Pelt – Kite Industry (@MyLegacyKit)
As reported in May 2019, Bitcoin SV was experiencing a pump-and-dump situation at that time, largely due to fake news in China. The fake news report at the time claimed that Craig Wright had successfully proven he was Satoshi and that Binance was going to list Bitcoin SV again.
Also in May 2019, BSV rebounded nearly 70% in one day after it was revealed that Wright had filed registrations with the US Copyright Office and received US copyright registrations for the original Bitcoin whitepaper and Bitcoin code (version 0.1) .
After the rally in May, the price also rose in June before losing nearly 50% of its value in July. Today BSV has increased by more than 200% in one year.
BSV price chart: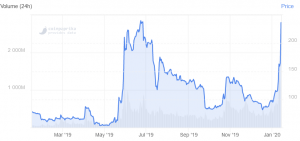 Source: coinpaprika.com