XEM is the native cryptocurrency of the NEM blockchain, used for a variety of processes within the ecosystem. As NEM continues to grow in stature, more and more people are becoming interested in purchasing XEM – leading to great optimism surrounding this altcoin's price.
In this guide, we'll explore our XEM Price Prediction in detail. We'll analyse how XEM works and the prospects of the token before showing you where you can invest in crypto today – with no commissions!
XEM Price Prediction 2021 to 2022
Throughout this XEM stock forecast, we'll touch on the various factors you need to consider before making your investment. However, if you're just looking for a brief rundown of our XEM prediction 2021, the points below highlight our forecasts for the upcoming timeframes.
One Month – The current XEM price seems to have formed a support level around $0.1340. Using this as a base, we estimate that XEM could reach $0.2200 over the next month.
Three Months – If XEM can push past the resistance level at $0.2420, it'll clear the way for a more significant uptrend. Should this occur, we can see XEM reaching a price of $0.40 over the next three months.
Start of 2022 – There is some major resistance around $0.40, which may prove tough to break. Thus, by the beginning of 2020, our XEM forecast estimates that the token may reach a valuation of $0.45.
67% of retail investor accounts lose money when trading CFDs with this provider.
XEM Price History – the Story of 2021 So Far
If you've read any of our other cryptocurrency price predictions, you'll know that we tend to cover all of the bases when it comes to making forecasts. This is no different with XEM, as this crypto has a variety of factors to be aware of that can influence the price. But first, let's discuss what XEM is and how the price arrived at this point.
Firstly, XEM is actually the native cryptocurrency used on the NEM blockchain. XEM coins can be used for staking and governance, allowing holders to vote on proposals related to the platform. However, to understand our XEM prediction, it's essential to know what NEM is.
NEM is relatively experienced in the cryptocurrency market, having been around since 2015. Essentially, NEM is a fork of the NXT blockchain, which is an open-source payment network. The goal of NEM is to be used as more than just a way of transferring payments, aiming to create an ecosystem where developers can come to build decentralised applications (dApps), similar to Ethereum (ETH).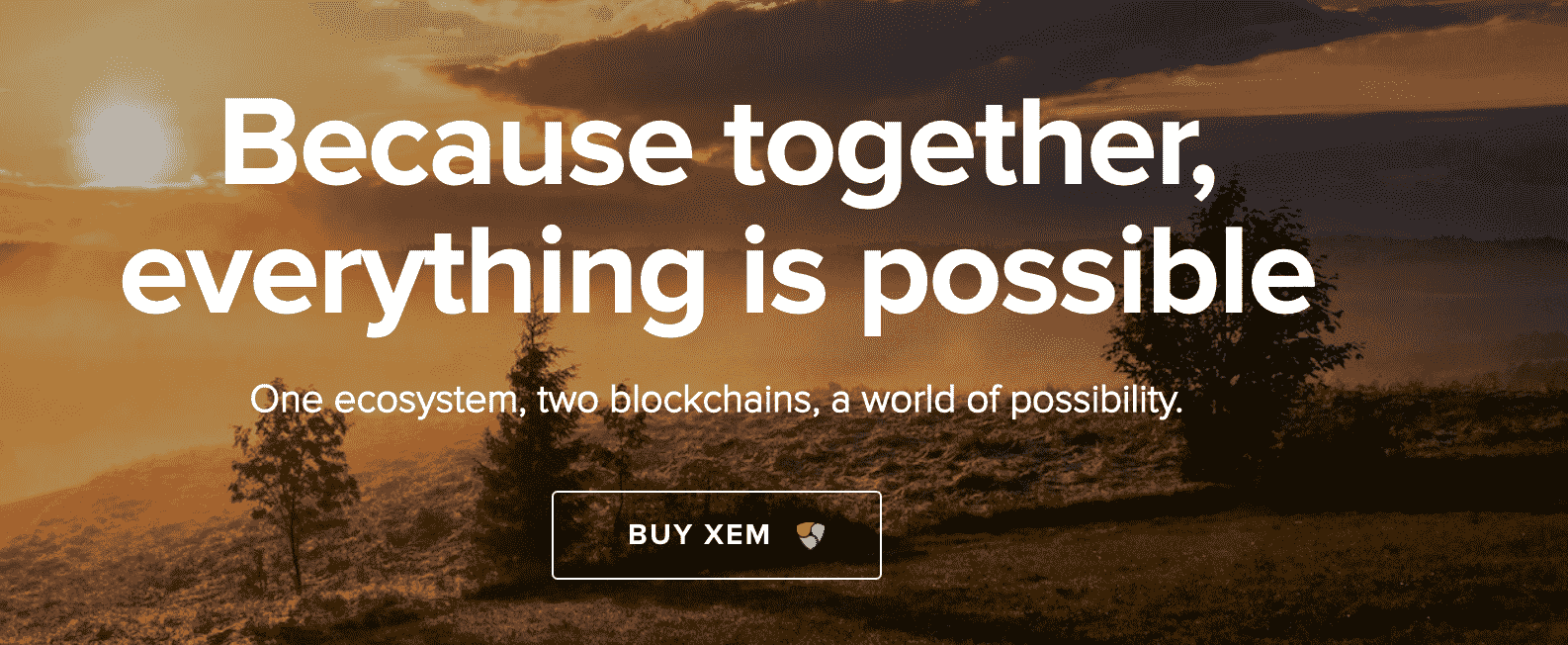 One thing that sets NEM apart from other cryptos such as Bitcoin (BTC) is that NEM uses a 'Proof of Importance' consensus mechanism. This contrasts with the Proof of Work and Proof of Stake mechanisms used by other digital assets. In simple terms, Proof of Importance (PoI) places more emphasis on NEM users that are active participants in the network. This means that transactions are validated by users who are trusted and have a stake in the system, which theoretically makes the system more secure.
The PoI mechanism is also more eco-friendly than PoW. A recent article by Quartz noted that Bitcoin's PoW mechanism uses about the same amount of energy per year as 23 coal-based power plants. This aspect of Bitcoin is one of the crypto's major drawbacks and has prompted major players such as Elon Musk to shy away from accepting it in his companies. As NEM uses a much more eco-friendly methodology, this will appeal to a broader target market.
Looking at the price chart, you can see that the XEM price live rose by around 329% between January and March. The price then fell dramatically, hitting a low of $0.084 in June 2021. Since then, the price has been trading sideways for around three months, trying to find some impetus to create a bullish uptrend. This may be happening already, as the recent push from the support level has added some more momentum into price movements.
XEM Price Forecast
Much like when you buy Bitcoin UK, you need to do your own research and consider the various factors that may affect the price. This 'due diligence' can be the difference between a good investment and a bad investment. With that in mind, let's look at the technical and fundamental factors that influence the XEM price.
Technical Analysis
From the historical data on the price chart, you can see that XEM has displayed large amounts of volatility over the past year. The rally during early 2021 was followed by a steep decline, with price now trading sideways. This consolidation period has lasted since June 2021, with no real momentum either way.

67% of retail investor accounts lose money when trading CFDs with this provider.
If you were to look at the lower timeframes, you'd see that price is breaking out of a downwards channel at the time of writing. These channels are a sign of a bullish breakout – so if XEM can close outside of this channel, it would be an excellent signal for investors.
There is some resistance around the $0.19 level, where the price struggled throughout early September. The same thing may happen this time, so it's worth keeping an eye on this area. However, if the price can break past this resistance level, there's a clear path back towards the highs of May 2021.
Fundamental Analysis
According to CoinMarketCap, XEM has a market cap of $1.4 billion at the time of writing. This makes XEM the 75th largest crypto in the world, as measured by market capitalization. Over the last 24 hours, the trading volume was just over $59 million, which is up 57% from the previous day.
XEM has a circulating supply of 9 billion tokens, which is also the maximum number of tokens that will ever be in existence. Many of the coins are held by the developers to aid in the advancement of the crypto. However, if XEM can secure listings on some of the world's top brokers, it'll help increase the liquidity for the token – which can only mean good things for the price in the long run.
Notably, NEM doesn't use smart contracts and targets a part of the market that will not rely on this concept. Smart contracts are why many people buy Cardano, as these contracts are set to alter how business processes are facilitated in a wide variety of sectors. As NEM doesn't utilise smart contract functionality, this could hamper them going forward. However, if smart contracts do not become as prevalent as expected, then NEM may not be affected as much.
XEM Price Prediction 2025 – Long Term Outlook
Putting everything together, let's look at our XEM forecast over the long term. As you can see, the PoI mechanism that NEM utilises offers some significant advantages compared to other mechanisms. PoS mechanisms are adversely affected by users with extensive holdings, whilst PoW mechanisms tend to be very energy-intensive. NEM's PoI mechanism solves both these issues, providing a unique selling point for the platform.
As NEM is based in Singapore, they already have a sound footing in Asia. Furthermore, Asia is a huge target market for this platform, which could raise awareness elsewhere in the world. Many people won't consider investing in cryptocurrency until they see significant adoption elsewhere – so if NEM can establish themselves further, it'll mean great things for the coin.

Finally, NEM offers a seamless way of connecting public and private blockchains. Digital assets can be transferred quickly, with this process expected to become more common as large corporations begin to utilise blockchain technology in their systems. As NEM acts as a 'bridge' between the two blockchain types, it'll be in high demand in the years ahead.
With that in mind, our XEM price prediction 2025 is pretty encouraging. The PoI algorithm will become more attractive as people look for eco-friendly options within the crypto space. Due to this, we project that XEM could reach a valuation of $1 by 2025.

In addition, our XEM price prediction 2030 is also encouraging. Over the next nine years, we'd expect the 'bridging' aspect of NEM's platform to become an appealing factor for major businesses to utilise, enabling them to connect with other blockchains safely. Due to this, we estimate that XEM could be valued at $2 by 2030.
XEM Price Chart
Similar to forex trading, effective cryptocurrency trading involves understanding the price chart and projecting future moves. As we touched on earlier, the XEM price is beginning to show some upwards momentum and is likely to break out of the downwards channel in which the price is trapped. If this breakout were to occur, it would likely provide the impetus needed for an uptrend to begin.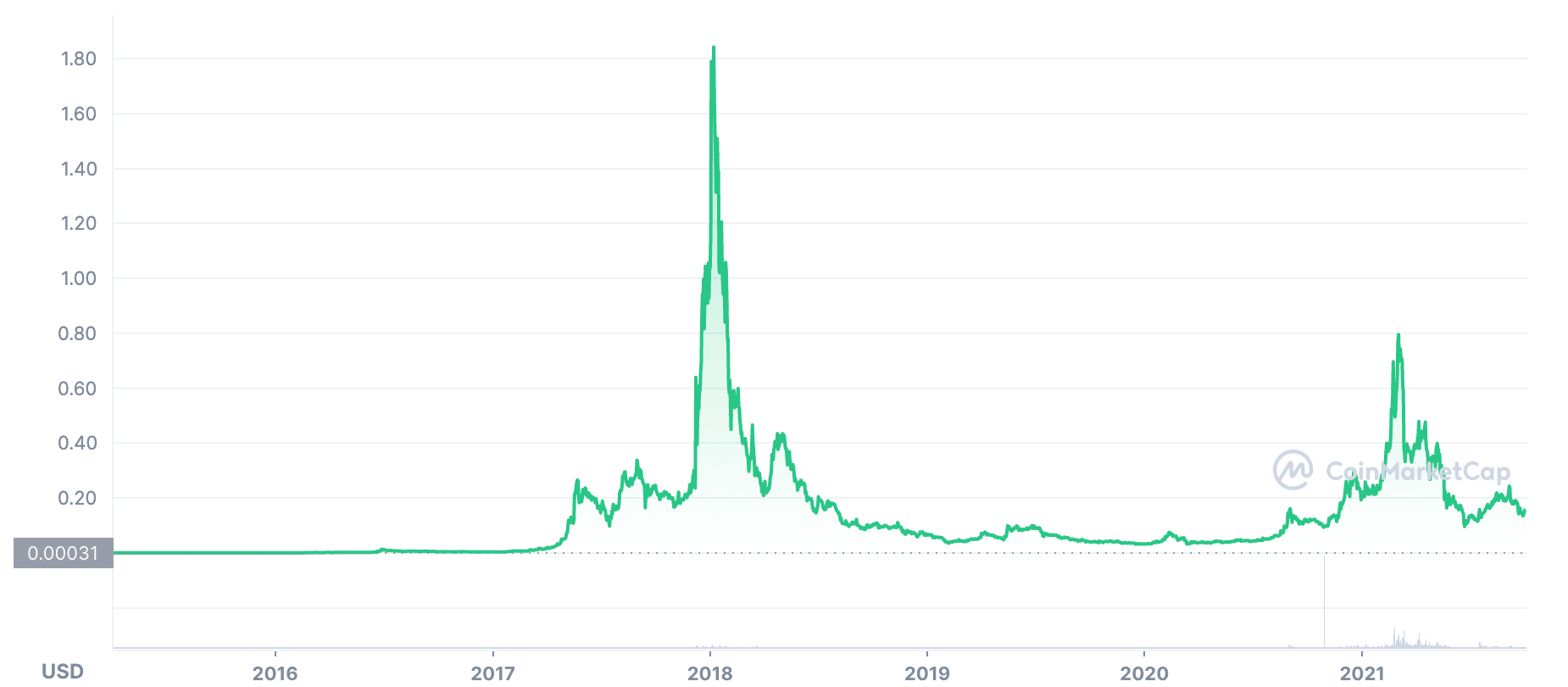 67% of retail investor accounts lose money when trading CFDs with this provider.
However, with that said, it's also essential to understand the risks when investing in a crypto this small. Smaller cryptocurrencies tend to be much more volatile, meaning that it's not uncommon to see swings of 10% or more in a single day. As such, an investment in XEM may be more suited to investors who have a higher risk tolerance than others,
Where to Invest in XEM
The final part of this XEM prediction involves looking at the investment process. Due to XEM still being relatively small, many of the best investment platforms UK will not offer it as a tradeable asset just yet. Thus, if you wish to buy XEM, you'll have to transfer your FIAT currency into crypto using an exchange (such as Binance) and then buy XEM that way.
Alternatively, if you wish to invest in the crypto market more generally, you can do so with eToro. eToro is our number one pick for crypto trading, as the platform is heavily regulated and offers many valuable features. Notably, eToro is even covered under the FSCS, meaning that users are insured up to £85,000 if eToro were ever to go bankrupt.
We recommend eToro as the platform's fee structure is very appealing. eToro charges no commissions whatsoever when you place a trade – meaning active traders will save large chunks of money over the long run. Instead, eToro's fee is incorporated into the spread, which is the same methodology used by most CFD brokers.

eToro allows deposits from only $50 (£37), which is one of the lowest thresholds in the industry. Users can make deposits via credit/debit card, bank transfer, or multiple e-wallets. Notably, eToro doesn't charge any deposit fees or monthly account fees whatsoever.
Finally, and importantly, eToro offers a free crypto wallet for traders to use. This wallet allows traders to safely hold their crypto investments, protecting them from cyberattacks. eToro's wallet includes various advanced encryption techniques and an unlosable private key, which rivals many other crypto wallets. So, for this reason, and the reasons mentioned above, we recommend using eToro if you're looking to buy cryptocurrency right now.
XEM Price Prediction – Conclusion
In summary, this XEM forecast has covered everything you need to know about XEM and provided some analytical insights into future price movements. As you'll now be aware, XEM is NEM's native crypto, with the platform offering a unique consensus mechanism that rivals BTC and ETH. In the future, if NEM can build a following outside Asia, we'll likely see some significant price movements in XEM.
If you're looking to trade cryptocurrency today, we'd recommend partnering with eToro. eToro offers commission-free trading on all cryptos, with the minimum investment amount being only $50. What's more, eToro is regulated by numerous reputable entities, ensuring you're always protected when trading.

67% of retail investor accounts lose money when trading CFDs with this provider.
FAQs
What is the price of XEM right now?
The XEM price today is $0.1553. This represents a decrease of around 82% from the all-time highs experienced in March 2021.
What drives the price of XEM?
One of the main things that drive the XEM price is adoption. As more and more credible partners utilise the NEM platform, it adds more 'hype' to XEM – thereby increasing the price.
Where can I buy XEM?
As XEM is relatively small compared to other cryptos, you'll need to use a cryptocurrency exchange or a decentralised exchange to purchase it. However, if you're looking to invest in other cryptos, we'd recommend using eToro due to their 0% commission structure.
Why is XEM going up?
XEM is now going up because price formed a support level and is using that as a base for a further push. Furthermore, the price seems to be emerging from a descending channel which is a bullish sign.
What will XEM be worth by 2022?
Our XEM forecast projects that the token could be worth $0.40 by 2022. This would put XEM at the same price it was back in May 2021.
What will XEM be worth in 2025?
Our XEM price prediction for 2025 is that the token will reach a valuation of $1. There will likely be pullbacks along the way, but if XEM can continue to rebuild its reputation, then this price point is definitely achievable.
About Connor Brooke
PRO INVESTOR
Connor is a Scottish financial expert, specialising in wealth management and equity investing. Based in Glasgow, Connor writes full-time for a wide selection of financial websites, whilst also providing startup consulting to small businesses. Holding a Bachelor's degree in Finance, and a Master's degree in Investment Fund Management, Connor has extensive knowledge in the investing space, and has also written two theses on mutual funds and the UK market.